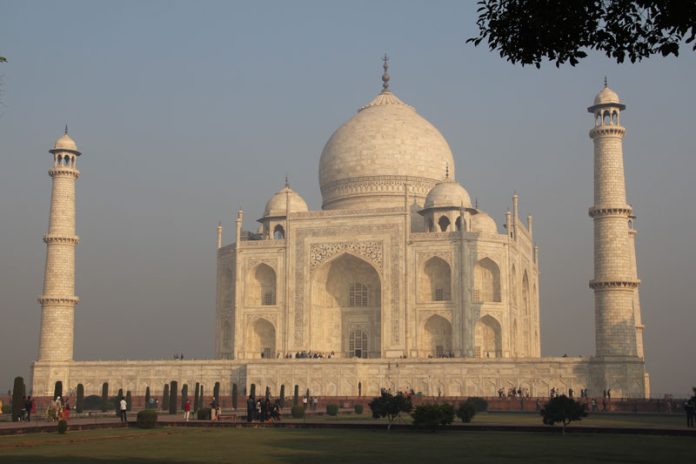 Taj Mahal gems, such as carnelian, jade and lapis, are inlaid in white marble and make an in-person visit a dream destination for rockhounds. Lapidary arts have always been woven into the fabric of Indian life with the Taj Mahal standing out as a prime example with its marble work and inlay. Most photographs of the Taj Mahal show a perfectly symmetrical white marble building when viewed from afar. But get up close and personal and you'll find much more.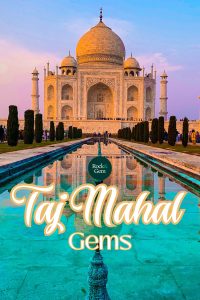 This iconic World Heritage Site encapsulates a central theme of "Paradise" with its harmonious blending of so many elements including the phrase "Enter Thou My Paradise" inscribed over one entrance.
The Taj Mahal, which translates as the "Crown of Palaces," has been called the jewel of Muslim art in India. This "ultimate symbol of love and loss" perched above the Yamuna River in Agra in the state of Uttar Pradesh, began with Mughal emperor Shah Jahan, who reigned from 1628 to 1658.
Keeping a Memory Alive
Although he had many wives, Jahan had one great love, his wife Mumtaz Mahal, who died while giving birth to their fourteenth child in 1631. It is said Jahan's hair turned gray overnight in his grief. To keep his wife's memory alive forever, he immediately commissioned a great mausoleum to house her remains. Eventually, it would also serve as the tomb of Jahan himself, forever side-by-side with Mumtaz in what was meant to replicate paradise on earth.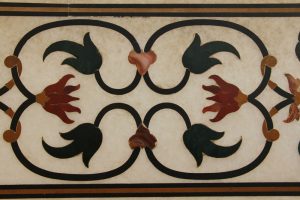 Construction began in 1632, and the famous white marble mausoleum was completed in 1648. It took another five years (until 1653) to complete the entire 42-acre complex, which includes reflecting pools, courtyards, gardens, cloisters, crenelated walls, and associated majestic buildings (including a mosque and a guesthouse) constructed in red sandstone from Delhi. But the 115-foot high dome of the mausoleum stands out as the centerpiece. Its translucent white marble from Makrana quarries in Rajasthan (transported nearly 500 miles via bullock carts and elephants) contrasts with the red sandstone of the surrounding buildings and walls. The color of the marble shifts with the hours of the day : pink in the rising sun, white in strong daylight, golden-hued at sunset and under the moon. Some say this was intentional, to replicate the ever-shifting moods of Mumtaz.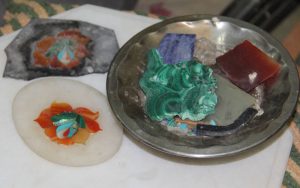 Surprising Materials
A surprise for many is that the Taj Mahal is more brickwork than marble. The white marble forms just a thin veneer. Had it been crafted entirely of marble blocks, the tomb would not have been able to support its own weight.
Under the supervision of Ustad Ahmad Lahauri and a board of court architects, construction involved masons, stonecutters, sculptors, and inlay artisans along with the best calligraphers in the land. In all, more than 20,000 laborers formed a city-within-city surrounding the complex in a project that, in its day, was comparable to the Apollo moon shot of the 1960s. And its cost was similarly exorbitant.
How much would it cost to build the Taj Mahal today? Sources are conflicting. In U.S. dollars, numbers range from as low as $70 million to as high as $1 billion. No matter how you do the math and the exchange rate, that is a lot of rupees!
The Taj Mahal By the Numbers
• $500 million to $1 billion: Most likely cost (in today's US dollars) to complete
• 22,000: Architects, laborers, stone cutters and artisans
• 1,000: Elephants to transport construction materials
• 28: Types of gemstones used in construction and ornamentation
• 17: Years to build the marble mausoleum upon being commissioned
• 22: Years to complete the entire complex
• 1983: The year the Taj was designated a UNESCO World Heritage Site
• 6 to 8 million: Annual visitors in recent years
Symbolic Designs
Because the Islamic faith forbids the use of human faces or imagery in decoration, the surface of the mausoleum relies on symbolism to reflect both natural beauty and divinity. Per one source, it was designed to represent "an earthly replica of one of the houses of Paradise."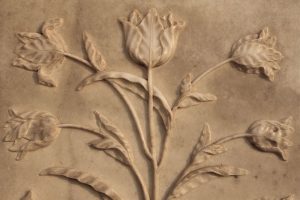 Floral Symbols
Architects chose abstract geometric forms, including herringbone inlays here and there, but especially floral designs. Flowers were considered natural symbols of the divine realm.
The designs include realistic vases, flowers, and vines carved in three-dimensional relief and polished within the marble on some panels. Such carved relief works particularly grace the lower portions of the walls.
What really catches the eye are the inlays of stylized flowers. While commonly called peitra dura ("hard stone") from Italian traditions, in India it is called parchin kari. Precious and semi-precious stones ranging from large slabs to tiny slivers were cut, shaped, polished, inlaid, and leveled to the enclosing marble. The floral patterns they represent include tulips, lilies, irises, poppies, and narcissus. To create shaded effects, a single flower might have a dozen or more carnelian pieces in colors of varied intensity.
Taj Mahal Pattern Books
To this day, Indian artisans hold "pattern books" to craft designs originating with the Taj Mahal into marble countertops, tables, and small jewelry boxes. While few of us will ever be in a position to create or purchase a monument on the scale of the Taj Mahal, parchin kari has long been a vibrant cottage industry in this region of India.
But buyer beware! Quality varies considerably, from the finest marble that is highly durable and takes a fine polish to soft, porous marble or even soapstone that may be inlaid with plastics. The real deal is stunning to behold.
While parchin kari in airport gift shops may go for cheap, Shah Jahan spared no expense in sourcing stones for inlay from all around India, the Middle East, and Asia to grace the mausoleum for his beloved Mumtaz. For instance, carnelian came from Arabia, jade from China, jasper from Punjab, turquoise from Tibet, lapis lazuli from Afghanistan, and sapphires from Sri Lanka. In all, some 28 types of gemstones were used as inlay.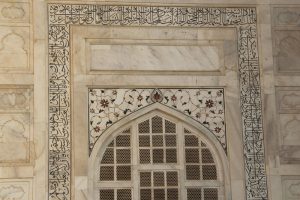 Common Gems in the Taj Mahal
It's said the lapidary artists decorating the Taj Mahal chose stones "whose luster and color never fades." Here are just a few:
• White, yellow, and black marble
• Blue lapis lazuli
• Red and orange carnelian
• Green jade
• Blue turquoise
• Jasper in varied colors
• Green malachite
• Green-and-red bloodstone
• Multi-colored banded agates and chalcedonies
• Garnet
• Sapphire
In addition to flowers, inlaid calligraphy composed of jasper and black marble graces several parts of the Taj Mahal, particularly recessed arches. The calligraphy highlights passages from the Qur'an that were chosen by the Persian Abdul Haq, who was greatly admired for his skill as a calligrapher. He used an elegant cursive style known as "thuluth script." Shah Jahan graced him with the title "Amanat Khan Shirazi" for his work. Such was the attention to detail that calligraphy in higher parts of the building is slightly larger to reduce "skewing effects" when viewed from the ground. Everything about the Taj Mahal had to be pleasing to the eye with balance, symmetry, and harmony.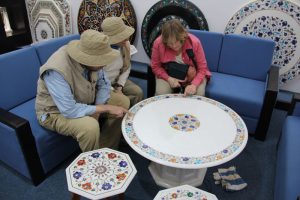 Taj Mahal Through the Years
Shah Jahan was a rich man with a rich kingdom and as such could afford inlay using the best of precious and semi-precious stones. However, if you were a ruler in a province lacking in resources but you at least wanted to look rich, you had plaster painted to look like inlaid marble or plaster inlaid with colored glass and mirrors simulating gemstones and silver. But, try as they may, none came close to replicating the real deal at the Taj Mahal.
Decorative elements in the Taj also once included gold and silver, including a gold spire atop the main dome. But Agra was invaded in the 18th century by armies of the Jat rulers of Bharatpur. They took away all gold and silver elements, as well as an agate chandelier. At some sites, all precious stones had been pried from walls and it is said that invading armies would pile wood in halls and set it ablaze to capture silver as it melted and dripped to the floors. In light of such carnage elsewhere, we are lucky the Taj Mahal escaped further vandalism over the many centuries.
By the end of the 19th century, the Taj Mahal complex had fallen into a state of disrepair. Recognizing the significance and beauty of even a tarnished Taj Mahal after India had been colonized by the British, viceroy Lord Curzon embarked on a restoration project that was completed in 1908. Despite ups and downs, India and the world continue to recognize and appreciate the beauty, symmetry, and significance of this incomparable gem of love, loss, and paradise. In the words of the poet Rabindranath Tagore, it will forever stand as "a teardrop on the face of eternity."
Explore More
• Official website of the Taj Mahal: www. tajmahal.gov.in/
• UNESCO Taj Mahal profile: whc.unesco.org/en/list/252
• Explore the Taj Mahal: www.taj-mahal.net/newtaj/textMM/Inlay.html
This story about Taj Mahal gems previously appeared in Rock & Gem magazine. Click here to subscribe. Story and Photos by Jim Brace-Thompson.