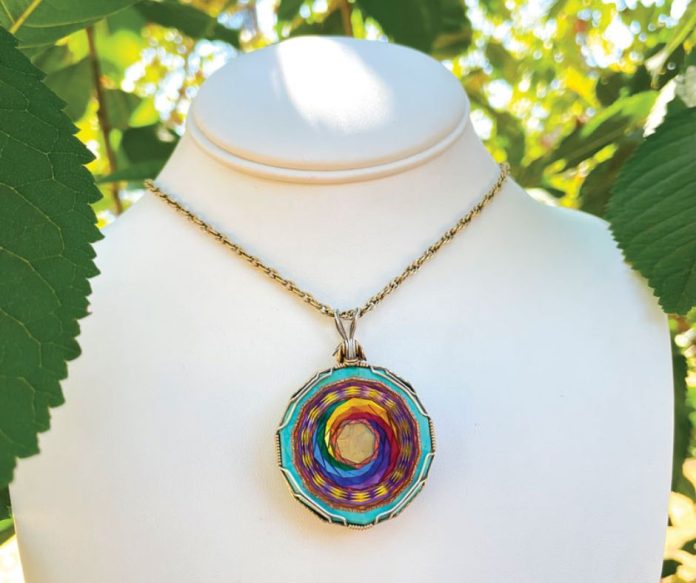 Intarsia jewelry is an art form also called "pietra dura" during the Italian Renaissance. It involves layered stones intricately pieced together to create stunning mosaic scenes. Gems and semi-precious stones are dazzling in their own right, but they are elevated to exquisite when used within artisan Tim Reed's intarsia jewelry designs at Red Moon Creations Studio in Myrtle Creek, Oregon. Hundreds of glittering pieces breathe life into the designs, and gazing into Reed's "Power Piece" creations offers a glimpse into the cosmos.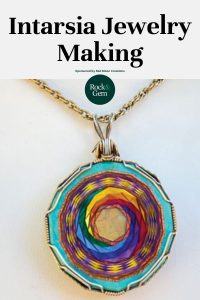 Learning Intarsia
Seemingly a lifetime ago, Reed said a piece of intarsia caught his attention, drawing him to learn how to create these pieces himself. While he found a couple of artists who worked with this medium, they were unwilling to share their knowledge. Despite this disappointing turn, when a friend brought in a picture of a crop circle showing a six-sided star within a circle and told Reed, "I want you to make this for me in stone," necessity became a driving force. Relying on his own resources and experience as a jewelry maker, it took Reed six weeks to use a flat-top sander and a six-inch trim saw. "It was all by hand, grinding my fingers to the bone, but I pulled it off. I was ecstatic." Since then, he continually refines his craft and is the only artist in the world who does this with a faceting machine instead of grinders.
Beyond the Book
Exceeding expectations and teaching himself is a lifelong theme after being labeled "unfit" in school. Burying his nose in a book isn't the best way to obtain knowledge, at least not for Reed. His unique way of seeing the essence of the stones, combined with the ability to create something beautiful, is a skill that can never be quantified. It's ironic that even though he didn't "get along with numbers," as he commented about his dyslexia, Reed creates pieces immersed in sacred geometry. Instead of relying on the numbers on his faceting machine, he adds color codes to guide his cuts. The materials he uses also evolve depending on the specific piece. Initially, he often used semi-precious stones, although he added, "Right now I'm in love with the gem grade stones, but my work changes daily."
Creating Designs
Several of his more popular designs include "The Wave," as well as a seven-sided star that spirals. It's the intricate work that brings it alive. "If I keep (the stones) really small, it is so bright when you're moving. A piece of jewelry is always catching the light. Nobody will ever look you in the eyes again." Reed also does not shy away from the avant-garde. One of his latest examples is incorporating calcite. One aspect of calcite identification is that it is naturally fluorescent, to illuminate aspects of a piece. Reed said, "Calcite is a very ugly, soft stone. It doesn't take a polish well." But when he noticed a gentleman who featured it as a glowing accent in his garden, Reed purchased some at a garden shop. While creating a piece involving rays in its design, he sandwiched the calcite in between each layer of rubies, sapphires, emeralds, spinel, and citrine. It was the perfect material to make it shine.
Unique Pieces
Beyond the sheer level of art, every piece he creates is special. "All of my pieces are power pieces. I believe in the power of stones. I talk to my guides and ask my guides to get ahold of your guides. They know what you're here for and direct you to that. This piece is made for you," he said. "The power pieces that I make are meant to be worn. This isn't something you put in your jewelry box." Reed said when he taught channeling classes it was important for students to do the work themselves that they needed to do. This is particularly true with his power pieces. "The power piece knows you and your path. If you are not satisfied in your life it's going to put that up in your face. You need to deal with it. Once you remove your blocks and do what needs to be done, it's all positive." "This stuff awes me," he said. "Every time I look at it, I can't believe I made it." Reed works practically all day every day, throughout the year. It's who he is and he's not about to stop creating and discovering. "I am always learning more and always growing," he said. "I don't know how to do anything else."
Paying it Forward
When Reed experienced such a difficult time finding anybody willing to teach him the technique of intarsia, he said he told himself, "If I ever learn this, I will never be that way." As a result, the student is now the teacher. "Everybody who is in this field has a different way of seeing how to do it," he said. He looks forward to instructing and inspiring future intarsia artists to share their visions in this beautiful form, as much as creating his stunning pieces to help people in their life's journey.
Information
Facebook: @Red.Moon.Creation or @timothy.reed.773
Phone: 541–530-3630

Finished pieces can be found at Wholistic Earth and Fx420 in Roseburg, Oregon, and at Meraki Metaphysical in Casper, Wyoming.
This story about intarsia jewelry making previously appeared in Rock & Gem magazine. Click here to subscribe. Story by Amy Grisak. Sponsored by Red Moon Creations Studio.