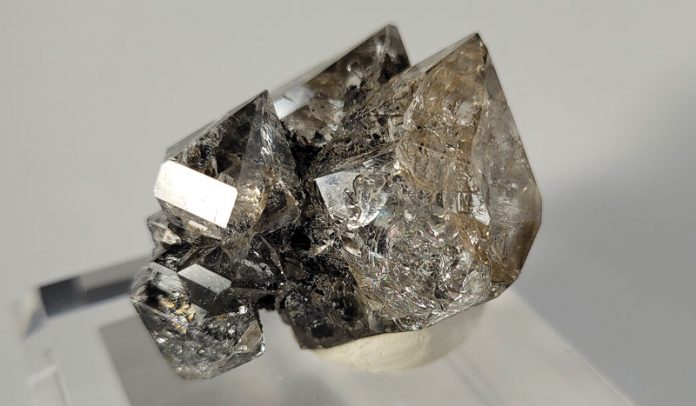 What are Herkimer diamonds? Nestled in the central New York Leatherstocking region made famous by 19th-century American writer James Fenimore Cooper in The Last of the Mohicans is an even older, natural claim to fame: its 500 million-year-old Herkimer diamonds.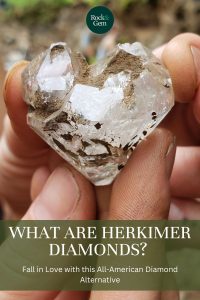 Designated the official state mineral of New York in 2012, Herkimer diamonds are one of seven rare gems and minerals found in the Empire State, including almandine garnet, calcite, celestine, dravite, magnetite and sphalerite. "Herks," as they are called, are naturally faceted (18 facets) quartz and score a seven on the Mohs hardness scale measuring gemstone resistance to scratching. Only the topaz, ruby, sapphire and (carbon) diamonds are harder. The doubly-terminated points (natural faces) on these hexagonal quartz crystals have made them coveted for both their elegant luster and metaphysical status as an energy amplifier.
The county where they are found is named for Mohawk Valley native son and Revolutionary War brigadier general Nicolas Herkimer. Like their namesake, the genesis of these gemstones begins in a geologic corner of Cambrian Earth where dolostone and limestone rock, porous enough to allow a flow of mineral- and silicon-bearing fluids, intersected with North/South and East/West fault lines whose network of tectonic shifts and fissures added to that porosity and seepage.
Seeing Double
Unlike quartz formations found in igneous rock, doubly terminated crystals flourish in sedimentary rock layers created by subterranean marine deposits. As free-floating pockets of liquid inside vugs (small to medium-sized cavities inside rock) slowly evaporated, tectonic shifts in heat and pressure encouraged crystals. These crystals were suspended in their embryonic karst with little to no contact with a host rock.
There they matured in size and shape, including rare barbells and scepters prized by collectors.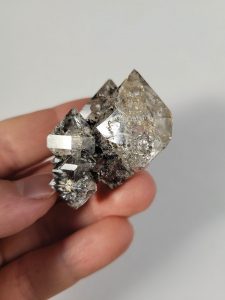 "It is worth noting these quartz crystals share an intimate relationship with the first peoples of the Mohawk Valley and have been part of human life here for centuries," says Larry Michon, president of the Northern Berkshire Mineral Club (NBMC). Michon is also the owner of The Diamond House in Little Falls, the last large (60+ acres) undeveloped parcel of Herkimer diamond-bearing land remaining in Herkimer County. Now known as Diamond Mountain Mining Ltd., its soaring overlook along the Mohawk River is a favorite among seekers of rare black diamonds, scepter, skeletal or barbell formations and complex Herkimer clusters.
"The Mohawk people referred to themselves as Kanyenkehaka, which translates to 'The People of the Crystals," Michon continues, "and the valley where they lived, Kayenkehaka, was The Place of Crystals."
Michael R. Walter's Collector's Guide to Herkimer Diamonds, released in 2014 by Schiffer Publishing, recounts how the Mohawk people and early settlers found crystals in stream sediments and plowed fields, and "immediately held them in high esteem." They were used as amulets, to make tools and traded with other tribes until the early 1600s, when European-made glass beads usurped native crystals in popularity. Doubly terminated quartz crystals have been found in Arizona, Afghanistan, China, Norway and Ukraine, but cannot rightfully be called Herkimers. Amethyst versions have been found in Mexico and Tanzania.
Herkimer diamonds share many physical properties attributed to quartz. They are almost always transparent and range from colorless ("water clear") to smoky/ black. For those keen for more ancient souvenirs, Herkimer diamonds often have inclusions (material trapped in a mineral during formation). Solid hydrocarbon materials add a dark, sooty color; liquid inclusions of saltwater or petroleum, gaseous inclusions of carbon dioxide, or even other minerals, like dolomite or tinier Herks, can also be found within.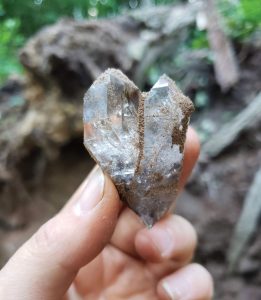 Love at First Vug
"The key to finding Herkimer diamonds is the knowledge that they occur in cavities (vugs) within the Little Falls Dolostone," writes Hobart M. King, Ph.D., and publisher of Geology.com. "These cavities can be smaller than a pea or several feet across, and the easiest way to prospect is to find pieces of vuggy rock and break them open with a heavy hammer.
"If you are lucky," he continues, "the rock will break to reveal one or several Herkimer diamonds in a cavity. Dolostone is a tough rock, so expect to work hard."
Is it worth it? Ask Fred Weisser whose family business, Weisser's Jewelers, just celebrated its 40th anniversary on North Main Street in Herkimer. He jokes how he's been "grinding away" at the family bench since he was a teenager, but for over a decade, the master jeweler has made it his mission to make Herkimer diamonds "legitimate."
"I love Herkimer diamonds. I want to see them as readily available as peridot," he says. Peridot, found in volcanic basalts, is a yellow-green gem variety of iron-rich (Mg,Fe)?SiO? olivine (comparatively, the chemical formula of a Herk is SiO2).
"I want to also give a shout-out to the diggers. I've tried it, using a sledgehammer," he adds, "and I tell you, I've had an easier time breaking cement blocks!"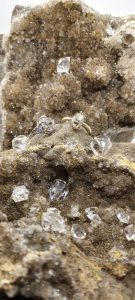 The Ultimate 'Pick Your Own'
If digging for crystals together is relationship building 101, put a ring on it mining for your engagement or wedding stone to set in a custom piece of jewelry to wear (like any diamond) forever. These resources will help you fall in love with Herks.
But once you strike a pocket, the rewards can be infinite.
To a jeweler like Weisser, who works with local miners to incorporate Herkimer diamonds into his retail catalog, that geologic equivalent of the farm-to-table relationship will reward him with material for new engagement rings, faceted from raw crystal, ready to look and shimmer like those (ahem) Other Diamonds.
"There's no shortage of demand. I made three rings over a weekend," he says. "I like natural stones. They have a clear, bright look all their own. Water-clear is perfect. Adding facets… makes them into something else. The real uniqueness is in their own crystal structure and composition."
Weisser has also worked one-on-one with many a nervous boyfriend or couple hoping to turn a raw Herk they mined themselves into a ring or wedding band:
"I love when a couple comes in my store with a stone. because if you've spent a day digging for diamonds without killing each other, then as far as I'm concerned," he laughs, "you've got what it takes to stay together."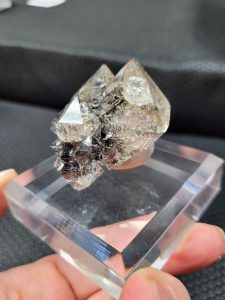 Let's Get Metaphysical
To those on the metaphysical side of quartz crystals, unearthing a pocket of doubly terminated Herkimer diamonds might just set the chakras aflutter.
Green Gem, a Herkimer diamond and green fluorite gemstone company ecologically mining its own properties in New York and New Hampshire, says doubly terminated points absorb, amplify and emit energy from both ends at the same time. This makes a Herkimer diamond a great stone for cleansing and balancing. Highly regarded as an exceptional healing crystal and the most powerful of quartz crystals, they receive and magnify the influence and energy of other stones, making their healing and protection effect even more significant.
"It is one of the Stones of the New Consciousness," says Rachel Dropp, the designer behind California-based Raw Elements Jewelry, referring to a 2009 Robert Simmons book identifying certain stones as helping accelerate and enhance human evolution.
Dropp hand-fabricates jewelry, using ancient and modern techniques, and materials including Herkimer diamonds.
"The main attraction is its metaphysical properties and unique shape. They raise telepathic and clairvoyant communication, and with its powerful amplification, I like pairing it with other transformational stones. They're not as easy to set as some gemstones. Because they have two termination points and their facets are so unique, one side may be harder to match or get a prong around."
"Since it is such a high vibration stone and picks up the feelings of the last person touching it," Dropp says, "If it's an engagement ring I'll put it in the sunlight to recharge and cleanse it first, before returning it to a client."
Priceless, Not Pricey
Yogi, educator and director of programs at Diamond Mountain Mining Ltd., Deena Bak, feels a bond to the region and its crystals, and a responsibility to keep sharing its good energy. Much of the mountain is open for public mining.
"Doubly terminated points," she says, "remind us of the need to give and take."
Giving a Herkimer diamond takes a smaller bite out of a budget, too, especially for a young couple just starting out. An engagement ring, with a half-carat brilliant-cut Herk, can retail for well under $500.
But don't call them cheap. In 2018, Meghan Markle (the Duchess of Sussex) wore a Herkimer diamond jewelry collection to Princess Eugenie's royal wedding at St. George's Chapel (where she and Prince Harry had married five months earlier).
Renée Scialdo-Shevat, owner of Herkimer Diamond Mines, called the Kensington Palace order "extraordinary," and was glad to see the Duchess promote "a product like that, it's a different kind of style that is price-sensitive."
Shevat said three things attracted the Duchess to Herkimer diamonds: Their aesthetics, the organic value of the gemstones and "how purposeful these diamonds are in the international marketplace."
Making a strong argument for American-made and mined, Green Gem's Bob Borofsky and Jennifer Photenas conclude, "Herkimer diamonds are a wonderful, inexpensive, naturally occurring, conflict-free alternative to traditional diamonds."
Wear it or share it, with a conscience as clear as the stone itself.
This story about what are Herkimer diamonds appeared in Rock & Gem magazine. Click here to subscribe. Story by L.A. Sokolowski.