Rock & Gem Magazine burst on the scene in 1971 with the goal of serving the needs and goals of anyone with an interest in rocks, gems, and minerals, fossils, and general lapidary.
A lot has changed in the universe, our world at large, and within the mineral and lapidary community since the early years of R&G. Something that is steadfast is our commitment to offering a balance of intriguing scientific information, current news you can use in your rockhounding, collecting, and lapidary efforts, inspiring stories of dig excursions, insightful how-to demonstrations of faceting techniques and collecting practices, and a place where you can share your experiences and questions and receive support in your pursuits.
Trusted Advice From Respected Sources
The Rock & Gem team of contributors is second to none. Heading this group of creative, experienced, active, and passionate authorities and ambassadors of the rock, gem, mineral, and lapidary community is esteemed Carnegie Award-winner Bob Jones. Mr. Jones has been with the magazine since it's conception and is the senior consulting editor.
Joining Mr. Jones is a panel of columnists comprised of respected and seasoned experts in their respective fields within the rock, gem, mineral, fossil, and lapidary community. Regular columnists include: Steve Voynick: A scientific journalist and author of many references, as well as a former hard rock miner. He is the mastermind behind the Rock Science column and is pens features for Rock & Gem. Bob Rush: A professional within the lapidary industry since 1958 and of the metal work and jewelry community since 1972. He shares his expertise through his Bench Tips column. Jim Brace-Thompson: A member of the National Rockhound & Lapidary Hall of Fame and the founder and overseer of the AFMS Badge Program for kids. He inspires and informs young and new rockhounds through his Rock & Gem For Kids and Earth Science in the News columns. Russ Kaniuth: A long-time lapidary professional, he is the owner of Sunset Ridge Lapidary Arts and the co-founder of the Cabs and Slabs Facebook group. He shares his lapidary know-how and creativity through his What to Cut column. Erin Dana Balzrette: A life-long rockhound and GIA AJP, she is the owner of Tree Climbers Stones, and co-founder of the Stone and Silver Facebook group. She shines the spotlight on the lapidary and cabbing artists through the Just Off the Wheel blog/column.
In addition to these regular columnists, Rock & Gem also features the research, photography, and writing of various rockhounds, company owners, cabbers and lapidary artists, and collectors.
Support Team
Helping to bring forth these expert's knowledge and insight, as well as opportunities to participate in today's rock, gem, mineral, fossil, and the lapidary world, is the Rock & Gem editorial and sales team.
For editorial inquiries, contact Antoinette Rahn (managing editor) at arahn@beckett.com or 715-721-0532.
For advertising inquiries, contact Tracy Alvarez (sales executive) at talvarez@beckett.com or 972-490-5212
To subscribe or for subscription questions, contact the customer service team at customerservice@beckett.com or call 855-777-2325 (M-F 9am - 8 pm CST).
---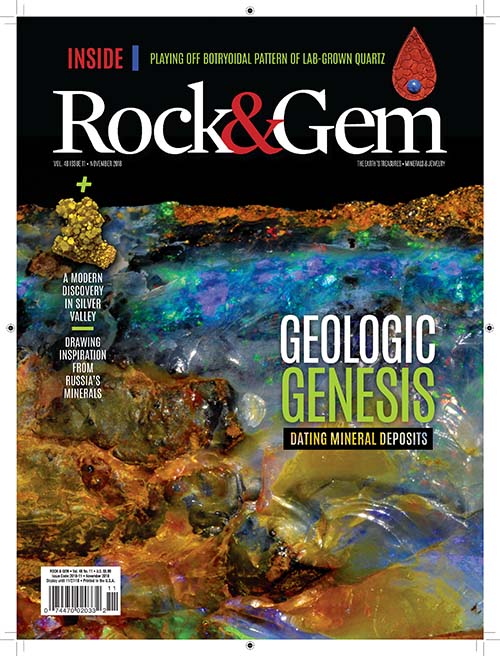 If you are interested in  Rock & Gem, we invite you to consider the FREE Rock & Gem weekly newsletter. Learn more>>>
Plus, we invite you to consider subscribing to Rock & Gem magazine. A one-year U.S. subscription (12 issues) is $29.95.  Learn more >>>
---