Join the thousands of Rock & Gem Weekly Review subscribers and be among the first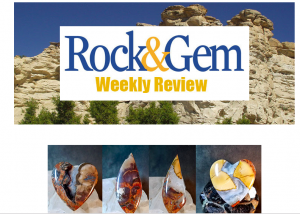 to learn about news, inspiration, and events shaping the rock, gem, and mineral community.
All we need is your email address, and you'll receive FREE access to the latest mineralogy news, inspiring lapidary projects, and entertaining rockhound happenings — delivered to your inbox each Thursday!
PLUS, starting March of 2019, every month we'll give away a cabochon to one lucky Rock & Gem Weekly Review newsletter subscriber. The cabochon recipient will be selected at random from all newsletter subscribers the last day of the month. Sign up now for your chance to own a beautiful cabochon and enjoy news from the Rock & Gem community.