Wondering how to learn gem cutting? With an in-depth tour of the history, secret techniques, and classic designs of the gem-cutting craft, Justin K. Prim gives a comprehensive narrative from an insider's view in The Secret Teachings of Gemcutting.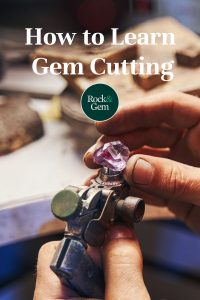 The knowledge built from years of research, traveling, writing, and cutting gemstones is shared as we learn the details about how colored gemstones change from mined nodules into classic designs.
A Rich Heritage
Many want to become a lapidarist, however, the craft of gemstone cutting was traditionally taught from generation to generation. The skills of the craft were not public knowledge and were not well documented. How to start gem cutting was information not easily accessed. Access was earned by working from the bottom up, with entry into the gem-cutting guild. This book breaks with that heritage and presents the teachings and insights to learn these secrets in an informative and illustrated manner.
The book starts with an explanation of how a gemstone is classically cut with a series of step-by-step instructions and matching diagrams. This forms the foundation for everything that follows.
A Comprehensive Tutorial
Through a logical progression of chapters, we learn the attributes of a well-cut and polished gemstone. We begin to understand that a beautiful gemstone is the result of a series of complex observations and decisions.
Gemstone qualities are described, such as why minerals have color, clarity, carat weight, light return, scintillation, and luster. We are introduced to crystal systems, refractive indexes, and critical angles and how they work together. A tutorial on performing highlights its outcome on a finished gemstone.
50 Classic Gemstone Designs
The design section of the book is laid out by design type and takes into account the different types of gemstones.
To build an understanding of which design works best with different gemstones, the 50 designs are also presented as a history lesson on the evolution of gemstone patterns and shapes. Instructions and diagrams are provided to cut the classic gemstone designs, along with specific design history, cutting notes, and rendered examples.
Whether you are just starting your gemstone journey or are more experienced, this is a fascinating journey through the lustrous world of gemstone cutting and its secrets. The knowledge in the book is presented with enthusiasm and joy from a person that has been immersed in the world of gemstones and now wants to share his passion for the process.
The Secret Teachings of Gemcutting: 50 Classic Gemstone Designs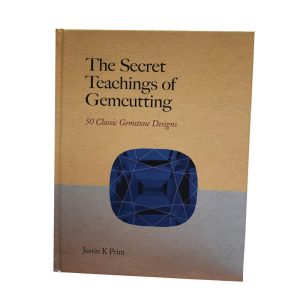 Author: Justin K. Prim
Cover Price: $80
Where to Purchase: www.magusgems.com
This story about how to learn gem cutting previously appeared in Rock & Gem magazine. Click here to subscribe. Story by Mark Oros.