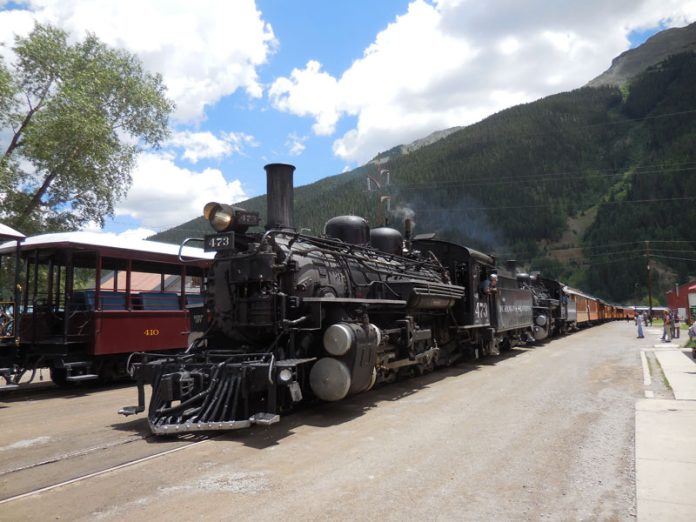 Colorado train rides for rockhounds are scenic and provide an informative and enjoyable day's outing. Most of Colorado's tourist trains today were originally constructed in the late 1800s to serve Colorado mining operations so they give rockhounds a glimpse that few get. If you are a weekend rockhound, a professional geologist or something in between, a few of these excursions need to move up on your must-travel list.
Cumbres & Toltec Geology Train
The Cumbres & Toltec Railroad offers Geology Trains twice a year in June and September. Participants pay for whatever class of car they choose as their permanent seat, but they are free to roam to the outdoor platform cars as they wish. Everyone joining this excursion receives a geology booklet prepared especially for the trip. Another special feature of this excursion includes several guest geologists who roam the train to provide commentary and answer questions.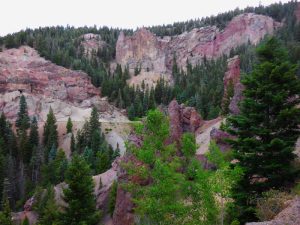 Be sure to bring your camera and collection bag because this train stops several times along the route to point out geological features and even lets the passengers disembark to walk through the Toltec Tunnel, collect specimens and watch this gorgeous train emerge on the other side.
This train ride is a geological treat. The Cumbres & Toltec travels between Antonito, Colorado and Chama, New Mexico. Grab your list of state dinosaurs as this train ride travels through geologic time from the Precambrian to the Ice Age. You will see alluvial fans, dormant volcanoes, ash flow tufts, as well as the dramatic spires and pedestal conglomerates as you round Phantom Curve. There is metamorphic and igneous rock at the Toltec Tunnel and Gorge.
An included lunch is served at Osier. As you continue to Chama, you travel over the amazing Cascade Creek Trestle as it cuts through volcanic breccia. You will also cross the highest railroad pass in the United States, Cumbres Pass, at 10,015 feet.
Once in Chama, a bus waits to drive you back to the Antonito station. It's a long, but worthwhile day.
Be sure to get your name on the email list for the 2024 departures. Dates and prices are usually released in early January each year. www.cumbrestoltec.com/events/geologytrain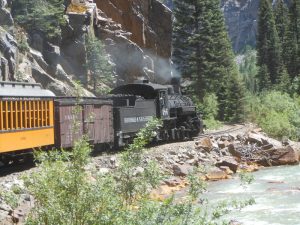 Durango & Silverton
This all-day round trip starts in the morning from the quaint train station in Durango. In peak season, you may even hear someone playing banjo on the boarding platform. As you depart Durango, the landscape is rather flat, around 6,500 feet in altitude. It takes about three-and-a-half hours for the train to travel 45 miles and climb to the town of Silverton at just over 9,300 feet.
In this writer's opinion, this train ride probably has the most spectacular scenery you'll see in all of Colorado. Shortly after you leave Durango, the train starts to climb into forested areas with some beautiful large homes and a lake. Once you pass Rockwood, keep your eyes open on the right side of the train. The sheer cliff called the 'Highline', should be called the 'highlight.'
Unfortunately, there usually are no official geologists on board for this trip. A geology aid available at the Durango station gift shop may be just what you need for your self-guided geology lesson on your way to Silverton. This folded nine-inch geology guide and topographic map opens to 27 x 36 inches and is produced by the railroad and the Fort Lewis College Department of Geosciences.
As the train follows the Animas River and gets closer to Silverton, you may even spot a mine tunnel or two, however, tree growth can make this hard to see.
The train has a two-hour layover in the old mining town of Silverton before you reboard to return to Durango. While in town, you may want to grab some lunch and maybe visit the Mining Heritage Center and Jail adjacent to the Town Hall.
If you return for a longer stay, you can visit the Old Hundred Gold Mine, Mayflower Gold Mill, Animas Forks Ghost Town, or maybe even do a little rockhounding and gold panning. www.durangotrain.com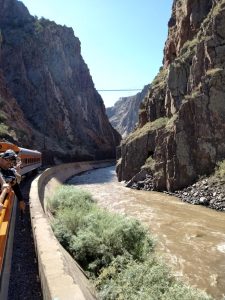 Royal Gorge Scenic Train
Unlike the first two trains, the Royal Gorge train is a standard gauge track railroad. As passenger train travel decreased, the line was used for freight only before closing in 1983. It was revived as a tourist train by the current owners in May 1999.
The train follows a spectacular, deep canyon carved by the Arkansas River, west from Canon City under the amazing Royal Gorge suspension bridge and for a few more miles before it turns around and returns to Canon City. The entire journey lasts about two to three hours.
Contrary to the train's marketing strategy, which promotes a breakfast, lunch or dinner excursion, booking a simple coach seat with access to the nearest open car would be my recommendation for the geologist wishing to both see and photograph the gorge. www.royalgorgeroute.com
More Trains
Colorado has so many wonderful scenic railways that it would be impossible to give details on each one. Here are a few more to add to your list.
Georgetown Loop Train: This train has two stations, Georgetown or Silver Plume, but wherever you start, it's a round trip. The choice of adding one of two tours through the Lebanon Mine and tunnel located along the train's route is available to guests five years of age or older for an additional charge. Children must be at least 8 years old for the longer mine tour.
Leadville, Colorado & Southern Railway: A two-and-a-half hour roundtrip adventure leaves from Leadville, the highest incorporated city in North America, and climbs about 1,000 feet to the Continental Divide. On board, you will hear stories of the area's rich mining history.
Cripple Creek & Victor Narrow Gauge Railway: This 45-minute trip is on a two-foot narrow gauge track through the historical mining district of Cripple Creek. No advance tickets are required for this train. These days, the train no longer goes all the way to the town of Victor because of the active gold mining of Newmont Mining. Although this train is more touristy than some of the other excursions, you can see both historical and modern mining at work.
While in the area, plan to explore the town of Victor. You may also want to tour the Molly Kathleen Mine outside of Cripple Creek where you are lowered into the mine in an open metal cage.
Pikes Peak Cog Railway: Visitors have been going to the top of Pikes Peak by train since 1891. After several renovations, the now state-of-the-art cog railroad reopened in May 2021 to take passengers to an elevation of just over 14,000 feet. While at the top, be sure to check out the new visitor center and enjoy a cup of coffee with one of those world-famous high-altitude donuts.
Amtrak Colorado Adventures: If you are looking to make your train trip a longer adventure, you may want to take one of Amtrak's three or five-day packages leaving from Denver to Glenwood Springs on the California Zephyr.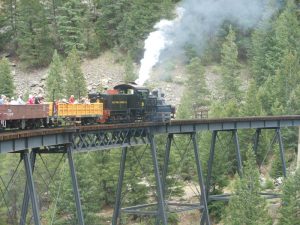 Boost Your Geology Train
Doris B. Osterwald was a geologist and train enthusiast and she wrote several 'mile-by-mile' books on the geology, history and natural features of Colorado's famous tourist trains. These books make great follow-as-you-go guides. She has passed on her enthusiasm to four more generations of Osterwalds who now operate Western Guideways, Ltd., a great resource for information.
A few of Doris' books include Cinders & Smoke, Durango & Silverton Railroad; Ticket to Toltec, Cumbres & Toltec Railroad; Rails Thru the Gorge, Royal Gorge Railroad and Highline to Leadville, Leadville, Colorado & Southern Railroad.
The Final Whistle
During the busy tourist season, many of these trains book up early so reservations are recommended. Once you've wet your train-riding whistle with some research and advance tickets, just listen…you can almost hear the conductor holler, "All Aboard!"
This story about Colorado train rides for rockhounds previously appeared in Rock & Gem magazine. Click here to subscribe. Story and photos by Sue Eyre.