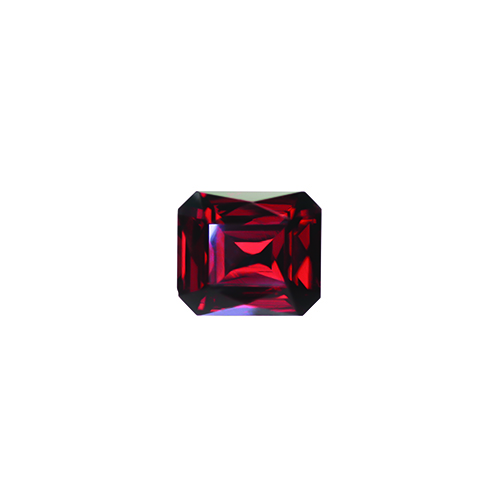 By Antoinette Rahn
A new year brings many things to the forefront, including the January birthstone: garnet. The striking beauty of this stone is equaled by its centuries-long popularity. As archaeological and literary research reveals, red garnet was among the most common stone of jewelry worn by ancient Egyptian pharaohs and members of royalty, and in ancient Rome, red garnets were highly sought-after in the trade market.
As if that isn't enough fascinating reasons to showcase garnet, Jim Perkins, the man behind Faceting Focus, reports receiving many requests about a garnet cut pattern he created. Perkins aptly named the pattern, Fire Engine Garnet.
"Red garnets have deep saturation of color," Perkins states. "They show this color when you shine a light through them. However, when they are cut, they often look extremely dark, almost black. Making them mysterious and difficult to cut."
Revealing Lush Color Through Cut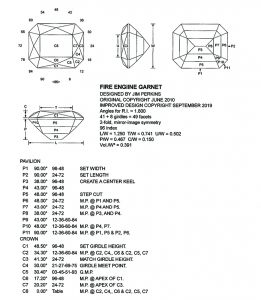 Perkins worked with a piece of rough Rose Almandine Garnet, provided by New Era Gems (www.neweragems.com) in creating this pattern. To help reveal the bright and lush color of the garnet, he created a well-proportioned stone that isn't extremely deep.
"I have learned to make designs that are fun and easy for others to reproduce," Perkins states. "I enjoy sharing my designs with others to cut."
With the holidays underway, gift-giving is top of mind for many, and well before this time of the year, it's something Perkins thinks about.
"My inspiration for faceting and designing have always been my family and friends," he says. "I love to give gifts, and I could never afford to give a better gift than one that I made.
"Anyone can buy gifts, but if you take the time to create something new and different, then make it. The gift is priceless."
Exploring New Stones and New Ventures
Just as many of us take time to look back on the year that was and look forward to a new year and consider goals we'd like to work towards, Perkins shares a couple of exciting instances of 2019 and something he's looking forward to in 2020.
"Steve Ulatowski of New Era Gems has introduced a new color of blue topaz to the market. It is called Tahoe Blue Topaz," says Perkins, who has already purchased a piece. "I have created a new PEAR design to cut it, and I am looking forward to finishing that project in 2020. I think it will be stunning."
In addition, Perkins, who has authored numerous books, has just finished a new faceting design reference, "Adventures in Faceting."
Whatever goals and projects are on the horizon for you in 2020, as Perkins demonstrates in his work and commentary, draw on what inspires you most and always keep learning.
Faceting Focus is sponsored by