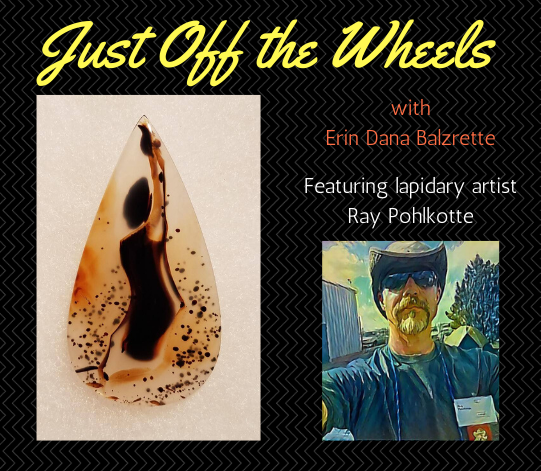 By Erin Dana Balzrette
Amazing talent, with a wealth of knowledge, all matched with a wonderful sense of humor, makes chatting with Ray truly an honor. Please enjoy "Just Off the Wheels" with Ray Pohlkotte
Erin Dana Balzrette: Where is this material found? What drew you to this material?
Ray Pohlkotte: This is Cabochon made from Montana agate. It is an alluvial agate found not in one particular place but in the gravels of the Yellowstone River for hundreds of miles. It is well known for having wonderful brown and yellow inclusions which, as is obvious in this particular cabochon, will often form scenes or pictures that are aesthetic to behold."
EDB: What general creative process do you use when creating cabs? Is there any special technique you would like to share that was used when creating the ones featured today?
RP: I generally make my cabs from pre-cut slabs of material and I wet them to darken the colors and turn them all directions until a shape or design jumps out at me. But even when I have drawn the form I want to cut, I am always open to changing it as the design or pattern in the stone can migrate as you are cutting into it during the doming process, so ultimately I allow the stone to lead me into what I think is the most appealing shape.
EDB: What is one bit of advice you'd share with someone considering learning about cabbing?
RP: Probably the best advice I could give is to always work with the very best material you can. It might seem intimidating at first, but even though the effort is the same, the reward is much greater - and you will rise to the occasion. I absolutely love the idea of creating something beautiful out of something ordinary, or just in making something that was not there before.
EDB: What motivates you to create, and what part of the entire process from finding the rough, to the finished cab is your favorite part of this lapidary process?
RP: I enjoy all aspects of this process, from cutting rough into slabs to the final polish - each step involves decisions and creative input, and each has its own rewards.
---
WHERE TO FIND RAY
Company Name: Magma Karma Studios
Facebook: MagmaKarmaStudios
Facebook (Personal account): Ray Pohlkotte
Facebook Groups: Cabs and Slabs
---
Author: Erin Dana Balzrette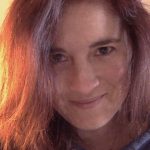 Owner of Tree Climbers Stones, co-founder of Facebook's 'Stone and Silver' group, and weekly host of the 'Ladies Day/Night' Auction on Facebook's 'Cabs and Slabs' group.
She is a long-time rockhound and a GIA AJP. To view more of her work, visit www.tcstones.com.