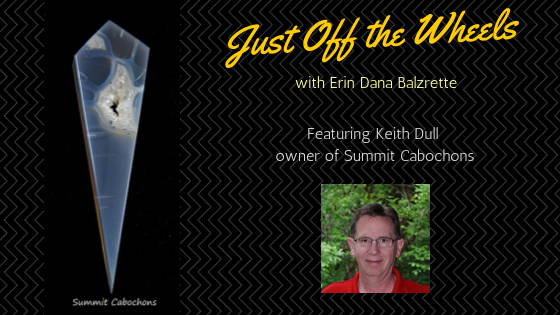 By Erin Dana Balzrette
One of the finest lapidary artists today, Keith Dull's cabochons are beautifully made with breathtaking designs. Their distinct, extreme, elegant edge, photograph brilliantly and could be the cover of rock 'n' roll music albums. A true treasure to lapidary art, it was my pleasure to interview Keith Dull for this feature.
Erin Dana Balzrette: Where is this material found? What drew you to this material?
Keith Dull: This cabochon was designed from an agate and crystal geode that was imported in Uruguay.
I became interested in this material through my wife. She pointed this material out to me at a regional gems show. She said I needed to look at it closer and see if I could design cabochons from it.
EDB: How long have you been a rockhound and/or lapidary artist, and what attracted you to cabbing?
KD: Starting about 60 years ago I remember my parents taking our family to a river or to the beach and pointing out and picking up agates.
This was several more years later the college I attended offered lapidary courses. I was having fun and was being rewarded financially for my efforts. I started finishing cabs out of slabs of picture jasper. It really began my interest in visualizing scenes and patterns in rocks. In the early years, I strictly used the blue template found in every lapidary cabochon finishing shop. I cut thousands of picture jasper cabochons. After five years or so, I slowed way down for a period of about 20 years and went into the working sector.
As my children were finishing high school and preparing for college, Ken Dull encouraged me to return to the cabochon finishing world. He told me I needed to use different shapes for my cabochons. I was lost. He encouraged me to go online and research what shapes were being done and to find shapes that I would enjoy finishing. I owe a big thanks to those cab finishers who pioneered the way ahead of me.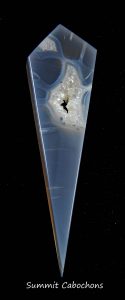 EDB: What general creative process do you use when creating cabs? Is there any special technique you would like to share that was used when creating the one featured here?
KD: The cabochon featured here came from an agate geode that was crystal lined in the cavity. There was interesting needle-like inclusions that I wanted to capture in conjunction with the crystals. I was looking for a dramatic shape that would catch the eye that wasn't the usual curved shapes.
After I had drawn a few different shapes on the slab, I decided this would give this material the effect I was looking for all along. The straight edges really accentuated the stone and drew my eye into the finished cabochon.
EDB: What is one bit of advice you'd share with someone considering learning about cabbing?
KD: When new to finishing cabochons, one of the most important consideration is to take a close look at the slab. Don't jump at the first lines you draw on it for the shape. Keep an open mind and be flexible with what the slab of rock has to offer. I study cabochons online all the time. For me, I am looking for both the quality of the material, but also how it was utilized.
EDB: What is a new cabbing technique/process/approach you've picked up recently that is bringing you great excitement?
KD: There is so much to be learned by keeping your eyes open to new possibilities. I was accustomed to processing my cabochon a certain way. Inside curves really made me radically change my whole line of thinking about how to process and finish a cabochon. After many failures and disappointments, I was able to revamp or more correctly, turn my process on edge, on how I finished a cabochon.
EDB: What motivates you to create, and what part of the entire process from finding the rough, to the finished cab is your favorite part of this lapidary process?
KD: New lapidary material is still being found quite often these days. I am always wanting to work with these new finds and it really keeps me motivated. I love learning the ways to finish a cabochon, as each new material almost always requires a different approach and technique.
EDB: What is the name of your company and how can people find your work?
KD: I named my business Summit Cabochons. My parents chose to be climbers of mountains, and most vacations each year were spent hiking and backpacking into the wilderness. Getting to the summit was, of course, the idea. Reaching the summit meant meeting the challenge and achieving the goal.
I sell on several different high-quality lapidary Facebook sites. I am fortunate to be allowed into these other established business sites and have the utmost respect for their leadership. The owners have gone out of their way to help me. They have given me valuable advice when there was no incentive for them to do so, and I am very grateful.
---
WHERE TO FIND KEITH
Company name: Summit Cabochons
Facebook: https://www.facebook.com/SummitCabochons
Facebook Groups: Cabs and Slabs https://www.facebook.com/groups/CABSANDSLABS
---
Author:
Erin Dana Balzrette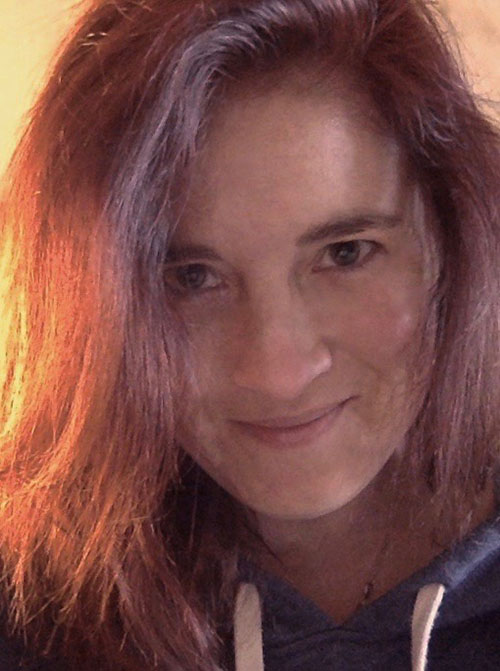 Owner of Tree Climbers Stones, co-founder of Facebook's 'Stone and Silver' group, and weekly host of the 'Ladies Day/Night' Auction on Facebook's 'Cabs and Slabs' group.
She is a long-time rockhound and a GIA AJP. To view more of her work visit www.tcstones.com.