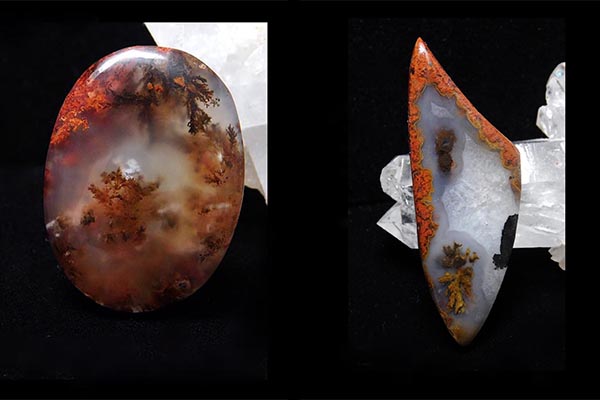 By Antoinette Rahn
Welcome to the newest addition to Rock & Gem's blog offerings. The 'Just Off the Wheel' blog will showcase the artistry of cabochons, the vision of the artists who transform these natural treasures, and the inspiration behind it all.
I decided to kick things off with a profile of two cabs by the same talented lapidary artist and cut from the same source. The cabs include the "Wakeful Dreamer" and the "Beautifully Strong" (pictured below). They were cut from a Woodward Ranch 'biscuit' agate, of the legendary Woodward Plume of Woodward Ranch, in Brewster County, Texas.
The cabs are the work of prolific self-taught lapidary artist Erin Dana Balzrette, owner of Tree Climbers Stones. I spent time corresponding with Erin recently about her experience involving the acquisition and cabbing of a Woodward Ranch biscuit. Below is the story behind these cool cabs.
Q&A with Erin Dana Balzrette
Antoinette Rahn: What was it like to find the agate? Did you or the people you were with have an idea of what you discovered? Is Woodward Ranch Biscuit the formal name?
Erin Dana Balzrette: When arriving at Woodward the first time, a quick lesson was given regarding what a "biscuit" agate looked like. Woodward Ranch is famous for many of its agates and very well known for its uniquely named "Woodward Ranch Biscuit." Up the hill from the main house, which is made of stone, it was wonderful to finally see a 'biscuit' in the summer sun. Picking it up and feeling the weight of it and looking at the deep reddish stone, I knew something extraordinary was inside. Each one is different than the next, with unseen patterns, until they are cut open.
AR: How many years ago did you find these examples and how long have you been rockhounding? What attracted you to rockhounding and then to cabbing?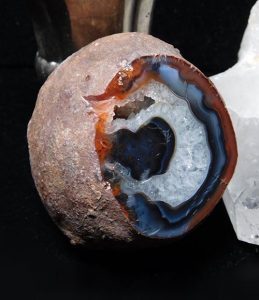 EDB: The 'biscuits' used for this cab were found on separate trips to Woodward, more than eight years ago. Since then, they have closed Woodward Ranch to the public for hounding and the ranch has been sold.
I was a pegmatite hunter for several years in Mason, Texas, and Llano Uplift, and have traveled throughout the U.S. to various places to hound. Seeing the incredible detail in even the smallest part of every rocks and crystal is what draws me to cabbing. I made jewelry with agates for many years and then learned to facet. Eventually, I bought a cab machine and taught myself to cab. In addition to the "Wakeful Dreamer" cab, I also faceted a Woodward Ranch agate.
Process Insights
AR: Could you explain (in somewhat general terms) the process you used to create the cab shown in the photos?
EDB: Often lapidary artists start with slabs. However, I like to work with the rough when I can. With Woodward Ranch biscuits, there are many ways to cut and polish them. Often, I like to cut them open, then grind off the outside on one end, and cab from there.
AR: What is one bit of advice you'd share with someone considering learning about cabbing?
EDB: Learning to cab is art. There are no mistakes. Anything that happens, that you do or make is all part of what you were meant to see, or what you alone can show someone else.
Take the rock to the wheels and let it roll (it's a "rock and roll" thing) and let them show you what they want you to see. Then let them shine!
Enjoying the Experience
AR: What is a new cabbing technique/process/approach you've picked up recently that is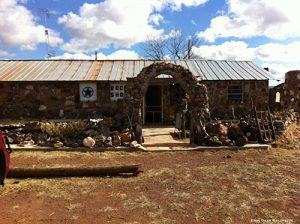 bringing you great excitement?
EDB: Each stone brings its own excitement and new technique. The process of going through the wheels may be similar, but each material, depending on its hardness, variant textures, or even the image you might see while cabbing and want to remain, require different movements, pressures, and a feel for what you need to change or do. The more variety of stones you cab, the more techniques you will learn!
If you are interested in seeing more of Erin's artistry and that of other ingenious lapidary artists check out the Cabs and Slabs group on Facebook (https://www.facebook.com/groups/CABSANDSLABS/). Plus, every Monday you can participate in auctions featuring cabs by Erin and others. Learn more at https://m.facebook.com/treeclimbersstones/
Look for more cab and artist profiles in the 'Just Off the Wheel' blog space.
---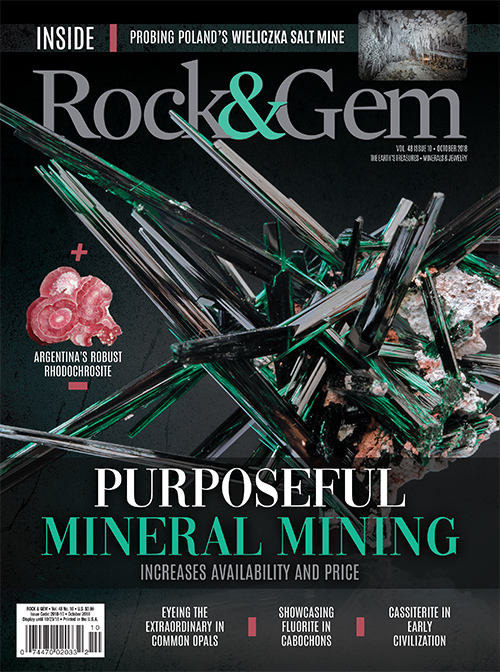 If you enjoyed what you've read here we invite you to consider signing up for the FREE Rock & Gem weekly newsletter. Learn more>>>
In addition, we invite you to consider subscribing to Rock & Gem magazine. The cost for a one-year U.S. subscription (12 issues) is $29.95. Learn more >>>

---