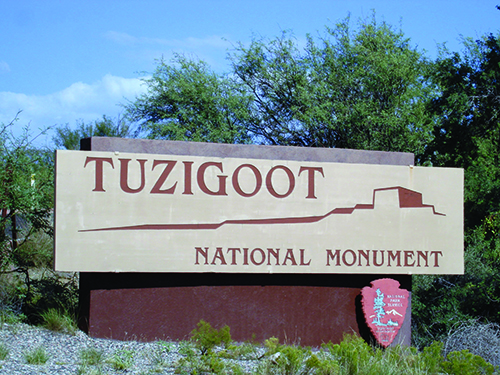 By Helen Serras-Herman
Tuzigoot is an ancient village built by the Sinagua people between 1125 and 1400 CE. The location, on top of a desert hill, commands a panoramic view of the entire Verde River Valley below, in northern Arizona. Today the pueblo is part of the Tuzigoot National Monument, which was designated by Franklin D. Roosevelt in 1939, and is serviced by the National Park Service.
My husband, Andrew, and I visited Tuzigoot during our recent trip to Sedona this past October 2019. I was invited to speak to the Sedona Gem & Mineral club, and we stayed overnight in nearby Cottonwood. Tuzigoot is close by, on the way from Cottonwood to Clarkdale, where we also made a brief return visit to the fabulous Copper Art Museum, about which I wrote in the August 2019 issue of Rock & Gem.
Visitors at the Tuzigoot ruins can follow a self-guided 1/3 of a mile loop path, up the hill from the Visitor's Center. There is a total of 110 rooms, including living quarters and storage areas. The Citadel, or tower room, is the only fully multi-level reconstructed room within the ruins.
Traversing Tuzigoot History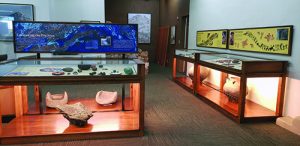 Tuzigoot was excavated from 1933 to 1935, and the reconstruction, which took place soon thereafter, allows visitors to follow a flight of steps upstairs to the Roof Top. From there, one can see all the land resources that were available to the Puebloan residents, including the farming land, river, mesquite and marsh areas, and the game and wildlife that roamed the grounds.
Although this prehistoric Ancestral Puebloan site is not an Apache location, the name Tuzigoot, or Tu'zighhoot, was suggested by Apache crew chief Ben Lewis during the 1934 excavation, referring to "crooked water," or the sharp bend of the Verde River to the south.
Tuzigoot Visitor Center and Museum Exhibits
The Visitor Center is a beautiful stone building itself, built on the base of the ruins in 1935, blending perfectly with the ancient ruins. The center and museum were renovated in 2011, just after our 2010 visit, and it was a pleasant surprise to re-visit the exhibit artifacts in their new, beautiful display cases. Beautiful pottery and stone artifacts tell the story of Tuzigoot.
The first case I was attracted to was titled "Ornaments, Toys, and Status Symbols," where all the artifacts came from one room in Tuzigoot. It was truly interesting to see how the local minerals were used as pigments. Among them were blue azurite, green malachite, yellow limonite, red hematite, and white kaolin, all mostly surface-collected by the Sinagua people. Blue and green were the most valuable, perhaps because they were the most difficult to obtain, or because they had the most spiritual significance.
A few turquoise pendants are on exhibit, described in the text as often being worn as eardrops and nose adornments. Also shown is a small number of turquoise, stone, and shell beads, which were worn as necklaces and bracelets. One astonishing bead necklace found there measures twelve feet in length, and includes 3,295 beads. Shells were used and prized by all Native American cultures, and shell bracelets, worn on upper and lower arms, were found in Tuzigoot.
A sign stating that no known Native American burial objects are used in the museum displays also explained the Native American Graves Protection and Repatriation Act (NAGPRA), a federal law enacted in 1990 that protects native cultural items.
In another large display case titled "Caretaking the Precious," the local mineral wealth was featured: azurite and malachite from Jerome, and salt from Camp Verde. We all know and appreciate today the beauty and importance of azurite, and so did the ancient people. The Hopi described Verde Valley as "blue valley," and the Zuni name meant "place of blue ores." Large quantities of azurite, malachite and hematite both as rough and finished were found during the excavation.
These blue and green ores were mostly used for ground pigments, which were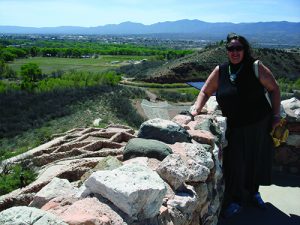 highly valued for their mineral rarity, as well as the laborious process involved crushing rocks into finely grained paints. Rough stones were ground using a mortar and pestle. Even more laborious was the making of beads. Rough stones had to be broken down into smaller pieces, and holes were drilled with a hand drill. Once drilled, they were strung and rubbed across sandstone to achieve the desired size and finish.
Also found at Tuzigoot was red argillite, or pipestone, a fine-grained sedimentary rock. Several prehistoric pits of red argillite were discovered near Del Rio Springs in Chino Valley north of Prescott (Museum Notes, Museum of Northern Arizona, Katherine Bartlett, 1939). Furthermore, a large number of fossils, concretions, and stalactites were found on-site (Tuzigoot, Caywood and Spicer, 1935).
It was interesting to read about the salt mine near Camp Verde, only a few miles away. Salt was important to the indigenous tribes, especially the Hopi, not only for culinary taste but also for purification. Historically, salt has been very important to all cultures and considered a valuable trading commodity.
I find Tuzigoot to be a fascinating place with its ruins, history, and local mineral wealth, all intertwined into a rich legacy. This was my third visit to this unique place, and I always learn something new and get inspiration from the achievements of the ancient cultures and their artistic creations.
Adult entrance fees are $10 but remember that the "America the Beautiful Senior Pass" allows free entrance to everyone in one car. The park rangers are very friendly and knowledgeable, and I would particularly like to thank Park Ranger Kathryn for her insights.
TRAVEL DETAILS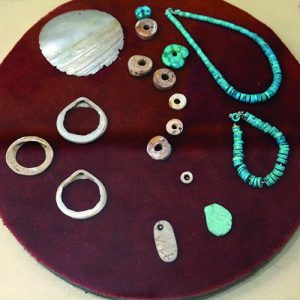 To visit the Tuzigoot National Monument, travel north from Phoenix towards Flagstaff and take exit 287, AZ Highway 260 to Cottonwood.
Go through the town's Main Street, and before you reach Clarkdale, turn right and follow the signs to Tuzigoot. The park and visitor center are mostly open from 8 am to 5 pm, except holidays.
For current information visit https://www.nps.gov/tuzi/index.htm