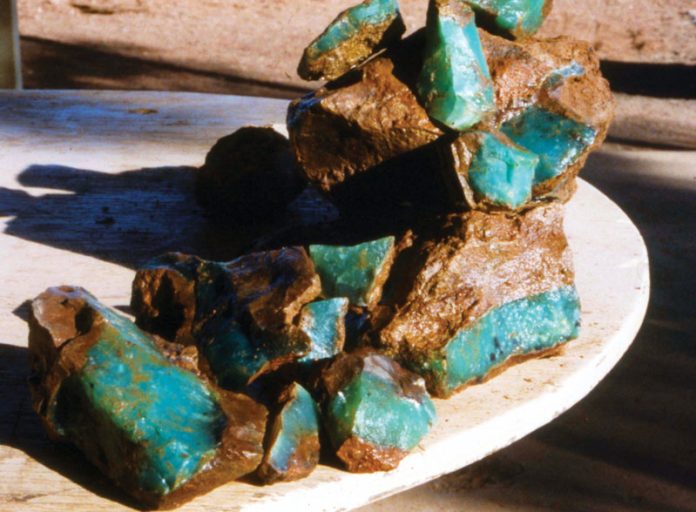 Chrysoprase is a monochromatic green gemstone found and mined in many places. Chrysoprase is used by lapidaries as cabochons and in jewelry projects. The better chrysoprase deposits are in Australia. Here's a glimpse at mining Chrysoprase in Australia.
An Offer to Visit a Chrysoprase Mine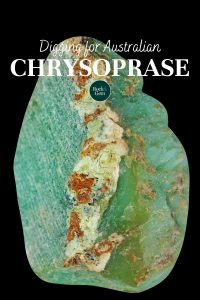 It happened that my friend Randy Polk, a top jewelry artist, was at a show looking for gem material with "gumdrop colors." He found a dealer selling fine chrysoprase stone. The dealer also owned the chrysoprase mine and was looking for someone to help with publicity.
Randy told him about the articles I was doing for Rock and Gem. The owner, Ellie Christianos, got in touch with me and offered to bring Carol and me to Australia to visit the mine and write about it.
It took me a few seconds to say "Yes!"
Two months later we were at the mine.
Australian Chrysoprase
It may have been used by the ancients but the first productive deposit was opened in the Middle Ages in what is now Poland. This is the world's largest deposit of chrysoprase which occurred in the ultramafic rocks which were the source of the nickel that gives chrysoprase its lovely green color.
The chrysoprase you see today is mainly from Queensland. That's because the better chrysoprase deposits are in Australia in Queensland in the east and Kookynie near Kalgoorlie in the west.
The deposit near Kookynie was working full bore when I was there but the last I heard it is involved in legal matters and not producing. The mine is in the far Outback about 100 kilometers east of Perth.
Arriving in Australia
Carol and I were met at the Perth airport by Ellie's lawyer who checked us into an elegant hotel before he took us to Ellie's penthouse overlooking the Swan River.
After a day in Perth, we were flown to Kalgoorlie, a big gold camp with gorgeous Victorian-style buildings. The gold mine, an open pit and underground workings, was still operating. There our guide rented a car for the two-hour drive out to the mine, dodging kangaroos and emus on the way!
The road was dirt and crossed the outback desert. Many vehicles in the outback have what is called a "roo bar," a heavy large steel fence-like bumper on the front to protect it from impact with kangaroos or cattle.
Chrysoprase, which is chalcedony with an assortment of nickel salts in it to give it a green color, formed in the thick veins of rock that make up the entire hill. Most of the rock is iron oxide goethite that's not hard, so mining was relatively simple. They did not use explosives only a D-8 Caterpillar bulldozer with a huge ripping hook or finger on the back.
The 'cat' would traverse the hill up one side and down the other ripping up rocks veined with green chalcedony chrysoprase.
Following the 'Cat'
The rocks were loaded with veins of green chalcedony that were broken into chunks by the dozer. The miners just followed behind the dozer with a hammer and buckets to gather the loose chunks of the green gem. In this way, they had mined tons of chrysoprase and the hill showed no signs of running out of gem material.
To collect, Carol and I followed the 'cat' picking and choosing the better dark green specimens and chipping off chunks of the better gem specimens. The only problem I had was choosing which pieces to pick up keeping in mind we were flying back to the U.S.
Once collected by miners, the gem-filled buckets of material were hauled off to another area of the camp and spread out for ease of sorting according to color and quality. The very best gem pieces were set aside for later pricing. The pieces of only good to average color were left in the open and priced lower.
I was told that area held no less than 10 tons of rough waiting for sorting and sale.
Choosing Specimens
When Carol and I had filled our collecting buckets, we took them back to camp and washed the specimens so we could sort through them. I set aside only the better pieces and returned the rest to the company stash. Later I returned to the hill and did more collecting in the untouched areas to get a better idea of the deposit and the material.
Ellie had already told us we could help ourselves. When I finally had what I thought was a fair amount of the best gem rough, I thanked Ellie. He expressed surprise at the small amount of gem chrysoprase I had.
When I mentioned my luggage problem, he offered to ship everything to me in Arizona so we added a bit more and he shipped it all.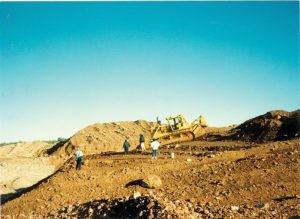 I did spend some time walking around the area and noted several prospect holes where earlier prospectors had checked the deposit. It was pretty obvious the area was rich in potential as there were veins of chrysoprase exposed.
Visiting an Australian Pub
One evening, the miners asked if we wanted to go to a local pub. They piled us into a big 4x4 with a roobar and off we went at breakneck speed across the desert.
If there was a road I could not see it. We pulled up in front of a shack with a rusty corrugated metal roof and a single gas pump in front. This shack was the pub.
The building had two rooms separated by a liquor bar between them that faced into both rooms. Each side of the bar had four stools occupied by the dirtiest-looking miners I've ever seen. They worked in the local gold mine where the dirt and rocks are a rich brick red color. Water was scarce so washing was a sometimes thing. They were great guys, very friendly. They couldn't stop telling stories and tales. One of them had just married off his daughter so he had to tell us all about the parade and wedding which was interesting in such a desolate area. A couple of dart boards hung on the wall and one wall had a heavy black line painted on it which was the high water mark when they had a rare rain storm. We had quite an evening there!
Chrysoprase Buyers
Another day a buyer from China showed up and spent a lot of time walking over the material in the sorting area. He was looking to make a big purchase. I learned they had two factories in China with about 7,000 women at lapidary machines carving objects of green chrysoprase, which I suspect was passed off as "jade." I was amazed when he placed an order for 55 tons of the low-to-medium-grade chrysoprase.
When we left Western Australia we stayed in Sidney as Ellie's guests. We checked out the zoo and the famous opera house then flew on to Hawaii for three days. When Carol and I got home, we immediately shared the chrysoprase with folks in our mineral club and gave the best pieces to Randy Polk who had gotten us the invitation. All in all, it was quite a rock hound trip!
This story about chrysoprase stone previously appeared in Rock & Gem magazine. Click here to subscribe. Story by Bob Jones.