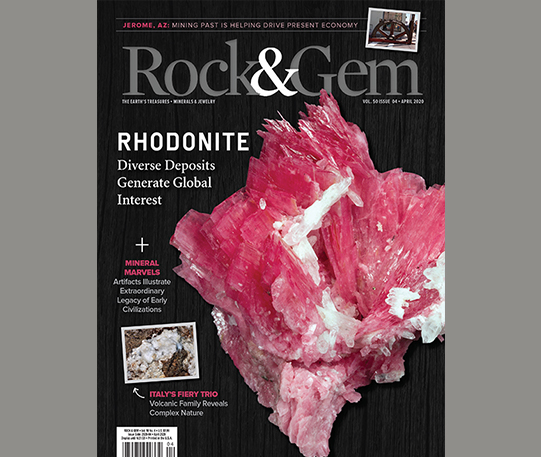 Below is a snapshot of some of the topics and interests you can expect to see in the pages of the April 2020 issue of Rock & Gem. Plus, we've included some sample pages for you to enjoy.
• Touring Italy's Fiery Trio: A Volcanic Family with Complex Personality. By Mark Leatherman
• Rhodonite: Diverse Formations from Varied Deposits Lead to Global Appeal. By Bob Jones
• Jerome Arizona: Paying Homage to Mining History Through Art and Tourism. By Helen Serras-Herman
• Crystal Charm: Captivated by Arkansas' Crystal Bridges Museum of American Art. By Bill Reynolds
• Zeolite Mineral Group: Molecular Structure and Matching Physical Attributes Define and Unify. By Bob Jones
• Taking In Tucson: Views from Show Central.
• Minerals of Pre-Columbian America: Examining the Appeal and Prevalence of Gold and Jade. By Steve Voynick
In addition, you'll find the following regular R&G columns: Bench Tips with Bob Rush, Rock Science with Steve Voynick, What to Cut with Russ Kaniuth, On the Rocks with Bob Jones, Rock & Gem Kids with Jim Brace-Thompson, Community Outlook-Question of the Month, The Road Report with Helen Serras-Herman, Club Corner, the always popular Parting Shot, as well as an extensive Show Dates section.