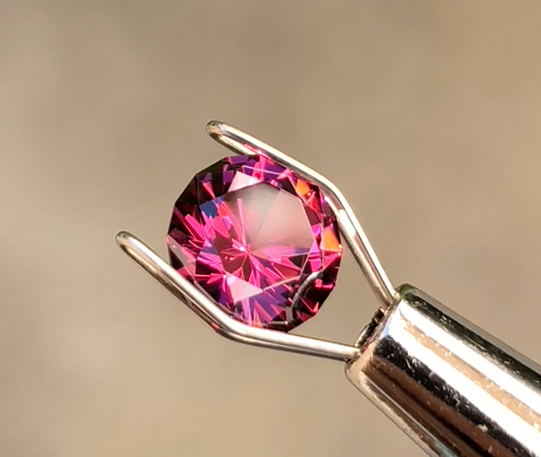 By Antoinette Rahn
Robert Lyttle, Cloak & Jewel
www.cloakandjewel.com
When asked about their introduction to lapidary, it's not uncommon for people to mention having an interest, at various times in their lives, in collecting and tumbling rocks, or perhaps making natural art jewelry, but it's a safe bet very few come to it by way of discussing cryptocurrency, like Bitcoin, with investors.
Unless it's Robert Lyttle, a resident of the San Francisco Bay area, and precision faceter since 2017.
Uncommon Introduction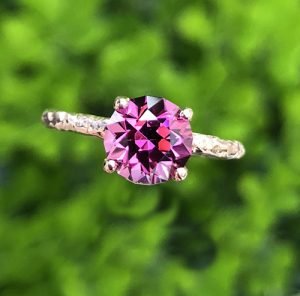 "During the height of the cryptocurrency boom, I carried out technical freelance work for some of the earliest Bitcoin adopters," said Lyttle, who is a product designer and engineer by trade. "Coincidentally, among this group, I came to discover that they each, independently, had been diversifying their wealth into rare gems. This piqued my interest and I was quickly introduced to the story of the Mahenge spinel find."
With his interest thoroughly piqued, Lyttle began collecting rare rough and quickly decided he wanted, no, needed to find a precision cutter to help bring out the beauty of the stones he was acquiring.
As they say, necessity is the mother of invention.
"After learning how few precision cutters existed in the United States, I gladly acquiesced to the challenge of learning to facet," he added.
Research, Research, Research
As one might expect, Lyttle evaluated manufacturers within the industry, gathered feedback from professional cutters from around the world, researched ULTRA TEC'S 50+ year history, and examined his goals including what he hoped to achieve through the skills he learned and the machinery he would ultimately purchase.
Guidance and input from noted lapidary artists whose work he admired, including Jeff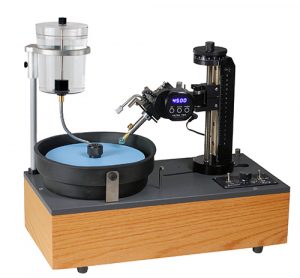 Hapeman, owner of Earth's Treasury and Christine Lopez, owner of Facet Force Gems, both owners of ULTRA TEC machinery, was very valuable.
"I knew from the outset that I wanted to achieve true precision cuts as quickly as possible and I came to understand that my choice of equipment would play a significant role in this personal pursuit of precision," Lyttle explained. "I learned other machines would enable this as well, but once I spoke to Joe Rubin (owner of ULTRA TEC) directly and learned more about his engineering background through my independent research, I settled there."
Enjoying the Learning Journey
Since purchasing an ULTRA TEC V5 unit in November of 2017, it's been what Lyttle described as a "pretty fulfilling and pain-free learning journey." In addition to reading the manual that accompanied the machine, Lyttle identified the tutorials posted on the company's YouTube channel as an invaluable resource. So much so, he said, he was able to cut a gem within a few days of receiving his V5 machine.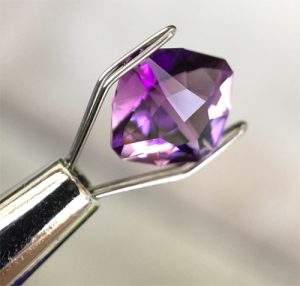 Among the many things Lyttle, whose personal work is released under the Cloak & Jewel (www.cloakandjewel.com) brand, gained through his first couple years of gem cutting is the discovery of a creative side of his personality.
"I used to always say to others that I didn't consider myself creative, but something about working against the backdrop of beautiful naturally-produced colors has made me think about design as it applies to application development (my primary passion) and other aspects of my life, differently," explained Lyttle, about taking on many news skills through his lapidary work. " My appreciation for and use of colors and lines I would typically not use in graphical interface design have changed."
Faceting Inspires Desire to Share Information
Additional discoveries include having a greater interest in various aspects of natural history, not to mention, his deep desire to use lapidary design as a way to encourage greater free access to information. He plans to work toward this goal in 2020 through the release of his optimized faceting designs to the lapidary community.
"I want to share and encourage my life-long philosophy of making information freely available to those who appreciate the value of practicing this important community virtue.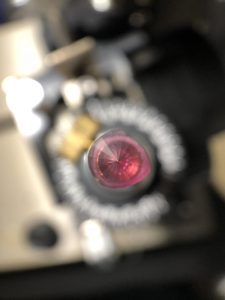 It is apparent from atop the shoulders of the giants whom modern cutters stand on today, that this was once a valued trait of those artists that has enabled all of us one way or another," discussed Lyttle, in describing how some instances of secrecy regarding information among cutters was in opposition to the traditions. However, as he emphatically explained, the majority of the experiences he's had with fellow members of the lapidary community has been and continues to be incredibly welcoming, helpful, and forthcoming with information and advice.
All told, Lyttle simply hopes he can help provide greater access to helpful information and make a lasting contribution to a field of interest that brings him great joy, a sense of accomplishment, and deep appreciation for the opportunity to be part of a community.