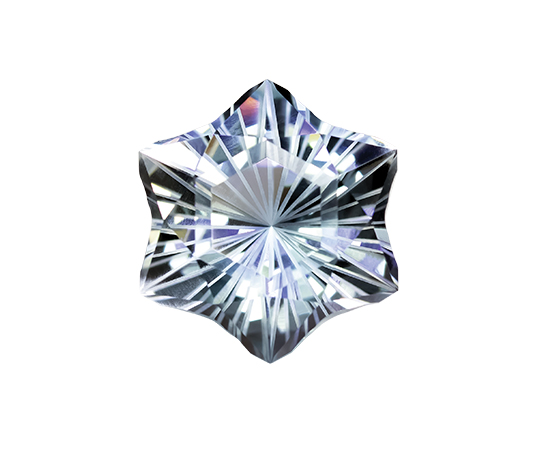 By Antoinette Rahn
Mark Oros, Hashnu Stones & Gems, LLC
www.hashnustones.com
If, as Chinese philosopher, Lao Tzu is credited with stating, "A journey of a thousand miles begins with a single step," then one may say for Mark Oros, a journey of study, appreciation, and art involving thousands of years of geology began with a single rock tumbling machine.
Daughters' Interest Prompts Initial Purchase
The interest in lapidary came about when he purchased the machine for his triplet daughters, explained Oros, owner of Hashnu Stones & Gems, LLC. (www.hashnustones.com), located just outside of Ithaca, New York.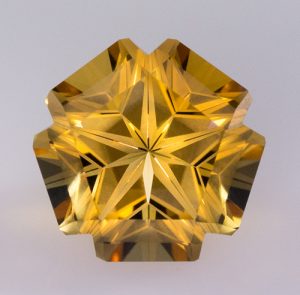 "This initial purchase opened the world of geology, mineralogy, gemology, and other sciences to my young daughters," he said. Once that door was open, there was no turning back.
The family went on to purchase a Diamond Pacific Genie cabochon machine, which allowed them to make cabochons and other lapidary carvings, Oros added. In no time, the family garage housed saws and various carving tools. Then a chance meeting with respected faceter and teacher of 30 years, Michael Rizzo, led Oros and family to learn about gemstone faceting and add this element to their studio.
Faceting Runs In the Family
In the process of expanding their knowledge and skills, this family of lapidary artists discovered one of the significant challenges of creating great lapidary pieces was obtaining excellent lapidary and faceting rough material, Oros explained. In response to that challenge, Oros said they went ahead and purchased some lapidary cabochon and faceting rough companies, including the Creative Gems natural faceting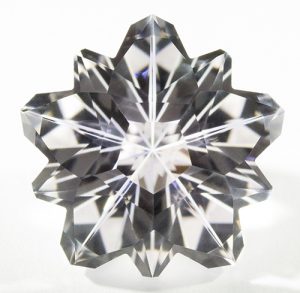 inventory. This allowed them instant access to the rough gemstones needed and allowed them the opportunity to sell rough gemstones to other lapidaries.
"Gathering no moss, we then created the Hashnu Stones & Gems LLC, a full-service lapidary company that provides custom gemstones for jewelers, individual buyers, and collectors, teaches lapidary lessons, and sells rough gemstone material and ULTRA TEC equipment," Oros added.
Oros' been using ULTRA TEC equipment the past eight years, and within the Hashnu Stones & Gems' studio, they have two V5 machines, a Fantasy machine, as well as a Glass Tec.
New Year and a New Machine
Plus, Oros is eagerly awaiting the arrival of the ULTRA TEC VL Classic faceting machine. The new model is available now and will be a featured element at the ULTRA TEC booth during the Tucson Gem and Mineral Show® in February, and the machine he has on pre-order. With the arrival of this exciting new piece of machinery, Oros said Hashnu studio will have the full line of ULTRA TEC machines, which allows Oros, and everyone who works and studies at his commercial and educational lapidary studio, the opportunity to try all of the machines that Ultra Tec offers, he explained.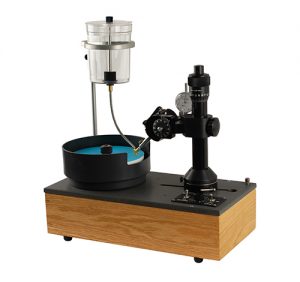 "I originally selected ULTRA TEC faceting machines because my mentor/instructor insisted on having me purchase the best quality equipment available," said Oros, who regularly posts videos of his work on his company Instagram account. "The ULTRA TEC VL Classic is not a stripped-downed version of a previous ULTRA TEC faceting machine, but the next step in the evolution of faceting machines in design and ease of use. I had the pleasure of beta testing the VL Classic at the Hashnu studio and found its innovative design both practical and precise."
He went on to say, about the new model he is prepared to put through its paces, "The futuristic style coupled with the inventive controls introduces the VL Classic as a new generation precision faceting machine. Priced less than the ULTRA TEC V5, the VL Classic now gives me the ability to recommend with confidence, a faceting machine at an entry-level cost."
The idea of a new generation machine at an entry-level cost is exciting for Oros for another reason, the opportunity it provides the students of Hashnu Stones & Gems LLC. The lessons he offers are private, one-to-one student-teacher ratio, with all equipment and material provided, held over four days, during which students will use the ULTRA TEC V5, VL Classic, Glass Tec faceting machines, and Fantasy machine, to complete two finished gemstones during the session, Oros explained. Some of the topics addressed during the lessons include, but are not limited to, gemstone faceting, dopping, gemstone selection, and orientation, buying rough gemstone, and setting up a lapidary studio.
Casual Interest in Lapidary Becomes Business
Operating a commercial and educational lapidary studio means Oros is working the machines daily, and by spending that much time using the machinery, he said one of the most important aspects he's learned about ULTRA TEC equipment is he can trust the machinery to be precise.
"After cutting in the first facet for a new tier, I am confident that the rest of the tier will cut in perfectly. Since I spend more time faceting, I produce more precision gemstones using my ULTRA TEC faceting machines," he added.
With a new year in motion, the latest ULTRA TEC machine on order, and more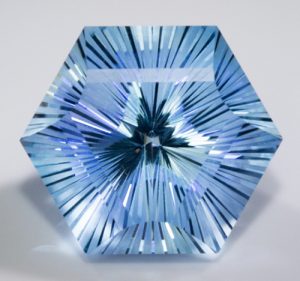 students signed up and ready to learn the techniques, ins, and outs, and joy associated with lapidary, his goal for 2020 is clear.
"To provide my students the knowledge, technique, equipment, and confidence to become talented gemstone designers and factors," Oros said. "Joseph Joubert said, 'To teach is to learn twice.' It is the interaction and sharing of ideas with my students that allows both of us to grow in our craft and art of faceting gemstones."