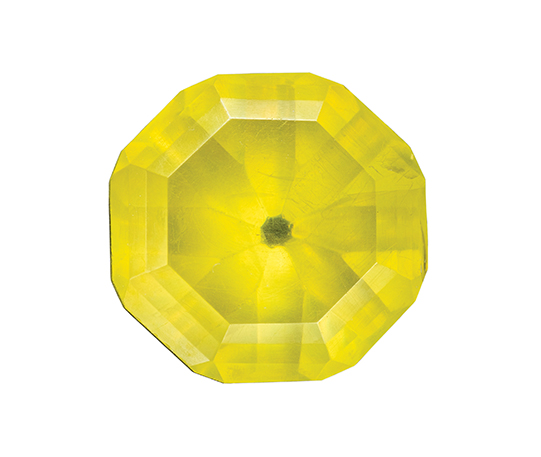 By Antoinette Rahn
Scott Sucher, The Stonecutter
www.museumdiamonds.com
Scott Sucher of Tijeras, New Mexico, is well versed in ULTRA TEC machinery and gratefully aware of the breathtaking and beautiful artistry that can be created and defined using the equipment. It is a fascination and familiarity that spans more than five decades of his life.
"I have been cabbing since I was 14 and faceting since I was 19, so I've been doing lapidary for 50 years," said Sucher, owner of The Stonecutter (www.museumdiamonds.com). "I give credit to my parents for taking the family out for rock hunting camping trips and allowing us kids the freedom to explore."
Lizzardo Museum of Lapidary Art Inspires
Sucher's interest in lapidary itself, he explained, began with a visit to the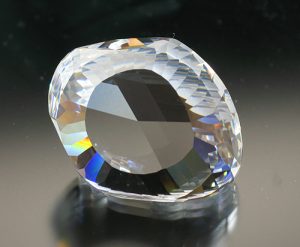 Lizzadro Museum of Lapidary Art, which recently relocated to Oak Brook, Ill. It was a display exhibited at the museum of famous diamond replicas made of glass that enthralled the then 10-year-old Sucher. Today, he is a world-renowned faceter who began creating diamond replicas in 1978. His work is on permanent display in several museums and has been featured in lapidary journals, television programs for the Smithsonian and National Geographic, and other esteemed organizations.
Sucher began using ULTRA TEC equipment in 1975, while he was a junior in college.
"I had a friend with a jewelry store who faceted, and I wanted to learn. It took me several months to talk him into giving me lessons," said Sucher, who 45 years ago, while still in college, paid for him and his wife's honeymoon to Maui by selling an opal he cut. At the conclusion of his training sessions, the friend/store owner offered him an Ultra Tec V2 machine he was not using in trade for an opal Sucher had cut.
Durable and Dynamic Output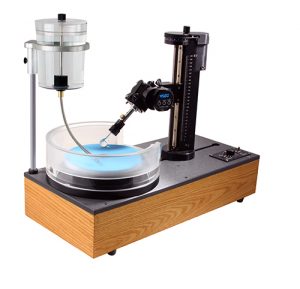 "I have been an ULTRA TEC fan ever since," he added and explained that within his workshop, he has a second V2 model, a Fantasy machine, and a Glass Tec unit. His current roster of ULTRA TEC equipment includes the original V2 he received through the trade all those years ago. He still uses it to cut stones, and it has never been back to the shop for tuning or repairs, he said.
The most recent addition to his workshop is the Glass Tec unit, which he's had for about two years. This machinery is the only one he uses for his concave faceting as it offers the precision, accuracy, and reproducibility that he requires, he explained.
"The oversized mast (in comparison to a V5 mast, this is truly the BIG brother) offers unprecedented stability and rigidity that makes concave faceting much easier," said
Sucher, who is also an ULTRA TEC dealer. "The stabilizing attachment to keep the quill from swinging during concave faceting is simple, small, and easy to use. In my opinion, it is superior to other available options."
Experimenting to Evolve Faceting Skills
Another aspect of his production process where the Glass Tec helps him excel is with cold-working glass projects. When experimenting with the optics of dichroic glass, the size of the Glass Tec model makes it more amendable to manipulating large glass objects, he added.
One of the common threads of Sucher's nearly life-long work is the desire to continually increase his knowledge and skills. Heading into 2020, it's no surprise then that these elements are a significant part of his goals.
"I want to improve my skills, artistry, and processes for cold-working glass," he explained. "Although some might not consider it true faceting because it is "just glass," fitting glass pieces together within 0.1° of orthogonality and below 0.1 mm in dimension carries the faceting art into a realm many don't care to tread (and I don't blame them!). Anything I do in this regard also improves my other skills for both flat and concave faceting."
Life Lessons Learned Through Faceting
As is nearly always the case with setting and working toward accomplishing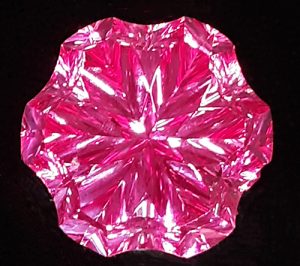 goals, Sucher's journey and experience have also provided the opportunity to discover aspects about himself and the way he approaches faceting. Among those discoveries, he explained, is acceptance of results when things go wrong.
"My style of faceting requires rather intense concentration. The slightest break in focus, or failure to consider some unknown but very important factor, always results in adverse consequences. If you are not making mistakes, or things are routine, you are settling on your skills and not developing better skills. I've learned that you don't have to like mistakes, but you must learn to accept them if you want to improve."
As Sucher noted, patience and perseverance are two of the most critical qualities needed for faceting success, and one might add, life in general.