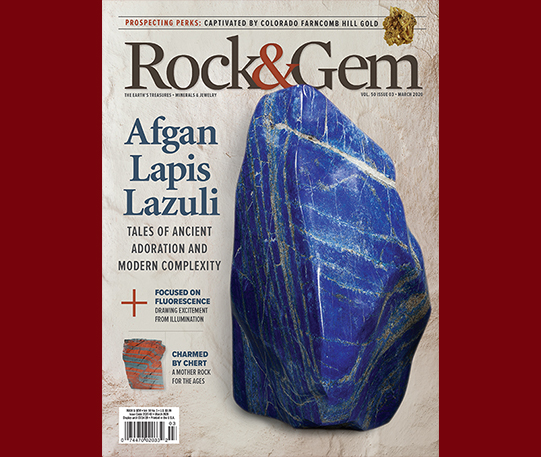 Below is a snapshot of some of the topics and interests you can expect to see in the pages of the March 2020 issue of Rock & Gem. Plus, we've included some sample pages for you to enjoy.
• For the Love of Lapis: The Saga of Afghan Lapis Lazuli. By Steve Voynick
• Cherishing Chert: A Mother Rock for the Ages. By Becky Solon
• Focused on Fluorescence: Drawing Excitement from Illumination. By Douglas E. Liniger and Antoinette Rahn
• Famous Gold (Part III of III): Denver Museum Showcases Uncommon Crystallized Gold. By Bob Jones
• Chrysocolla: A Complex and Colorful Indicator of Copper Minerals. By Bob Jones
• Inspired by Noble Serpentine: Carrying on a Tradition And 'Living the Dream' at Wild Turkey Mine. By Stuart "Tate" Wilson
In addition, you'll find the following regular R&G columns: Bench Tips with Bob Rush, Rock Science with Steve Voynick, What to Cut with Russ Kaniuth, On the Rocks with Bob Jones, Rock & Gem Kids with Jim Brace-Thompson, Community Outlook-What Do You See? MyRockHub Marketplace Spotlight, The Road Report with Helen Serras-Herman, Club Corner, as well as an extensive Show Dates section.