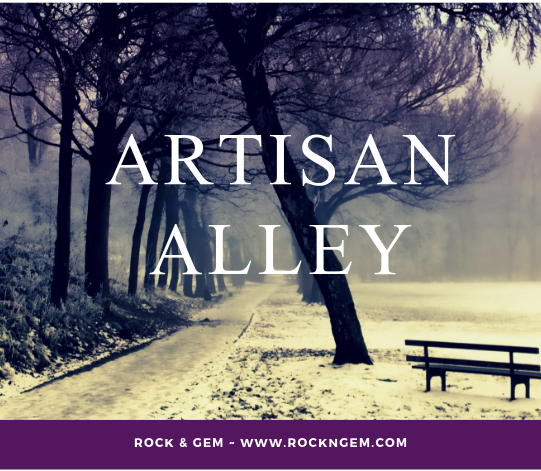 By Antoinette Rahn and Erin Dana Balzrette
"Dancing is just discovery, discovery, discovery."
~Martha Graham
Creative collaborations are a bit like a dance. As one party takes a step forward, the other may step back or to the side to complement the strides. Regardless of the direction the parties' travel or the position each occupies, the dance progresses as each person patiently reads and responds to the other's movements and intentions.
At least that's what came to mind as I was reviewing the selection of lapidary art in this installment of Artisan Alley. The beauty and inspiration of these collaborators creative dances are unmistakable.
The brilliant pieces showcased in the Artisan Alley blog/column are the genius of silversmiths and lapidary artists who are members of the Stone and Silver Facebook group. Below is a compilation of the artists' answer to a question regarding the inspiration behind their work in these collaborations. Enjoy!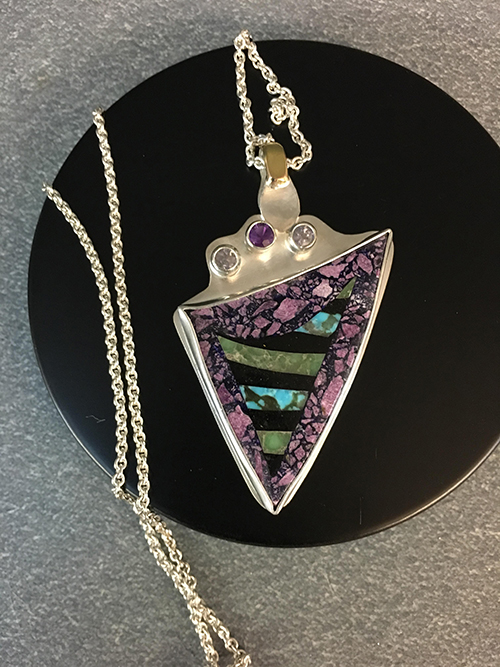 Jet, Lucin Variscite, Kingman Turquoise, and African Stichtite Pendant and Silver Necklace
Silversmith: Andrea Krause
Lapidary Artist: Tim Barney
It may seem too simplistic, but when I read the responses of Andrea Krause and Tim Barney I felt their collaborative approach involves proceeding with a generous heart, which leads to all elements having the opportunity to shine in unique ways.
"Tim's creations are so cool and I wanted this stone to take center stage with a bit of bling to provide a complement," stated Andrea Krause. "(It was) done up in sterling with tube set Tanzanites and an Amethyst."
Tim Barney speaks to the importance of contrast in the collaborative dance. "When designing this inlay stone I was looking for good contrast. Plus, colors that complement each other well.
"I really like how the Jet (black) breaks up the Lucin Variscite (green) and Kingman Turquoise (blue). Then (surrounding it with) crushed African Stichtite (purple) I feel is a nice finish to the stone."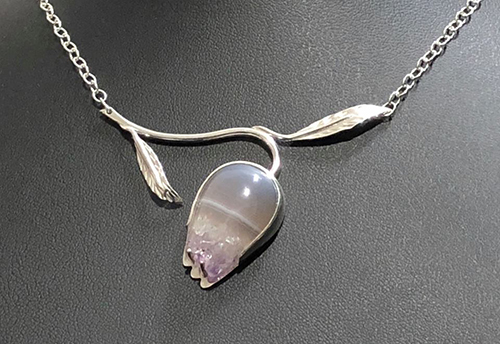 Amethyst and Agate Pendant and Silver Necklace
Silversmith and Lapidary Artist: Juvy Andres
Sometimes a single element, color, or perspective can reveal the direction a piece of lapidary art will take. Such was the case for Juvy Andres when considering the raw materials she spotlighted in this pendant and necklace.
"The inspiration for this piece is a tulip flower," she said. "A big piece of amethyst/agate materials was sitting on my workbench, and as I was looking at it, thinking what to do with it, a big point of the amethyst reminded me of a tulip.
"From there, I decided to cut and shape it into a flower bud. I cabbed at least three of these. Upon finishing the cab, I started working on the setting, accenting it with the leaves and stem. The sterling silver base was cut to follow the amethyst points, giving it the appearance of a tulip."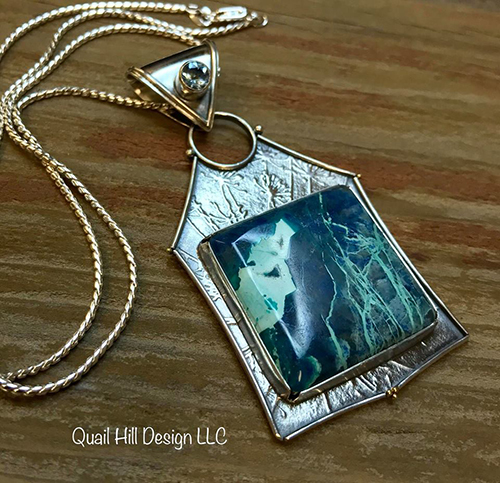 Namibia Shattuckite Pendant and Argentium Sterling Silver and Aquamarine Accent Stone
Silversmith: Lisa Glavish
Lapidary Artist: Jim of Hilo, Hawaii
Once, when I asked Erin Dana Balzrette how she went about deciding what shape a cabochon might take, she simply said she waited for the stone to reveal its destiny. That response sent a shiver down my spine then, and week after week artists like Lisa Glavish share similar experiences, which still send a shiver down my spine.
"When I see this piece, I see a caring face looking down towards wildflowers," stated Glavish, when asked about the inspiration behind her item of jewelry. "I'd been searching through several stones just before Christmas, trying to decide which one to use in a pendant for my mother."
While examining embossing patterns sitting on her workbench, the dandelion pattern happened to be close to the shattuckite, and the rest is history. "I suddenly saw the picture. It jumped right out at me," Glavish exclaimed. "I added the faceted aquamarine to the bail, as it's my mother's birthstone and perfectly compliments the lovely colors of the shattuckite."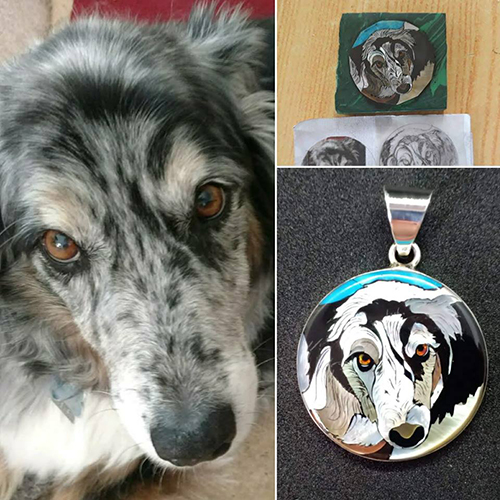 Mother of Pearl, Black Jet, Lab Opal and Turquoise Inlay
Silversmith and Lapidary Artist: Ian Escarro
Sometimes doing the work, like this commissioned piece – a profile of one's pet — is what drives the effort.
"It's not really inspiration, but (having an) aspiration," Escarro said. "It's just projected through what I know best, rocks and gems."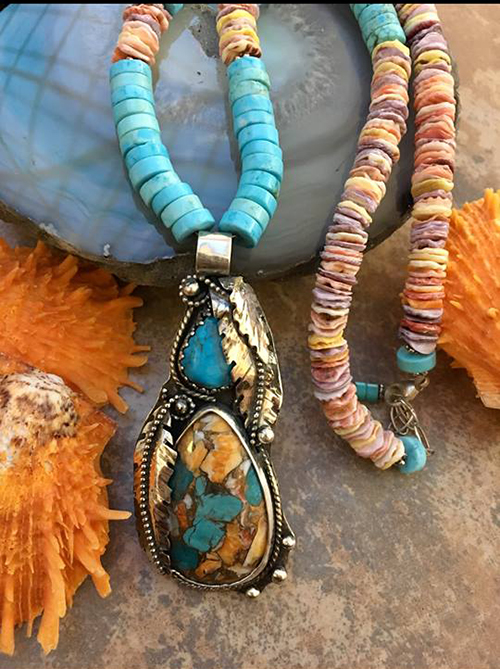 Kingman Turquoise and Spiny Oyster Necklace
Silversmith and Lapidary Artist: Cheri Rossman
Keeping with the theme of the material serving as inspiration, Paul Rossman shares the story behind this piece, which is the work of his supremely talented spouse, Cheri.
"(The) initial inspiration came from the material itself, Kingman turquoise and spiny oyster," said Paul Rossman. "I acquired some material and cut some cabs.
"Eager to set them, Cheri created classic accents in her unique style to make the finished jewelry pieces."