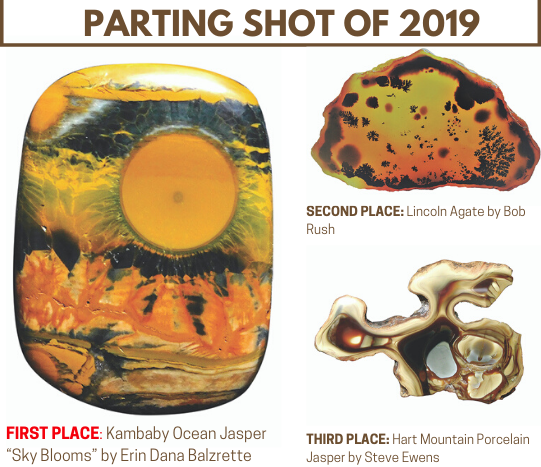 The votes are in and the Parting Shot specimen photo to receive the most votes was the Kambaby Ocean Jasper "Sky Blooms" cut and photographed by Erin Dana Balzrette, owner of Tree Climbers Stones.
Congratulations to Erin who is an accredited jewelry professional through the Gemological Institute of America, co-founder of Facebook's 'Stone and Silver' group, weekly host of the 'Ladies Day/Night' Auction on Facebook's 'Cabs and Slabs' group, and contributor to Rock & Gem.
The voting was extensive this year only a few votes separated second and third place, which was the Lincoln agate (Bob Rush) and Hart Mountain Porcelain jasper (Steve Ewens). Congratulations to Bob and Steve!
In addition to the winning Parting Shot photo, we've selected, at random from everyone who voted, three people to receive a prize pack, featuring unique mineralogical and lapidary treasures and a one-year subscription to Rock & Gem. The winning voters are:
• Cherrill Horn
• Preston Deal
• Barb Chapman
Congratulations to the prize pack recipients! We will be in touch this week to make arrangements regarding receipt of your prize packs.
A heartfelt thank you to everyone who participated in this year's Parting Shot voting.
In the mean time, here is a glimpse of all the Parting Shots of 2019. To ensure you don't miss seeing more Parting Shots, be sure to subscribe to Rock & Gem today.