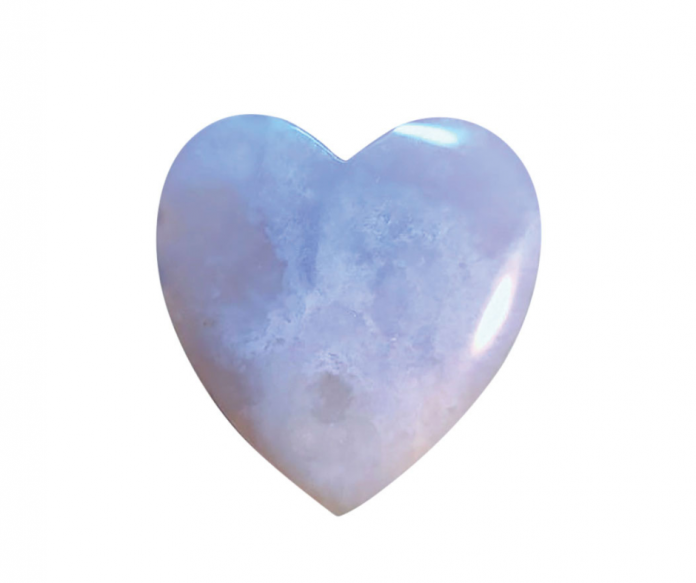 Lakota Blue Ice Agate is a beautiful chalcedony with blue hues that catches your attention when you see it cut into cabochons. It comes from the Pine Ridge Lakota Reservation on privately owned land.
About Lakota Blue Ice Agate
When speaking with Mike Joebgen, who's been allowed to collect there over the years with a Lakota escort and friend, he said this agate comes in a seam in the White River Drainage in the Badlands. There is an abundance of blue chalcedony in this region, but only this one type that is thick and large enough to make cabochons. Since this area has a significant amount of erosion, they are not allowed to dig. Instead, they wait for the weather to erode a certain amount that they can collect each winter.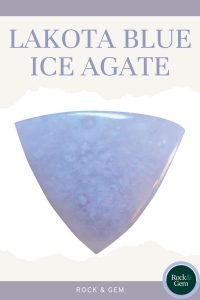 Since this is a seam agate, it usually comes in one-quarter to three-quarter-inch thick small pieces. The best way to work with this material is to cut down the middle and dome from the outer edges grinding through the rough naturally exposed surface areas. If you can get ahold of a thicker piece, then you can try cutting off the outer rough edges and down the middle to get two nice slabs to start your work. Almost 100 percent of this material is useable since the color flows through the entire slab. From what I've experienced, there aren't many, if any, fractures to work around. Working with this material is a pleasure!
Cabbing
To start your cabbing process, trim out your preforms and start grinding them on the 80-grit steel wheel leaving at least .5 millimeters around the edges in case it chips on the backside. Start to dome the top. As you progress to the 220-grit stage, you can trim your preform in a little closer to alleviate any chips on the back outer edges and smooth out the top dome. When moving on to the soft resin wheels, it's always best to have good water flow to keep the cabochon cool and not generate heat from friction.
Chalcedony can easily start a small fracture that will tend to travel in your work as you progress. Much like a small chip in the windshield, it will generally travel and get larger.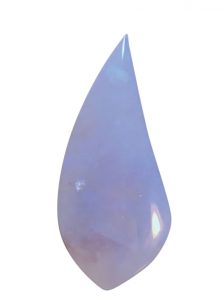 Once you've reached the 280-grit soft resin wheel, you can put all your time and effort into smoothing everything out and making sure no scratches remain. A good light source is important, especially when you are dealing with single-colored cabs, for hunting down any flaws before moving forward. Once you've obtained a smooth scratch-free surface, the rest should be easy. By the time you've finished on the
600-grit soft resin wheel, it will already be taking a nice polish and displaying the deep blue color. Continue to the 14k-grit wheel, and for most people, this is a good place to stop. You should have a beautifully polished cab ready to set into jewelry. If you want to attempt to garner a more mirror-polished stone, you can gently use a leather buffing wheel with cerium oxide, but try not to overheat the stone and chance adding fractures.
This What to Cut column about Lakota Blue Ice Agate previously appeared in Rock & Gem magazine. Click here to subscribe. Story by Russ Kaniuth.