By Bob Rush
I'm always on the lookout for rough pieces that have been dismissed as being not worth the effort to slab. Often there is little indication as to what might be on the inside.
One of my favorite materials is Montana agate. Admittedly, this material doesn't always surrender to what splendors lie beneath the surface. Usually, the surfaces are hard to see through due to mini fractures obscuring the light. These fractures are caused by untold years of rolling amongst other rocks in a riverbed. Wetting the rock and holding it up to the sunlight or holding a bright light behind the rock helps determine the quality of material that might be inside, but remember, this is not always the case either.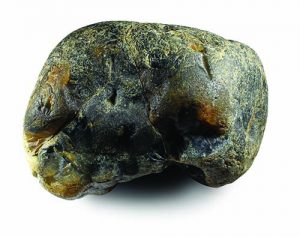 I found this piece at a show I recently attended where they had a box of $1 or $2 rocks depending on their size. I paid $2 for this material. Its shape and outer surface indicated that it was Montana agate. Fortunately, the sun was shining brightly on the patio between the show buildings, so I had the opportunity to really examine this piece. It was very black and dense in almost all directions. There were no outward features to hint what might be inside, except a few spots that barely showed some translucency.
I prefer to slab a rock parallel to any flat side, especially with Montana agate that often has a flat pattern parallel to the flat side. I used a dry diamond saw to notch two parallel grooves so I could grip the rock in my homemade rock gripper.
I proceeded to slab the rock, and in each subsequent slab, the pattern kept getting better and better ultimately resulting in many colorful slabs far beyond my best expectations given what I was able to see originally. Unfortunately, it didn't have any definitively flat pattern, but what was there was spectacular anyhow. I will be able to get many great cabs from my $2 unspectacular find.