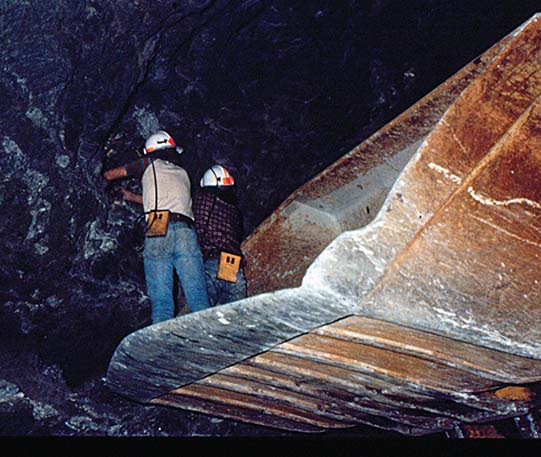 By Bob Jones
With the entire country still in a form of shut down, practicing social distancing, and observing various restrictions, it can be a challenge to persevere. Still, it also marks a time when innovation and creativity are evident and essential for staying connected, positive, and productive.
You have plenty of time to work with what you have in stock for those in the lapidary community, but even that requires some unique processes. For mineral collectors, your library is there to enjoy. With the regular arrival of monthly mineral magazines, you can at least enjoy stories and adventures while learning more about your mineral collection. Thank goodness for the internet and magazines! With the internet, we can keep in touch with fellow collectors, share knowledge, photographs, and anecdotes about collecting.
Investing In the 'Bright Side'
On the bright side, with no group activities possible, the internet opens up a whole new way of enjoying minerals. Dealers are still marketing their minerals, and collectors, as you know, are more than willing to talk minerals online. Also, if club leaders are on the ball, they have set up some sort of group communication online, so club members can use the internet and email to keep in touch, share stories, talk about past field trips, and share photos.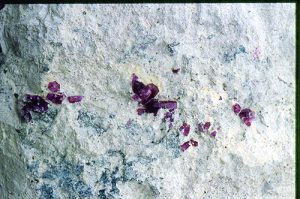 We have such a group here in Phoenix, with about thirty of us communicating daily about minerals. The group began over ten years ago, just some good collector friends informally visiting each other's homes to see and talk about minerals, and even enjoy lunch. The group grew, with friends inviting friends. Now the group is more formal, and we even set up a mineral exhibit in Tucson each year.
As the group grew to about 30 or so collectors, wives included, it was named "Minions." Normally, we would meet after Tucson each year for "show and tell." Still, this year, group meetings and group activities are no longer possible, so we simply developed a wonderful email communication process. It started with collectors exchanging photos of newly acquired minerals. Then we began sharing mineral information, in particular talking about collecting experiences, old mines we had visited, good finds we had made, and anything that might prove interesting to other collectors.
I'm sharing all this with readers because our local group has managed to keep alive and well, in spite, of the pandemic and social distancing. With the internet, we carry on as before. I'm sure other groups in other cities are doing something similar. If your club leadership has not developed a communication network beyond the formal club newsletter, which is useful but not personal, you need to encourage them to use the internet. I hope that local club members across the country will come up with something akin to the Minions, using the internet. Urge your club leadership to start a communication network to share stories, pictures, and mineral news as we do here in Arizona.
Ours isn't the only group in Arizona doing something like this. A similar group, Meta, located in Tucson, is developing a way for the Phoenix and Tucson collector groups to dovetail our email efforts. This is a limitless way of communicating, so we can enjoy our hobby in these uncertain and frustrating times. Surely every reader, every collector and club member, has had collecting adventures others would enjoy hearing about via the internet. What I've found is that when someone tells about a collecting site or adventure, it will remind another member of a place, a story, a mineral, or mineral-related subject worth sharing. This activity has become an almost never-ending cluster of fascinating stories and adventures about minerals and collecting.
Rockhounding Adventures and Anecdotes
My 70 years of collecting, beginning in the late 1940s, has certainly given me plenty of adventures and anecdotes to share with others. I already do this through my monthly writings and column in Rock & Gem. Younger collectors must learn about "the good old days" of inexpensive minerals and years, which I call the halcyon days of mineral collecting and mining adventures after World War II. At this time, mines produced a veritable flood of collector specimens that ran for several decades.
Let me share with you a couple of adventures I've experienced to give you an idea of what I mean. As a science teacher, I always invited students interested in minerals to collect on a Saturday when the weather was nice. I always got a kick out of parents who would complain to me about "all those rocks" they found in their kid's pockets. Well, for some of those students, that interest grew into a lifetime pursuit of minerals.
An example of this took place one day when a fellow called Rock & Gem wishing to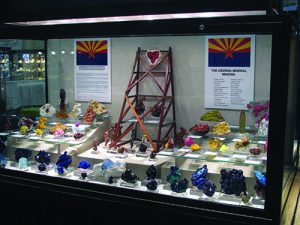 speak with me. It turns out the caller was one of my former rockhound students from years ago. He told me he was the manager of one of the red beryl quarries in the Wah Wah Mountains of Utah, and would I like to spend time there collecting? Within a matter of days, my son Evan and I arrived on-site in Utah, for a weekend of hard work breaking up rhyolite in search of tiny red beryl crystals. Furthermore, I was able to share this particular adventure with Rock & Gem readers through an article.
Living in Arizona, I was lucky to have the opportunity to go camping and collecting in Mexico, during the 1960s through the 1980s. The mines of Durango and Chihuahua, in Santa Eulalia and Mapimi, respectively, were closed, so out of work miners got into the business of specimen mining and selling. These mines produced adamite, legrandite, hemimorphite, calcite, and wulfenite ad infinitum in hard-to-believe quantities. One of the reasons the Tucson show grew so rapidly when it opened in 1955 was its proximity to Mexico. Dealers could do the show and then drive a couple of hundred miles into Mexico and restock for the following year!
My collecting opportunities in Mexico improved greatly when I was elected to the Arizona Sonora Desert Museum's Board of Directors, outside Tucson, in the 1980s. The Museum had a working relationship with Mexican officials and a fine Mexican mineral collection. Bill Panczner, my long time collecting partner, was the Museum's Earth Science Curator. We made collecting and buying trips into Mexico, while Bill was writing the book "Minerals of Mexico," which is still available through Rocks of Ages (www.rxofages.com).
On a one month trip, Bill, his son Chris and my son, Evan, and I headed for Fresnillo, Naica, and Durango's silver mines. One of our planned stops was to visit the retired superintendent of Santa Rosalia mine, Pedro Maihue, to have lunch. Since I was a first-time visitor, I was given the honor of carving some quite delicious meat for our lunch. It was only after lunch that I was asked how I liked the goat meat. We camped outside the San Martin Mine, in Fresnillo for the night. Come morning we checked into the mine office the next day. The superintendent of San Martin gave us a red carpet welcome and immediately escorted us into the mine.
As we walked along the main tunnel toward the active mining area, I saw some small stibnite crystals on the tunnel floor. The stibnite was what we were looking for, and then Bill spotted a nice pocket of crystals about 15 feet up the wall, but we had no ladder. No problem! The superintendent left, and after a few moments, he returned, followed by a miner driving a front end ore loader! We put Evan and Chris in the bucket, and the miner hoisted them up to collect the pocket! Not to be left out, Bill and I took a turn, too.
Our problem, which was not a bad one to have, was that we had not expected to collect that first day and had no wrapping or boxes with us. Scattered about the mine were empty explosives boxes and papers, so we wrapped our specimens with the materials at hand, and got ready to walk out. Luckily, it was quitting time, and the miners had a small tractor and trailer with benches, which they rode to grass. When the tractor-trailer came by, we hopped on. All the miners immediately got off and began walking away! We had no idea what prompted this reaction until the miners pointed at the dynamite boxes! After we showed them the boxes contained stibnite specimens and not explosives, they got back on, and we all laughed and rode to grass.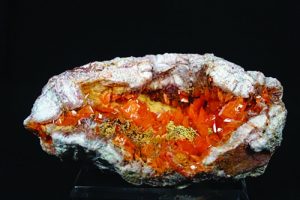 Another day trip involving explosives happened when four of us were collecting nice wulfenite crystals in a local mine. The crystals were never large, a half-inch on edge, but profusely clustered. They were a magnificent orange-red color on a yellow mimetite matrix. A day of digging would yield three or four flats of nice small specimens for trade and display. At lunchtime, we took a break, broke out sandwiches, and sat on boulders to relax. The guy sitting across from me finally said, "Hey, Bob, I wouldn't sit there if I were you!" I had no idea what he was talking about and said so. He pointed under the rock where I was sitting and said, "I think that's an old stick of dynamite under your rock!" So I quickly moved, and we decided to dig somewhere else in the mine. Old dynamite tends to sweat nitroglycerine and can let go at any time.
Now, I don't normally collect gem materials, but Carol and I joined Benny Fenn (now deceased) and his wife Elva, at a labradorite gem deposit they had discovered in Chihuahua. Elva found the gems while they were tracking an injured coyote. We could collect loose crystals, and within an hour or so, we each filled a gallon-sized plastic bag with bright yellow gem labradorite crystals, which measure about two inches across. The weathered outcrop was peppered with faceting grade gem rough there for the picking. Weeks later, I had our self-collected labradorite gems faceted for Carol, our daughter Suzanne and granddaughter Kiera. Now that's my kind of collecting day!
Exploring New Forms of Communicating
I hope readers will follow my collector friends' lead and organize an informal communication group among collecting friends and club members. As our Minion group does, we are not supposed to gather in large groups as of yet, but you and friends can sure communicate within groups. Clubs already provide members with contact information, like email addresses, so it would be easy for someone in a club, who is comfortable with computers, sets up an email bank that includes all members interested in joining in on a "Minion-type" communication network.
Use the internet or other methods of communicating with other collectors about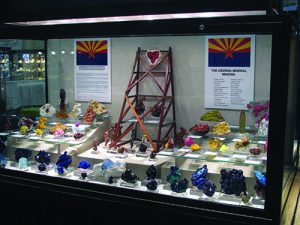 minerals, share and talk about photos, maybe have everyone tell of their favorite mineral, and any stories related to them. Sharing past adventure stories as I have here, sharing information about mineral events, and anything else related to minerals is fun. And don't forget your club newsletter. Talk to your editor and offer to help produce club news and interesting anecdotes about past field trips, successful, funny, or not. Share mineral show stories and things you find interesting. Raise questions you might have about minerals and learn something while sharing with other collectors.
We have heard again and again that we will get through this situation together, and I hope this column has given you more ideas to make that happen. Be safe!