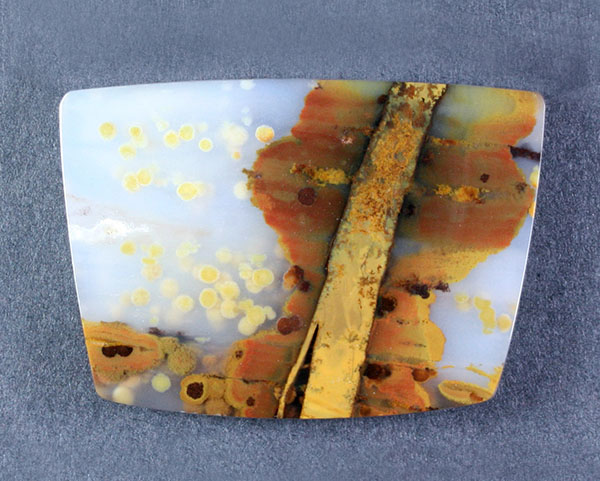 Story and Photos by Russ Kaniuth
Several years ago, some like-minded friends and I made a great trip up to Oregon for the annual Prineville and Madras shows. It was pretty much 10 days of rocks, rocks, and more rocks, a trip I highly recommend. After spending a day at Richardson's Rock Ranch digging thunder eggs, we decided to head over to the Polka Dot agate mine nearby—"just look for the polka dot trailer", they told us at Richardson's. Sure enough, after following the directions, we came upon the white trailer covered in multicolor polka dots, looking like a big loaf of Wonder Bread.
The Polka Dot beds are a fee-dig site owned by West Coast Mining that is usually open in the summer, from Memorial Day to Labor Day. You can dig your own material or purchase pre-dug agates by the pound. At the mine, we met Dale Hewitt, the owner of West Coast Gems and proprietor of the Polka Dot agate mine. The mine is on a hill above a picturesque canyon—a really beautiful location for one of the more unusual and interesting agates from the area.
On the hillside near the deposit were a multitude of 50-gallon drums, each filled to the top with cutting material from several different locations mined by Dale, like a big open-air rock shop.
The Polka Dot agate deposit has been producing fine agate for a long time and is still going strong. There are also a couple small caves adjacent to the deposit itself. For centuries, Native Americans mined the deposit, using the hard agate and jasper for tool making. Artifacts made from this distinctive agate have been found as far away as Colorado. While many locations have a former heyday—some time in the past when the "good stuff" was coming out—this does not seem to be the case at the Polka Dot mine. The good stuff just seems to keep coming.
Polka Dot agate is an orbicular variety. The agate is dotted with variously colored orbs, floating in a base of agate or jasper that ranges from white to blue in color. Translucency varies from piece to piece and the dots can be black, brown, red and yellow, although an orange-brown seems to predominate in the orb department. The dots are sometimes hard edged, while some are kind of fuzzy-edged, like little floating snowballs.
There is all kinds of crazy stuff going on in this agate. When the agate gets to be a deeper blue, it is known as "blue ice". Some of the agate has opaque, reddish-brown jasper running through the translucent sections. I consider the blue ice with dots and jasper bands to be the best for cabbing.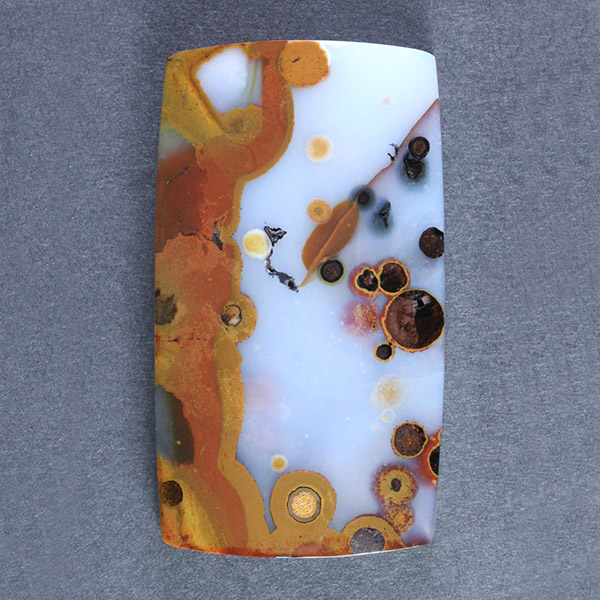 Cutting this material is pretty straightforward; it is a nice solid agate that takes a great polish. There's nothing really tricky to watch out for in terms of cutting the cabs. I think the difference between a good stone and a great one in this material usually comes down to one thing: composition. There is a lot to work with in this agate; there are orbs, bands, waves, and occasionally a black dendrite or two. I spend more time just thinking about what I'm going to do with this material than with most others.
Polka Dot agate has lots of variety in the patterns, and all the interesting details are often found right alongside each other. I try to use the jasper sections or bands as dividing lines in my designs, bordering the top, bottom or one of the sides with jasper or using thinner bands to split the design into two sections, not necessarily symmetrically but more of a one-third/two-thirds kind of arrangement, with the dots all mixed in around. Sometimes, you can get a nice scenic landscape design—even if the landscape looks like it's on another planet.