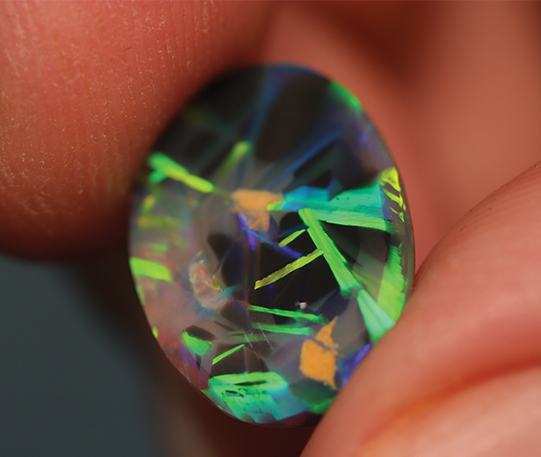 Fortune Opal is a sponsor of

By Antoinette Rahn
There's no question there is a lot to be curious about when it comes to opal. Its formation, the various types, fascinating play-of-color, diverse patterns, opalization of fossils, and intriguing localities. For Ted Hamilton and his business partner Stefan Rohleder, a second-generation opal miner, a deep-seated sense of wonder, a commitment to ethical and sustainable mining, and a passion for discovery forms the foundation of their business, Fortune Opal.
Having a keen eye for detail is one way to feed that sense of curiosity. An excellent example of this is evident in Hamilton and Rohleder's response to how they'd describe to someone what makes opals such amazing treasures of nature.
"Uniqueness. Every natural solid opal is one of a kind; even a 'perfect pair' will have differences on some level," they said.
Hamilton and Rohleder's connection dates back 25 years. It was Hamilton's fascination with opal, along with his determination to share the passion and allure that surrounds the "Queen of Gems" with the world, combined with Lightning Ridge-native Rohleder's obsession and experience with the gem that led to the inception of Fortune Opal eight years ago.
Teaming Up to Pursue Opals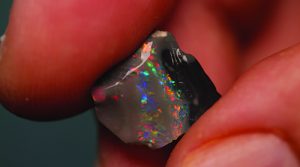 The duo established a multi-faceted business operation focused on opal. The company prospects and mines for black opal in Lightning Ridge, Australia. Plus, they invest in multiple tenements and other small mining operations to increase the diversity of supply, Hamilton and Rohleder said.
"As black opal deposits are small and continuity is never guaranteed, it has been necessary to source stock outside our own operations to ensure the best supply for our growing customer base," they explained. "To that end, we work closely with a very small, select group of miners that are equally dedicated to the industry and ethical, sustainable production of opal."
Working to consistently evolve its multi-faceted business operation and stay true to its foundational vision has helped Fortune Opal navigate the unpredictable year 2020 and remain hopeful.
"The challenges associated with safety measures imposed on our customers and ourselves have certainly impacted our growth, but demand in certain areas of the market/products has seen an unexpected increase in revenue in some sectors and falls in others," Hamilton and Rohleder said. "Fortunately, our mining operations here in Australia have been largely unaffected due to remoteness and low population density. Supply is still strong at the moment."
A practice the Fortune Opal team has put into action, especially during these uncertain times, is being ever mindful of developments and progress with the potential to benefit the opal industry.
"Social media and mainstream television are doing wonders for the promotion of Australian

black opal," according to Hamilton and Rohleder. "More and more people are becoming aware of our national gemstone and understanding the rarity of a truly remarkable gem and the lifestyle that accompanies hunting the fabled 'big find.'"
The Fortune Opal founders also report seeing a resurgence in prospecting adjacent to some fields that were highly productive in the 1990s.
"Exploring that ground is a great move by our fellow miners as its definitely not exhausted, and much of it was glossed over in search of greener pastures further afield," they said. "We have been concentrating our efforts in these areas for the past ten years with genuine success."
Another development Hamilton and Rohleder identified is an evolution among consumer buying tactics.
"A very popular product at the moment is very high-end small black opals. It seems a broader range of opal consumer is starting to understand the difference in quality and that is resulting in people purchasing a smaller, cleaner, better quality piece rather than larger stones of lesser carat price."
As the opal industry continues to evolve with technology, discovery, market demand, and consumer awareness and buying patterns change and grow, the Fortune Opal team strives to navigate the opal industry's changing business landscape while remaining true to their vision and always curious.
For More Information
Visit: www.fortuneopal.com
Email: stefan@fortuneopal.com