Below is a snapshot of some of the topics and interests you can expect to see in the pages of the February 2021 issue of Rock & Gem. Plus, we've included some sample pages for you to enjoy.
• CERUSSITE: Galena's Gift of a Stunning Secondary Mineral. By Bob Jones
• FACETING FOCUS: Trisparkle 12 Design Marks New Approach. By Mark Oros
(Sponsored by Cutting Edge Supply Co.)
• GEORGIUS AGRICOLA's DE REMETALLICA: 465 Years Old and Still Relevant. By Steve Voynick
• 7 QUESTIONS WITH BOB JONES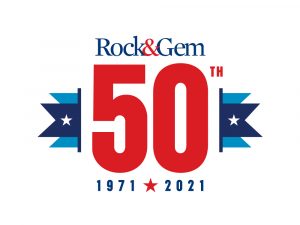 • HUNTING FOR THUNDEREGGS — Uncovering a "Ghost" Volcano's Treasures. By Jim Landon
• SPECIAL SECTION: TOOLS OF THE TRADE
Sponsored by ULTRA TEC
• CAPTIVATED BY COPPER: Soldiers' Discovery Leads to a Century of Mining at Pearl Handle Open Pit. By Bob Jones
• ROCK & GEM REVISITED — THE MOST COMMON MINERALS: Quartz Is the Cornerstone of the Collecting Hobby (August 2001 issue). By Bob Jones
• DISCOVERING THE SPLENDOR OF SLAG: Recycling Slag Leads to Swag. By Rebecca Solon
• CLUB CALL-OUT: Is Your Club Listed?
In addition, you'll find the following regular R&G columns: Bench Tips with Bob Rush, Rock Science with Steve Voynick, What to Cut with Russ Kaniuth, On the Rocks with Bob Jones, Rock & Gem Kids and Earth Science In the News with Jim Brace-Thompson, Sneak Peek: Opals, The Road Report with Helen Serras-Herman, Show Dates, and the always popular Parting Shot.
---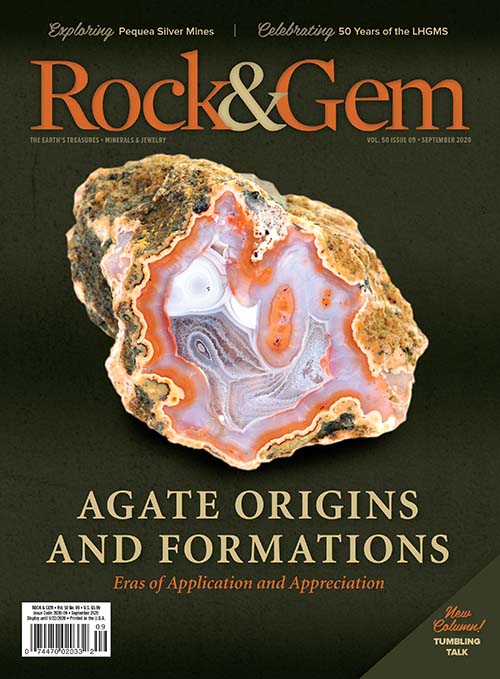 If you enjoyed what you've read here we invite you to consider signing up for the FREE Rock & Gem weekly newsletter. Learn more>>>
In addition, we invite you to consider subscribing to Rock & Gem magazine. The cost for a one-year U.S. subscription (12 issues) is $29.95. Learn more >>>
---