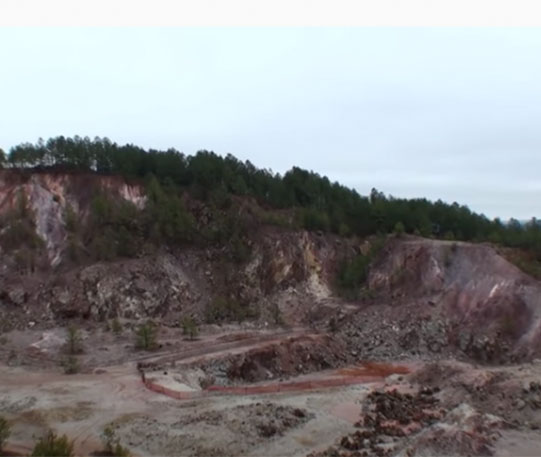 Editor's Note: This is part one of a two-part series of blogs highlighting videos shot and produced by American Rockhounds © Richard Jacquot
By Antoinette Rahn
Managing Editor, Rock & Gem
Graves Mountain in Lincoln County, Georgia is a familiar name within rockhounding circles, as it is one of the most prolific sites in Georgia, with a multitude of minerals extracted from the site every year. 
The timeless video shown below from 2010, shot and produced by Richard and Sandy Jacquot, owners of American Rockhound (www.wncrocks.com), featured members of the Mountain Area Gem & Mineral Association (www.wncrocks.com/magma/magma.html) enjoying a dig day at Graves Mountain. 
One of the most enjoyable aspects of this video is the interactions with various club members as they discuss their discoveries. The locality is divided into the upper pit (2 sections) and the lower pit, and as Richard explains, the formation of the area dates back 310 to 280 million years ago. Historically, Graves Mountain was a primary producer of kyanite in the U.S. Yet, it is also famous for rutile, lazulite, striking iridescent hematite, as well as pyrophyllite, ilemnite, fuchsite, and cacoxen­ite, among others. 
American Rockhounds: Graves Mountain, Part 1
 © Richard Jacquot
The sights and sounds of rockhounds on the hunt at Graves Mountain are music to the senses, as you learn more about this site, which Smithsonian Magazine includes on its list "Five of the Best Places to Go Gem Hunting."
Caretaker of the mine, Clarence Norman, Jr (Junior), does offer public digging at the site by appointment. In addition, in April and October, he and his wife, Melissa, host Rock Swap & Dig events. The site is owned by Asea Brown Boveri (ABB), a Swiss-Swedish multinational conglomerate based in Zurich. For more information, contact Norman at 706-359-1544. 
Plus, look for more videos by American Rockhounds on our website and on the American Rockhounds TV YouTube channel: www.youtube.com/user/wncrocks