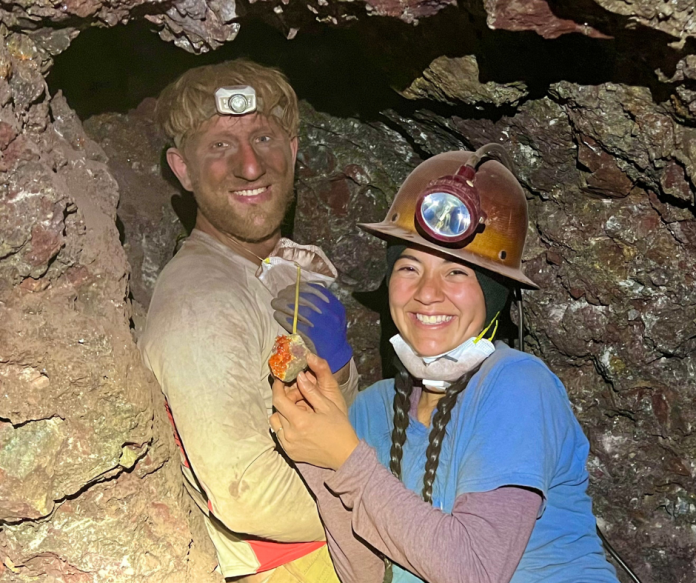 Wondering how to rockhound from an RV? Three years ago, Frank and Kyndall Stallings sold everything they had, packed their car and a tent, left their home in Charleston, Missouri, and headed out to mine their fortune. Since then they have coaxed fossils, minerals, and gemstones out of the ground in 22 of the 50 United States and traded their car for a shuttle bus which they converted into their home and business headquarters. Along the way, they learned not only about what is buried inside the earth, but how to grow a successful business from the dig site to the latest social media tools.
A Learning Curve
According to Frank, the lessons were tough from the start.
"When we started, we knew absolutely nothing about rocks," he recalls. "All we knew was that there were valuable gems all over the world to be found and people would buy them."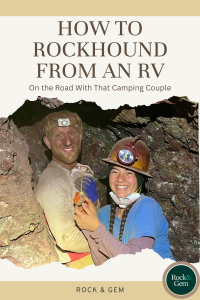 Their learning curve began in April 2020 when the couple visited a pay-to-dig mining spot for the first time. The pair spent two months mining quartz crystals at Ron Coleman Mining in Arkansas and fell in love with the pursuit.
"We sold all of our belongings in four days and hit the road to become full-time YouTubers and gem miners," he recalls. "All we had was a tent, the money we made from selling our belongings, two dogs, two months' worth of crystals that we planned on selling, and a newfound passion for mining – we didn't have a part-time job or a plan B."
With scant options, the pair learned fast about how to recognize what gems, minerals and fossils they wanted to mine, where to find them and how to make sure their digs were legal.
"The more rare and valuable, the better," says Frank.
Pay-to-Dig Sites
Mostly they mine pay-to-dig, also known as fee mining sites, where people like the Stallings can pay a fee – as much as $190 per person per day –to dig, pan for gold, wash for gems and split rocks to find fossils. These sites are scattered all over the country and their locations can be found online. Successful miners can legally keep whatever they find and sell it.
"The sites dictate what we are collecting, and digging at pay-to-dig sites allows us to legally sell what we find, " Frank says.
Reservations are preferred at pay-to-dig sites and check-in at the mining office is a must, he advises.
Public & Private Land
On public lands, which are collectively owned by people in the U.S. and managed by government agencies such as the National Park System, explorers may legally prospect, but may only collect material if the land is unclaimed or is a designated rockhound area. If the area is designated a rockhound area, prospectors may collect what they find, but are not allowed to sell it.
"If it is public land, we use internet resources to check if the land has active mineral claims to respect the claim boundaries," Stallings explains. If it is a designated rockhound area, we read the rules (that must be followed) online.
By contrast, private lands are owned by individuals, businesses, or some other non-governmental organization, and require the permission of the landowner or claim holder. Those who want to prospect there must obtain permission from the land or claim owner.
Know Before You Go!
Long before that ever happens, the Stallings research potential prospective dig-sites online and consult claim maps that pinpoint the boundaries of privately-held land or claimed land to avoid stealing any resources that may be buried in the earth.
"If it is a claimed area, we stay off the claim perimeters to avoid claim-jumping, also known as stealing," Stallings explains. "If it is private land, (a person) could do research to contact the land owner, but we personally just stay off private land."
Fabulous Finds
Since they began prospecting, the Stallings have mined museum-quality gems from several locations including honey calcite crystals in Okeechobee, Fla, $15,000 worth of Herkimer diamonds in Herkimer, NY, wulfenite crystals from the Red Cloud Mine in Yuma, Ariz., solid turquoise nuggets in Tonopah, Nev., and blue-green Smithsonite in Magdalena, NM. They've also discovered an entire agatized petrified tree in Holbrook, Ariz.
"Nearly every location we visit, we find gems worth $500 or more," says Frank.
As a result, Frank, 29, and 24-year-old Kyndall Stallings have built a tidy business from their explorations.
They clean, prep, and ship the treasures they find from their bus while they are on the road. Sales come from the weekly gem shows they host on one of their Facebook sites, and through online stores, they maintain on eBay. Meanwhile, they cultivate their business by sharing on-the-spot videos of their excavations on their YouTube channel and on one of their sites on Facebook. They also share their adventures on their website thatcampingcouple.com.
Making a Living
"Our main income source is our gem sales," Frank says. "About 10 percent of our income comes from social media, and the rest is from selling our hand-collected gems."
Still, the way the couple has chosen to make their living is not easy, Frank points out.
"When we started, we barely made any money for an entire year – we went broke several times and had times where we couldn't afford gas or important bills," he recalls. "Even now that we make more money, we still put every penny we make back into mining gems and traveling to the next collecting site to grow our business."
These days, their work still demands long hours all day every day involving not just mining, but preparing their finds for sale, marketing them, and filming and editing videos for their social media and website outlets.
On The Road Realities
Meanwhile, recent economics have also added new challenges.
"To be successful, we have to find noteworthy pieces at each location to accommodate rising gas prices and travel expenses, as well as entertaining our social media following," he says.
Then, of course, there are the hours of windshield time, and forfeit of even the most simple creature comforts.
"We sacrifice certain comforts, like being far from family and friends, and not being able to shower on a daily basis," Frank admits.
Still, there is an upside too, he says, including being self-employed and trading the outdoors for a cubicle in some office building.
"Also we get to work together as a married couple, travel, see the country, and find extraordinary, beautiful gems," Frank says. "Most importantly, we get to really live and experience what life has to offer – in the end, it's worth it."
This story about how to rockhound from an RV appeared in Rock & Gem magazine. Click here to subscribe. Story by Pat Raia.