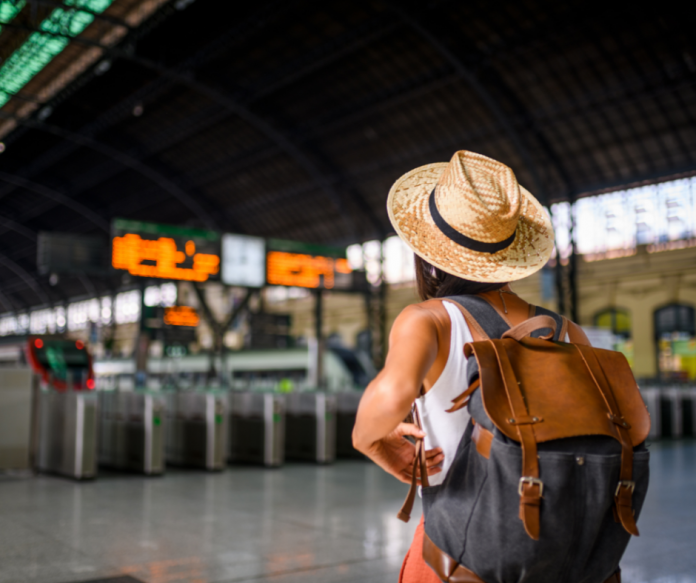 Bucket lists… they're the culmination of longtime wishes but you don't have to be Jack Nicholson or Morgan Freeman (who starred in the 2007 namesake buddy film) to hit the road and explore some of the largest, most unforgettable — and most enduring — rock, gem and fossil shows from Alaska to Hawaii.
Looking for suggestions to fill your 2023 list? Try dropping some of these shows into your bucket (and when you go, don't be shy about sharing your photos or own suggestions with us on Facebook and Instagram, too).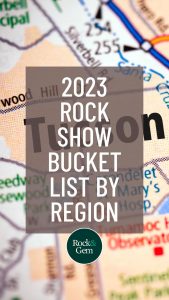 Northeast
May 6-7: 58th New England Gem & Mineral Show, Topsfield Fairgrounds, Topsfield, MA www.northshorerock.org
Burn off some spring fever during the first weekend in May while stocking up on lapidary and jewelry supplies, and checking out minerals, gemstones and fossils. The Topsfield Rail Trail also has the North Shore's first solar bench, so you can charge that smart device between gem show adventures.
May 17-21: NJ Mineral, Fossil, Gem & Jewelry Show, Expo Center, Edison, NJ www.nj.show
Fuggedaboutit, this is one of the most-attended shows in America. From beginner to investment-grade minerals, fossils, meteorites, gemstones, crystals, cabochons, amber, turquoise and petrified wood, to metaphysical and scientific gifts, and crafted jewelry, tools and supplies. (Phew! Did we leave anything out?) For kids, there's a Dinosaurs Rock traveling exhibit, geode cracking, sluicing for gemstones, and UV minerals room.
August 11-13: East Coast Gem, Mineral & Fossil Show, Big E, West Springfield, MA www.mineralshowslld.com
Spend a weekend in New England at one of the largest shows of its kind east of the Mississippi River, drawing over 200 vendors, artisans and crafters from Brazil, Morocco, Madagascar, Pakistan, India, China and Russia. Each year a guest exhibitor is invited to fill 50+ display cases with minerals from their collection (in 2022 the special exhibit was the world-famous Ann and Si Frazier Quartz Collection).
November 4-5: 54th GEMARAMA, Greater Philadelphia Expo Center, Oaks, PA www.lapidary.org
For over half a century the Tuscarora Lapidary Society has melded art and science into a fine gem, jewelry and mineral show. A third of which features 30+ instructional and competitive cases, plus a lapidary arts area with live demos in stone cutting, jewelry making, wire wrapping and chain making (because who doesn't need an extra?)
Southeast
October 13-15: 50th Gem, Mineral, Fossil & Jewelry Show, Alario Event Center, Westwego, LA www.gmsofla.org
This is no ordinary show, with extraordinary local vendors of Louisiana opal, plus lapidary and rock hunting tools, minerals, fossils, and handcrafted jewelry, cabochon polishing demos, and for the kids, there's geode cracking, fluorescent minerals, and a dinosaur bones and casts exhibit. Then check out some local Cajun/Creole cookin'.
October 14-15: Tampa Bay Mineral & Science Club Show, State Fairgrounds, Tampa, FL
Since 1957, this club has fostered interest in the rocks and minerals that compose our Earth and how to turn them into usable jewelry through metalsmithing, lapidary, faceting, and wire wrapping. Life's a beach, even for rockhounds.
November 19-20: 56th Gem & Mineral Show of The Palm Beaches, Expo East, West Palm Beach, FL www.gmspb.org
Start a new tradition: This gem, mineral, bead and fossil show is always held the weekend before Thanksgiving. Plan a getaway or class reunion and time it with shopping nearly 100 dealers, plus geode cracking, gem and fossil mining, and demos in faceting, cabochon and chain making, and bead stringing.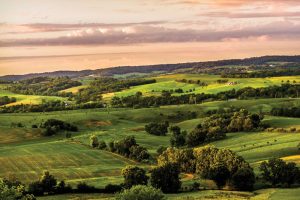 Midwest
May 6-7: 58th Gem, Mineral, Fossil & Jewelry Show of Greater Cincinnati, OH www.geofair.com
Bring your curiosity and some of your own collection for free fossil, meteorite and gemstone identification, explore 70+ displays from museums, universities and private collections, find 50+ retail and wholesale dealers, and get rockin' at the Swap Area.
May 27-29: Flint Ridge Knap-In, Flint Ridge Ancient Quarries, Glenford, OH www.flintridgeohio.org
A night at the museum? How's about a weekend at the quarry? Rent a shelter with an electric hook-up for the weekend, bring the family, and learn how to make arrowheads, spears, stone tools, bows, atl-atls (what's that? Come find out!), stone pipes, cordage, and items from hide and bone. Tour ancient quarry pits left by native people, then tour the museum to learn the geologic history of Flint Ridge. There's also a Fall Knap-In in early September.
October 20-22: 44th Mid-America Paleontology Society (MAPS) National Fossil Expo, State Fairgrounds, Springfield, IL www.midamericapaleo.org
Dino-mite! All roads lead to the largest show in the world to exclusively exhibit fossils. From trilobites to Tsintaosaurus, there's an array for all interests and budgets, plus a Friday night lecture with a renowned scientist on the 'fossil theme of the year' (in 2022 that was 'Lagerstätten,' sedimentary deposits exhibiting exceptionally preserved fossils, like the Cambrian Burgess Shale). Go ahead, geek out.
October 28-30: FOSSILMANIA, Somervell County Expo Center, Glen Rose, TX www.dallaspaleo.org/FOSSILMANIA
Texas' longest-running show dedicated to fossils and everything paleontology puts it best: We have fun. We learn stuff. We go cool places. We find interesting things. We make new friends. This is not a gem and mineral show but who's noticing if there are fossil collecting field trips, guided tours of dino tracks, a badge workshop for Scouts, plus books, apparel and artwork?

Northwest
March 4-5: 69th 'Owyhee Rocks' Show, OConnor Field House, Caldwell, ID www.owyheerocks.com
Mark your calendars for the first weekend in March when this club (founded in 1938 ) holds its annual show.
April 21-23: 60th Parade of Gems, Central WA State Fair Park, Yakima, WA www.yakimarockclub.com
With themes like 'Blast From the Past: 40 Years Since Mount St. Helens', this is the show for volcano lovers, plus demos on volcanic explosions, gold panning and flintknapping, plus Mount St. Helens memorabilia by local artisans to rock your world.
September 23-24: 65th Thunderegg Rock & Mineral Show, Willamalane Center, Springfield, OR www.springfieldthundereggrockclub.org
Do good while rockin' out to dozens of vendors, as all proceeds go toward a $1,000 scholarship for a local student, plus free admission and rock shop tours.
September 8-17: Denver Mineral, Fossil, Gem & Jewelry Show, National Western Complex, CO www.denver.show
They don't call this free parking/admission 10-day event "gigantic" for nuthin'. Among the largest mineral, fossil, gem & jewelry shows in America (11 miles of tables), when they say, "We're bigger than five Walmarts and heckuva lot more fun!" they mean it.
October 29-30: Chugach Gem & Mineral Show, Midtown Mall, Anchorage, AK www.chugachgms.org
Who says you can't combine bucket lists? If you've been dreaming of a trip to Anchorage or chasing northern lights, now you can visit a gem and mineral show, too.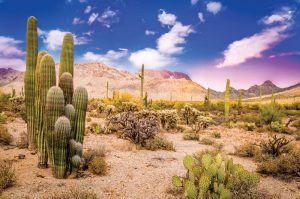 Southwest and Pacific
January 6-15: 2023 Tyson Wells Rock & Gem Show, Quartzite, AZ www.tysonwells.com
Does this La Posa Valley town's name give it away? Called an unbelievable 'market of the world,' this 10-day, 25-acre outdoor spectacular always starts the new year right and, with over two miles of frontage and 400 vendors, is the largest show of its kind.
January 26-Feb 12: 22nd Street Mineral, Fossil, Gem & Jewelry Show, Tucson, AZ www.22ndstreet.show
18 non-stop days of minerals, gems, fossils, meteorites, art and jewelry from almost 500 dealers earns this extravaganza the title of "most attended show in Tucson."
February 9-12: 68th Tucson Gem and Mineral Show®, Convention Center, Tucson, AZ www.tgms.org
The granddaddy of gem shows, it's been called the oldest, largest and most presti gious show of its kind in the world, and The Tucson Gem and Mineral Show® has held international stature since the 1970s. It was the first to bring hobby enthusiasts, the public, and curators and professionals together to one mineralogical mecca. There's even a 2023 theme, "SILICA – Agates and Opals and Quartz, Oh My!"
March 9-12: 57th Rockhound Roundup, SW New Mexico Fairgrounds, Deming, NM www.thedgmsclub.com
This internationally recognized show has it all: 100+ dealers, fossil digging, gold prospecting demos, and even a metal detecting contest. Come for the Roundup, stay for the volcanic rock formations at City of Rocks State Park, or go search for your own geodes and thundereggs at Rockhound State Park.
March 18-19: 69th Treasures of the Earth Show, Albuquerque State Fairgrounds, NM www.agmic.info
Always the third weekend in March, for 50+ years this show has raised support for Academic Achievement Awards for Earth Sciences graduates at UNM, and features a mineral ID booth plus NM Bureau of Geology and Mineral resources. Hint: Friday is $2 Day, and kids under 13 are admitted free.
November 10-12: Honolulu Mineral, Gem, Fossil, Jewelry Show, Convention Center, Honolulu, HI www.Honolulu.show
Hello? It's Hawaii – what's not to love? Hawaii has never had a major mineral and gem show like this before. Browse 130+ dealers within walking distance from Waikiki Beach and minutes by car from Diamond Head, Rainbow Valley, and surfing towns. Make that a double "aloha."
Fill Your Bucket
There's a piece of advice in the The Bucket List that Carter (Morgan Freeman) shares with his buddy and fellow adventurer, Edward (Jack Nicholoson):
Carter: "Forty-five years goes by pretty fast."
Edward: "Like smoke through a keyhole."
Time, like smoke, drifts away. Rocks and gems, minerals and fossils, have extraordinary longevity. Start filling that bucket.
This story about rock show bucket lists appeared in Rock & Gem magazine. Click here to subscribe. Story by L.A Sokolowski.