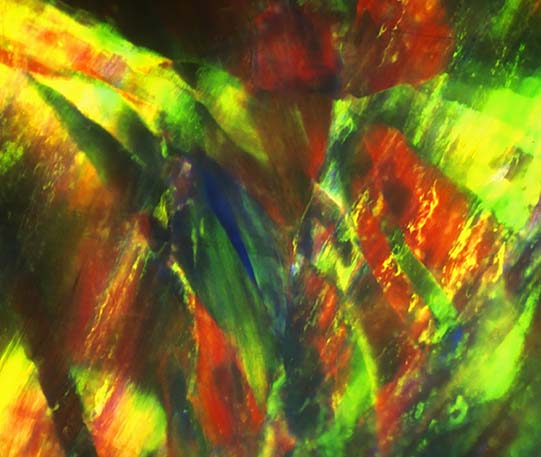 The House of Tibara is a sponsor of

By Antoinette Rahn
Life-long learning and innovative collaboration may be trendy terms these days. However, neither concept is new for the husband-wife duo of Tim and Barbara Thomas; it's how these retired educators and business owners have always lived their lives.
The Thomas' are owners of The House of Tibara. See, a great example of their collaborative spirit exists within the name of their company, which is a fusion of Tim and Barbara's names. The couple's passion for opals, gem and mineral shows and lapidary developed early on in their marriage, by way of a show, travel to Australia, and interactions with people who cherish opals. In the early 1970s, the newlyweds traveled to Lancaster, California to visit family. During the visit, they attended a show hosted by a local gem and mineral club.
Similar to other October birthday celebrants, Barbara's fascination with her opal birthstone influenced the couple's interest in the rough opal displayed during the show. Fascinated by what they saw at the show and the warm welcome of club members, they attended more shows and established a relationship with an opal dealer who advised they "buy some opal and a case," which they did. That same dealer freed up some space in his booth and invited the Thomas' to use the booth space to sell their opals.
"It didn't take much time for us to decide to do some part-time work to build a nest egg for the retirement years," explained Tim. "In 1974, we started building the House of Tibara."
Teachers And Opal Enthusiasts
The part-time plan worked well for the pair, both of whom taught high school. Ten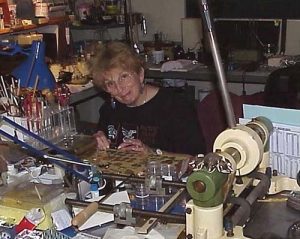 years into their part-time opal business, they were attending nearly 20 shows a year as dealers. About that same time, both moved from class-room educators into administrative roles. This shift required an assessment of the time they had available and the goals they held for themselves concerning their business.
Assessing and adjusting is something the Thomas' have done various times in the course of operating their business, and each experience provides an opportunity to learn and grow. An outcome of one such assessment resulted in the couple scheduling ten trips to Australia. While during these trips, the couple learned more about opal while attending a few yearly Australian Opal Symposiums and visiting opal mining areas of Lightning Ridge, Coober Pedy, and Quilpie. During these trips, the couple met many interesting miners (some of whom have been mining since or before WWII). Locals abundantly extended invitations to the Thomas' to visit mines and buy opal, in addition to providing directions to various opal mine dumps.
Another assessment resulted in the couple attending the ten-day Tucson Gem and Mineral Show as dealers for 12 years. This opportunity led to a collaboration with the TGMS, wherein the couple taught classes during the show. As the years went on, the Thomas' attendance at the show became an even greater affair, with the couple's two daughters — equally skilled in art clay and knowledge of gems, including opals — helping care for customers. At Tucson, the couple met an opal miner who introduced them to fine boulder opals and invited them to visit the Hayricks Mine. Barbara accepted the invite as Tim's calendar was full.
Always Learning Through Experiences
The Hayricks mine consists of a flat-top butte, similar to the ones seen in the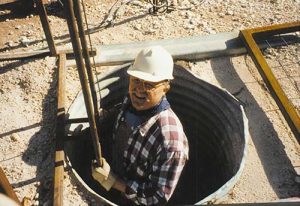 western United States. More than 300 feet from the plain, flat top with a diameter of two football fields and 60 feet up from the plain is a layer of rock where the "boulders" exist. Also, 60 feet down to the plain is filled with rockfall from previous above-ground mining. Large 350 horsepower shovels tease the boulders out of the boulder layer until the rockfall happens and needs to be removed.
The visits to Australia led to the opportunity for the Thomas', who by then had retired from their careers in education, to become part owners of the mine. This opportunity, like many things in life, was a learning experience.
"This would have been great except after months of working the miners couldn't get to the boulder opal layer, because of the fallen debris that began to pile up in front of the boulder layer," Tim said. "We got some nice pieces of boulder opal, but not what we have expected."
However, the first collaboration taught the Thomas' many things and helped set them on the path to business success. Among the positives to come from that first partnership was more opportunity to sell their boulder opal, invitations to visit other mining areas, and the inspiration to know what is possible with access to even greater knowledge, and the right partners and equipment, Tim added. This philosophy led the couple to collaborate with Ameritool, the company that produced some of the tools the Thomas' used.
Keeping a Sense of Curiosity
With the valuable knowledge, skills, connections, and reputation they've established over the years, the Thomas', who have been married for 51 years, continue to do business with curious minds and a spirit of helping others to keep learning. This mindset is essential when meeting a customer or mine owner for the first time or the fiftieth. Keen curiosity, an eye for detail, and a passion to learn is also crucial for identifying best selling inventory, as well as business practices.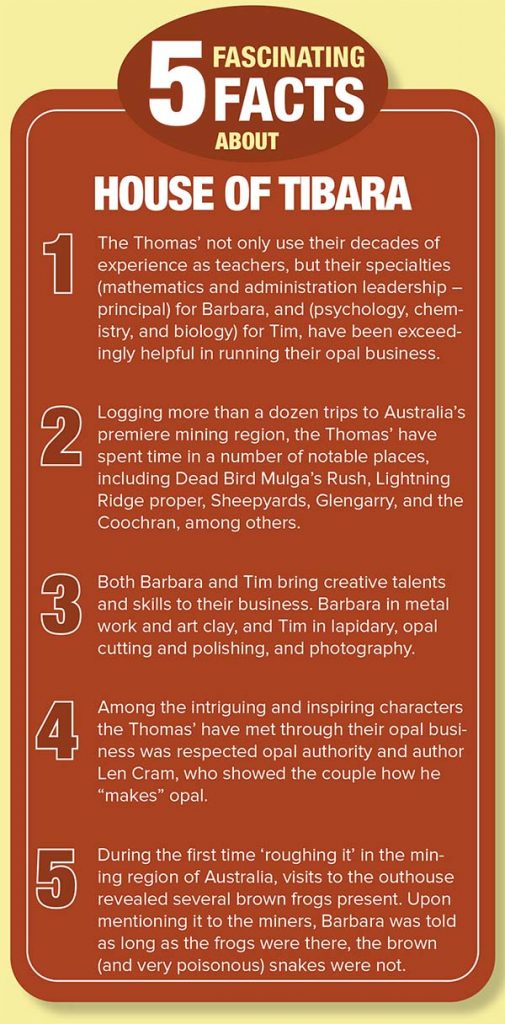 "Our most popular product, of course, is rough opal, then finished opal or the tools necessary to carve and cut or finish an opal," Tim said. "However, probably the most important product we (sell) is our experience, and information, and patience with people who really (want) to cut opal well and have millions of questions. Once they learn that we are willing to answer their questions, we have a customer."
Whether it's looking back at times they trekked the rough terrain around Australian opal mines, demonstrated proper techniques for cutting, grinding, and polishing opals in front of a crowd gathered around their booth at a show, cast an attentive eye while photographing opal specimens, or working with clients seeking to purchase opals online during the COVID-19 pandemic, for the Thomas' it comes down to having a deep appreciation for opals and a passion for helping others experience that for themselves.
"We don't know of another stone in nature that has the variety of colors in it and patterns that you can find in opal," said Tim.
That, in and of itself, is a pretty good reason to become a fan of opal.
---
For More Information
Visit: www.opal-tibara.com
Email: tim@opal-tibara.com or barbara@opal-tibara.com
Call: 559-299-5123
---