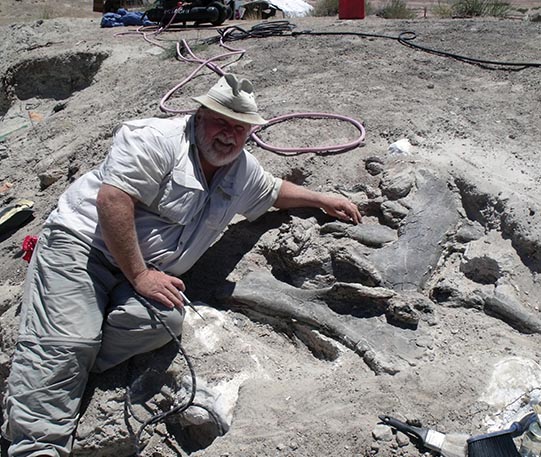 By Antoinette Rahn
Some people discover their career passion during childhood. In contrast, others may find it as they grow and gain more knowledge and experiences. Still, others may rediscover — a passion they held earlier in life — at a time when they see new avenues to pursue their 'calling.'
Joseph "Paleo Joe" Kchodl is someone who discovered his career passion early in life. He's also someone who rediscovered this interest at various times in his life, while he was honing many of the skills to make this long-time passion his present mission.
Paleo Joe's introduction to what would become his life's passion for paleontology began when he was just ten years old, growing up in Niagara Falls, New York.
"The first fossil I found was an ATYPA, a fossil seashell about one inch long. It was on the escarpment in Lewiston, New York," Paleo Joe explained. "Four hundred million years or so ago, that part of New York was a warm shallow tropical sea, and the escarpment is what is left of the Silurian seashore."
Youthful Discovery of Fossil Fascination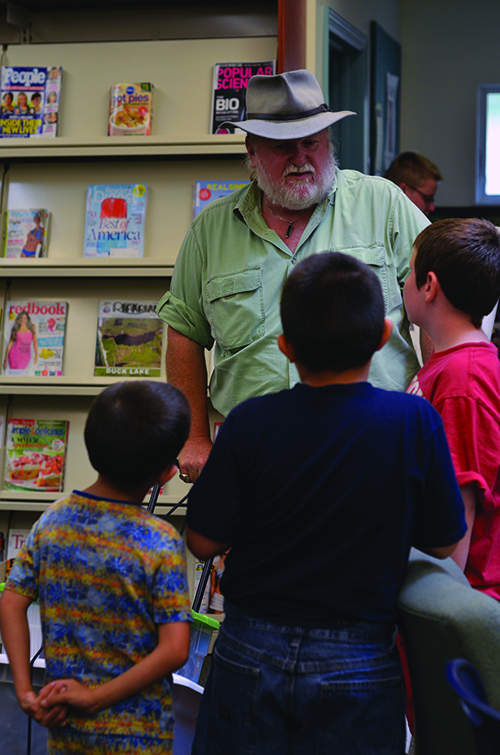 Paleo Joe described how, while walking in the woods, he picked up a rock and smashed it against the escarpment wall (something young boys are apt to enjoy doing) Upon breaking open the rock, the fossil became visible; that was the moment his interest in paleontology was piqued.
A long-time resident of Michigan, Paleo Joe's interest in science never faded as he became an adult; it only expanded. After graduating with a degree in education, he served in the Army and then began teaching elementary and middle school students in the 1980s. The persona of "Paleo Joe" took shape in the classroom and eventually inspired his current role as a multi-interest expert in paleontology.
"I have been presenting in schools across Michigan for most of the last 26 years. On average, I visit about 20 to 30 schools per year. Mostly elementary schools, but recently I have been visiting middle and high school science or STEM-based programs and teaching what is known about fossils by the evidence we find in the ground," stated Paleo Joe. "Most of my program mirrors educational benchmarks and standards that reinforce what the teachers teach in their classrooms."
Paleo Joe's work doesn't end with the classroom. He's authored nine books about fossils and fossil hunting. Each year he leads more than ten fossil digs around Michigan and conducts more than 45 educational presentations for mineral clubs, libraries, community organizations, and senior centers across the U.S. Additionally, he leads tours in conjunction with Corporate Travel Services and serves as a speaker during the annual Trilobite Dig with the Experts in Penn Dixie. Simply put, Paleo Joe's program has something appealing for all ages.
Education Through Experience
Without question, an excellent example of that cross-generational appeal is evident in Paleo Joe's own family. It begins with his daughter, Paleo Jen Kchodl. Paleo Jen joins her dad in leading the fossil dig excursions, she oversees the management of the shop portion of the Paleo Joe website (www.paleojoe.com), works in the prep lab, coordinates the company's attendance at mineral shows, and is mom, constant cheerleader and inspiration to eight-year-old Joseph, also known as Paleo Joey.
"I love participating in rock and gem shows because I interact with people who have similar interests," Paleo Jen said. "That being said, I worked in retail for ten years and went to school for business and entrepreneurship. Just the last three years or so, I've dug back into the 'paleo-world,' however, with my dad being Paleo Joe, I've always been around fossils and invited on digs."
Asking paleontologists to name one of their favorite fossil finds is like asking a rockhound to name their favorite mineral. Still, when asked about a most memorable dig experience, Paleo Joe and Paleo Jen both said there are many from which to choose, but each recalled particularly transformative moments. While digging in the Morrison Formation in northern Utah in 2006, Paleo Joe had a most memorable experience. He found several Sauropod bones, he explained. Deciding to sweep off the top of a hill near where the other members of his group were digging, Paleo Joe saw part of a bone as he swept away some of the overburden. Setting the broom aside, he brought out his trusty paintbrush and proceeded to uncover a tibia belonging to a long-necked dinosaur, he added. Paleo Joe went on to find the fibula and many bones belonging to the hip of the extinct animal, among other fossils.
Paleo Jen recalls her first "big dig" in Kemmerer, Wyoming, as one of her most incredible fossil digging adventures. She and her father traveled to Kemmerer to "go fishing, at nearly 7,000 feet above sea level, in what was a 930 square mile lake, with a hammer and chisel," Paleo Jen said. While meeting the friendly quarry manager, George, Paleo Jen became hypnotized by the many beautiful specimens displayed around the manager's office; all found on the site. She recalls feeling the blood begin to rush through her body and a sense of pure excitement taking over. "I was ready to be the first person EVER to see, whatever it was I found — I was hooked," she exclaimed.
Captivated by Crinoids
In the course of operating a multi-faceted business, Paleo Joe and Paleo Jen strive to keep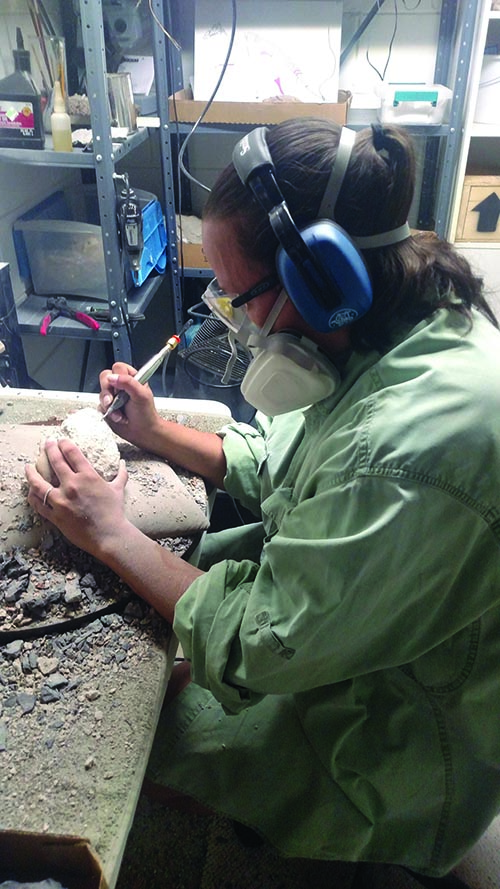 learning, growing as individuals, and investing in their shared passion for paleontology. Paleo Joe reports recently developing a greater interest in crinoids, commonly called "Lilies of the Sea."
These are echinoderm fossils that are related to the modern-day starfish, he said. Crinoid specimens are now available for purchase at the Paleo Joe website. From time to time, Paleo Joe reports, he'll select one or two examples to add to his collection. The items in his personal collection also contribute to Paleo Joe's commitment to introducing more people to paleontology and, hopefully inspiring a similar passion in others. He's constructed three museum exhibits on display at various times throughout Michigan, as well as other locations within the U.S. The exhibitions include "Dinosaur Prep Lab — Bare Bones on Display," "Fossils of the Michigan Basin," and "Trilobite Treasures: Arthropods of the Ancient Seas."
For Paleo Jen, after each fossil dig excursion, her personal collection grows, because it is her practice to keep one item from each dig. All told, there are about 35 specimens in her collection, all self-collected, she explained. One of her collecting goals, she said, is to have a wall in her house filled with Green River fish fossils from Wyoming.
Sharing a favorite interest with someone important to us often makes the object of that attention even more special. Paleo Joe and Paleo Jen more than understand and appreciate that truth. Speaking to what it means to share this passion and profession with her dad, Paleo Jen said, "We are a humble family with very strong ties to the past relatives who led the path for our journey," she said. "If it wasn't for my dad being who he is, I would not be able to walk in his footsteps. I am so blessed to have these amazing opportunities to travel all over this country with my father to dig for dinosaur, fish, cystoid, and trilobite fossils.
"I have been inspired by my father and enjoy every trip we go on. Every
'hole in the wall' diner, the chain restaurants that don't have the same signature sauce as another state, a blown tire in the badlands of South Dakota, riding down a terrifying cow path on a donut…all footsteps to follow, and with my son right behind us."
Paleo Joe, and his daughter, Paleo Jen, fill many roles in life. Still, one of the greatest contributions of this family may be their gift of inspiring, entertaining, and informing many generations, one fossil at a time.
---
Keep up with Paleo Joe and Paleo Jen's fossil digging adventures via their website, www.paleojoe.com, and via Facebook — search for PaleoJoe – Author, Lecturer, Paleontologist, and PaleoJoe The Fossil Shop.
PLUS, look for Paleo Joe's new online column on www.rockngem.com, Trilobite Tuesday, starting Aug. 4.