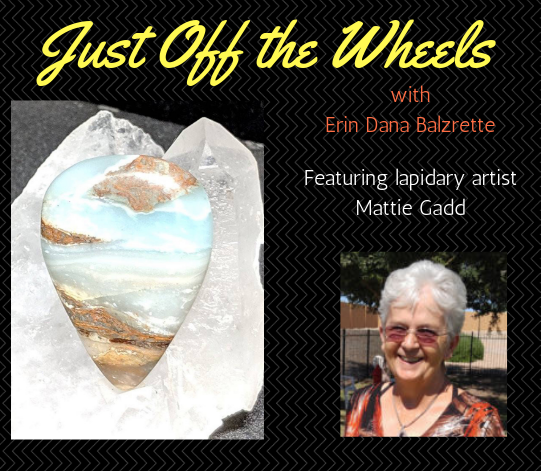 By Erin Dana Balzrette
Thoughtful, compassionate, and an amazing lapidary artist and wire wrapper, Mattie Gadd is always a delight to chat with. Her work is harmonious and beautiful, and she can keep you laughing for hours. Enjoy this installment of Just Off The Wheels with Mattie.
Erin Dana Balzrette: Where did you find the material for this cab, and what drew you to it? 
Mattie Gadd: This material (BC Ocean Wave) is found in British Columbia, Canada. I grew up on the Oregon Coast and love the ocean.
EDB: How long have you been a rockhound and lapidary artist, and what attracted you to cabbing?
MG: I've been rockhounding for around 12 years but only cabbing for about the last two. I've watched my husband over the years and decided I wanted to learn.
EDB: What process do you use when creating cabs? Is there any special technique used when creating the featured cab?
MG: I don't really have a special process. I just like to find the best pattern and shape to bring out the beauty of the material.
EDB: What is a new cabbing approach that is bringing you great excitement?
MG: It's all exciting to me because I'm still learning. Just the pure beauty of a rock is exciting.
EDB: What advice you would like to give new lapidary artists?
MG: Take your time with each piece; each one is worth your time.
EDB: What is your motivation to create, and your favorite part of the process?
MG: I think the finished cab is the best part for me. It's so amazing that what appears to be a plain rock can contain so much beauty on the inside.
---
WHERE TO FIND MATTIE
Website: http://stores.gaddaboutrockcreations.com
Facebook: https://www.facebook.com/mattie.gadd
She's also active on a variety of Facebook group pages.
---
Author: Erin Dana Balzrette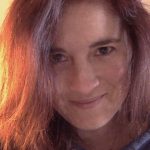 Owner of Tree Climbers Stones, co-founder of Facebook's 'Stone and Silver' group, and weekly host of the 'Ladies Day/Night' Auction on Facebook's 'Cabs and Slabs' group.
She is a long-time rockhound and a GIA AJP. To view more of her work, visit www.tcstones.com.