By Erin Dana Balzrette
In many examples of lapidary work, colors and silver work are both given the room to shine for themselves. Heather is one of my favorite artisans and someone who uses both color and silver to create stunning pieces.
Not only is she a kind and caring person, good friend, and generous in nature and spirit, but her work speaks of all things real, elegant, honest, and beautiful. I hope you enjoy learning more about Heather in this "Just Off the Wheels" profile.
Erin Dana Blazrette: Where is this material from, and what drew you to it?
Heather DiLello: Blue Mountain Picture Jasper is from Oregon. It is one of the "Porcelain Jaspers." I love the glass like finish it takes and the subtle orbs and simple linear patterns. It has a quiet elegance about it.
EDB: How long have you been a rockhound and lapidary artist, and what attracted you to cabbing?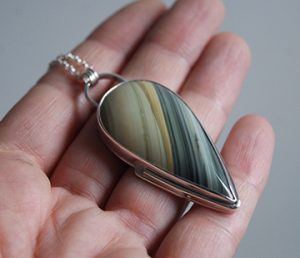 HD: I'm primarily a silversmith. I learned metal fabrication and a bit of casting at the University of New Mexico as part of my undergraduate degree in Fine Arts. I've been making jewelry to sell for almost 12 years. I discovered the amazing world of natural hand cut stones not long after I started my Etsy store. I have been incorporating cabs into my designs ever since.
I started doing my own lapidary work about five years ago while living in Chicago. I discovered that the city's Parks District had lapidary equipment that was available for use by jewelry students. I signed up for their entry level jewelry class so that I could learn lapidary. I got a little bit of guidance from the jewelry instructor, but mostly I am self-taught through trial and error. I think the fact that I've purchased many cabs, (possibly too many), and set many different styles of cabs, gives me a great foundation for cutting stones for my own use and for resale.
EDB: What process do you use when creating cabs? Is there any special technique used when creating the featured cab?
HD: Because I am a bench jeweler, I always approach cab making with the intention of the finished product being made into a piece of jewelry. If I'm working from a slab, I look at the patterns in the rock and find a section of the stone that I think looks interesting. When I place shape templates on that spot to get an idea of what shape works best with the pattern. As I am deciding shape and size, I am usually also thinking along the lines of what the piece will be once it's done, a ring, a necklace, a bracelet? How is this material going to be best represented? Even if I'm cutting a cab for resale and not going to set it myself, I still take these things into consideration.
EDB: What is a new cabbing approach that is bringing you great excitement?
HD: What brings me excitement is finding new materials to work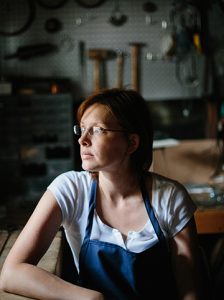 with or getting my hands on some of the harder to find materials like Peanut Obsidian or Tahoma Jasper/Agate.
EDB: What advice you would like to give new lapidary artists?
HD:I still consider myself somewhat of a newbie. My best advice would be, don't rush the process, and always use protection. This would be my same advice for jewelry making. Always be aware of fumes, and dust, wear an apron, wash your hands, and protect your eyes!
EDB: What is your motivation to create, and your favorite part of the process?
HD: I love being creative. In lapidary my favorite part of the process is probably grinding the preform on the diamond wheel and seeing the shape take form.
---
WHERE TO FIND HEATHER
Company Name: Starving Artist Stones
Etsy.com Shop: StarvingArtistDSGNS.Etsy.com
Instagram: @starvingartiststones
Facebook: https://www.facebook.com/Starving-Artist-Designs-43517225925/
Facebook Groups: Cabs and Slabs
---
Author: Erin Dana Balzrette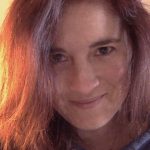 Owner of Tree Climbers Stones, co-founder of Facebook's 'Stone and Silver' group, and weekly host of the 'Ladies Day/Night' Auction on Facebook's 'Cabs and Slabs' group.
She is a long-time rockhound and a GIA AJP. To view more of her work, visit www.tcstones.com.