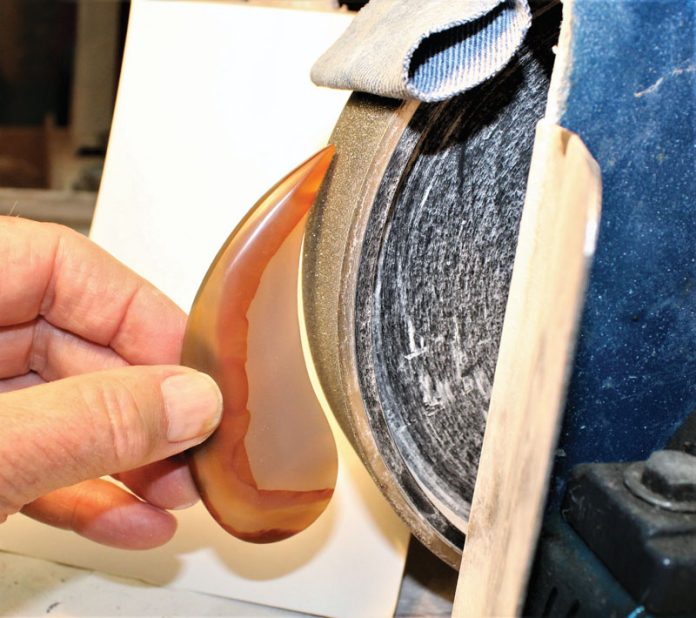 What to do with a cabochon template is a common question. If you've been making cabs for a while, you probably have quite a few templates that are used to plan and layout cabs. You probably have a favorite shape or two.
I was given two templates that have become my favorites. They have some unusual shapes that I can use to alter, combine or use to enhance the cab shapes that I make. They are called Cabtopia BIG Flare and BIG Flame.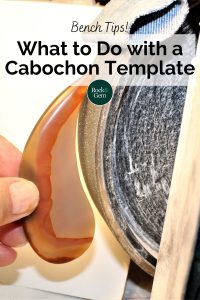 My favorite shape is the curving teardrop on the Big Flare template. My lapidary machine is an 8" diameter wheel unit. The inside curve on the curved teardrop shape is the same size as the 8" wheels, so making this shape is rather easy. When I shape the preform, I hold the stone vertically to grind the inside curve.
For this project, I used a slab of Brazilian Agate. The center of the slab is milky chalcedony surrounded by a band of red agate. As a whole, the slab seems rather unremarkable, with little color or pattern. When I first moved the curved teardrop template around, I found that I could isolate the red band quite well. The band would be the focus of the cab. Then I saw that I could capture more of the red band if I used parts of the template to extend the tip of the cab.
Using lapidary safety tips, I carefully trimmed the inside of the curve with the trim saw to help speed up grinding the inside curve. Because the trim saw blade is curved on the outside, the bottom of the cut extends beyond the top of the cut edge, so you have to be very careful making these cuts.
I finished grinding the inside curve by holding the cab preform vertically against the grinding wheel. Finishing the work on the preform involved utilizing the normal cab-making activities to bring it to its final shape and polished surfaces.
I found that using the template allowed me the opportunity to isolate and develop the beauty of a normally overlooked slab of Brazilian Agate. By using the template to expand on the shape of the tip of the preform I was able to capture more of the beauty within the piece.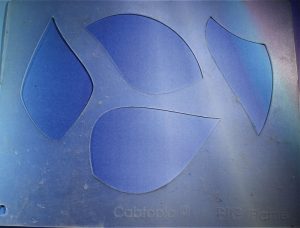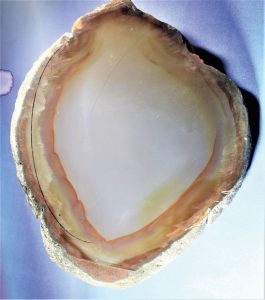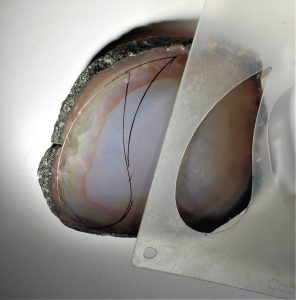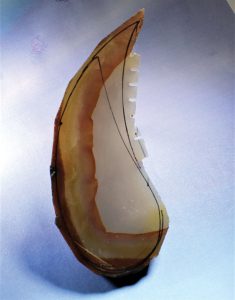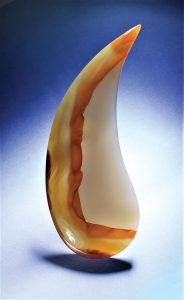 This story about what to do with a cabochon template previously appeared in Rock & Gem magazine. Click here to subscribe. Story by Bob Rush.