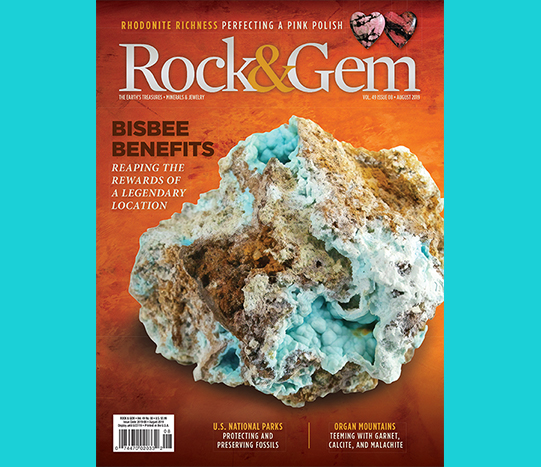 Below is a snapshot of some of the topics and interests you can expect to see in the pages of the August 2019 issue of Rock & Gem. Plus, we've included some sample pages for you to enjoy.
• Northern Organ Mountains: Reveling Garnet, Calcite, and Malachite Mineralization. By Robert Beard
• Bisbee — Arizona's Famous Copper Mines: Collectors Still Reaping the Rewards of Historic Production (Part 1). By Bob Jones
• Paleontology in the Parks: Our National Parks Protect and Present Fossils. By Steve Voynick
• Club Corner: Making the Most of Partnerships. By Antoinette Rahn
• Taking a Closer Look at Copper: Exploring Clarkdale's Copper History. By Helen Serras-Herman
• Earth's Structure and Mineral Components: Great Revelations Within the Ocean Floor. By Bob Jones
• Maxfield Mine: Exploring Utah's Big Cottonwood Mining District. By Alice Sikorski
In addition, you'll find the following regular R&G columns: Bench Tips with Bob Rush, Rock Science with Steve Voynick, What to Cut with Russ Kaniuth, On the Rocks with Bob Jones, Rock & Gem Kids with Jim Brace-Thompson, Community Outlook-Artisan Alley, Picks & Pans, as well as an extensive Show Dates section, and the always popular Parting Shot.