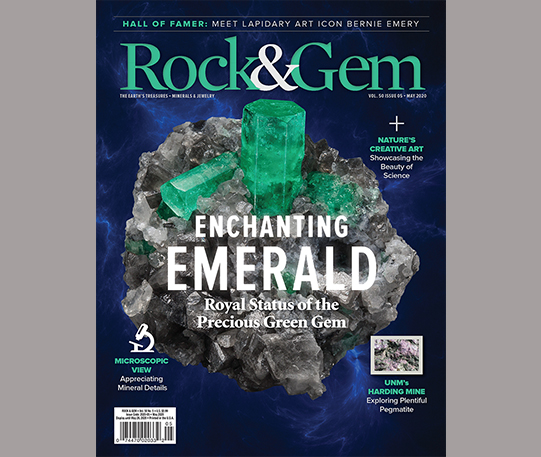 Below is a snapshot of some of the topics and interests you can expect to see in the pages of the May 2020 issue of Rock & Gem. Plus, we've included some sample pages for you to enjoy.
• Non-Zeolite Minerals: Constant Companion of Zeolites. By Bob Jones
• New Mexico's Harding Mine: The Must-See Pegmatite of the West. By Steve Voynick
• Microscopic View: Appreciating Details of Rocks in Miniature. By Alice Sikorski
• Emeralds: The May Jewel of Royalty With World-Wide Popularity. By Mark Leatherman
• Polka Dot Agate: Appeal Across the Ages. By Bruce McKay
• Minerals As Decorative Art: Showcasing the Beauty of Science. By Bob Jones
In addition, you'll find the following regular R&G columns: Bench Tips with Bob Rush, Rock Science with Steve Voynick, What to Cut with Russ Kaniuth, On the Rocks with Bob Jones, Rock & Gem Kids with Jim Brace-Thompson, The Road Report with Helen Serras-Herman, Club Corner, the always popular Parting Shot, as well as the Show Dates section.
---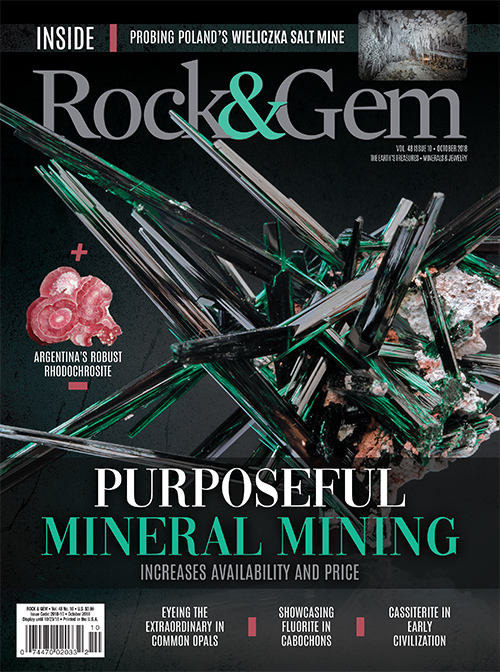 If you enjoyed what you've read here we invite you to consider signing up for the FREE Rock & Gem weekly newsletter. Learn more>>>
In addition, we invite you to consider subscribing to Rock & Gem magazine. The cost for a one-year U.S. subscription (12 issues) is $29.95. Learn more >>>

---