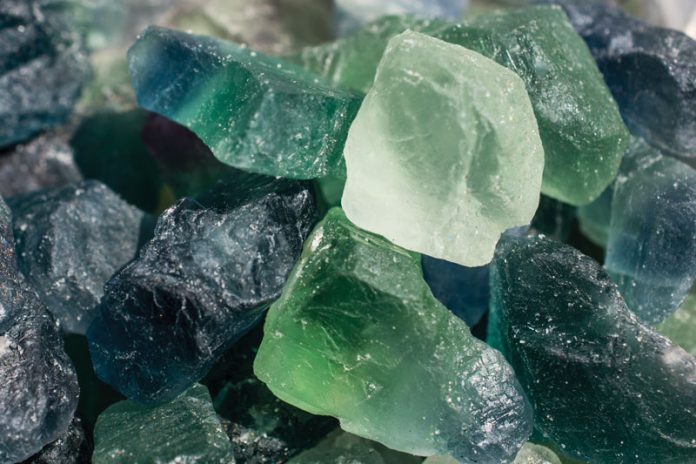 Eye-catching and colorful gemstones draw people in, but learning the history and not-so-well-known stories behind even the most popular stones is always fascinating. Here we'll cover gemstones from the letters A to I. Besides featuring some longtime favorites, there are a couple of nuggets of new and interesting information about less prominent specimens to inspire you to explore them further.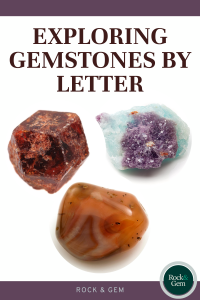 What is a Gemstone?
The definition of a gemstone isn't quite as precise as the faceted beauties it describes. In general, when minerals, and sometimes organic materials such as amber, are cut and polished to create jewelry, we call them gemstones. There are nuances and outliers because many stones are too delicate to be worn, but most people in the gem world accept this general concept.
To further clarify, gems are divided into "precious and semi-precious" stones with only diamonds, emeralds, sapphires and rubies encompassing the precious category. Everything else falls into the semi-precious zone, although this doesn't necessarily imply inherent modern value or desirable characteristics. Regardless of the classification, there's no question that when we can bring out the inherent beauty within these stones, it is something to be truly prized.
Agate
This silica-based mineral is a popular semiprecious stone because of its attractive coloration and banding. Reportedly discovered by Greek philosopher Theophrastus roughly 2500 years ago, early people throughout the Middle East, Russia, and Greece used agates to create ornaments. According to research by the Bureau of American Ethnology, Indigenous People utilized them in much the same way.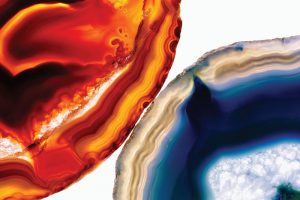 Agate is a chalcedony, which is a type of cryptocrystalline quartz. Like many stones in this category, it's created when groundwater seeps into the igneous rock where silica deposits form concentric layers within the rock cavities and crevices to create the telltale banded patterns.
The wide variety of colors, ranging from brown, black, white, red, gray, pink and yellow, are because of impurities in the groundwater. With a seven on the Mohs rating, agates are on the upper end of the hardness scale. This makes this translucent stone a favorite for rock tumbling. It's often used for jewelry as well.
Bloodstone
An opaque, dark green stone, bloodstone features distinctive orange to scarlet red splatters that look like blood at first glance. This is the telltale signature of this traditional birthstone for March. The more modern birthstone choice is aquamarine.
Bloodstone is also called heliotrope, a name derived from the Greek helio meaning sun and tropos meaning toward the sun. If you garden, you're familiar with heliotrope plants that turn toward the sun as they grow. This name indicates how the stone reflects the light. Along with legends of healing powers, bloodstone is also known as a protective stone. People will often wear or carry bloodstones to keep threats at bay.
The minerals chlorite and amphibole are responsible for the deep green coloration while iron oxide inclusions create the blood-red speckling.
Carnelian
One of the least expensive chalcedonies, the translucent yellow-orange to rich amber or even reddish-brown gems darken when heat treated. This includes the heat of the sun, so it's best to keep your stone out of the sun to keep the color true. Iron is responsible for the red coloration and it's what oxidizes and deepens when exposed to heat.
Carnelian is sometimes confused with jasper, although jasper is typically a deep red and is opaque, rather than translucent. Plus, jasper often exhibits banding patterns on its surface appearance.
Carnelian is found throughout the world with some of the highest quality stones found in Scotland, Brazil and Washington State.
Even though it's relatively inexpensive, many so-called carnelians are dyed and heat-treated agates. To determine if a carnelian is real, hold it up to the light. If it's a natural carnelian, it looks cloudy. If it's a heat-treated agate, it will most likely show striping.
Dumortierite
Although colors range from brown, green, and the rarer violet and pink, the eye-catching denim blue is probably the most popular with gemstone enthusiasts.
An aluminum boro-silicate mineral, dumortierite occurs in regions of high metamorphic activity that are also rich in aluminum and boron. Manganese, iron, and sometimes zinc inclusions, are responsible for the blue coloration.
Dumortierite was first described in 1881 after being found in the French Alps. It was named for the French paleontologist, Eugene Dumortier.
Dumortierite has a glassy (vitreous) luster. Its fibrous nature creates fine, almost hair-like radial crystals within the structure. The blue variation is sometimes mistaken for lapis lazuli, but dumortierite is typically a deeper blue or violet, plus lapis lazuli sports white or gold metallic flecks because of the pyrite within it.
Dumortierite quartz is quartz with inclusions of dumortierite.
Emerald
The birthstone for May, emeralds earn their place as an adjective to describe a particularly intense green. The name is derived from the Greek word smaragdos, meaning green stone.
Created in metamorphic rocks when hot magma flowed over and through the crevices of limestone and shale, emeralds are a beryllium aluminum silicate. Although emeralds are a type of beryl, not all beryls are emeralds. While green beryl is still green, it's distinctly lighter.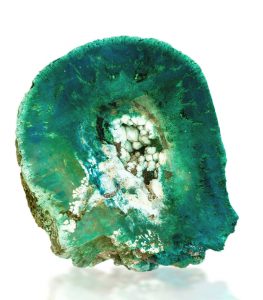 Chromium oxide is responsible for the emerald's deep green. Other gems, such as peridot and tsavorite garnets, are also found in green hues but not with the same vibrancy. Registering 7-8.5 on the Mohs hardness scale and forming in hexagonal crystals, emeralds are long favorites for precious jewelry, but fakes abound. To determine authenticity, inspect the stone with a 10X loop. Flaws and inclusions, particularly a small crystal within the stone, indicate a natural emerald. Air bubbles or even a "too perfect" stone are tell-tale signs that it is not real.
Fluorite
Made of calcium fluoride, pure fluorite is colorless, yet samples are commonly found in shades of purple, golden-yellow, green, blue, pink and brown. Many specimens are translucent to nearly transparent with attractive banding. The term "fluorescence" became part of the terminology when physicist Sir George Gabriel Stokes was working with fluorite in 1852. Although fluorescence doesn't consistently occur, fluorite is known to glow when there is the presence of uranium, yttrium and other rare earth elements. It often emits blue, although yellow, green, white and red shades are possible.
Also called fluorspar, it's been produced in Illinois since the 1800s and is the state mineral. Often forming in cubic crystals, it is popular for jewelry but has a wide number of commercial applications ranging from an ingredient in ceramics to a flux used in refining metals.
Garnet
Many people picture garnets as red stones, but they are also found in shades of orange, pinkish-orange, green, reddish-purple, colorless and even blue and green, albeit these last two are rarer.
Garnets are formed when aluminum laden sedimentary rock is metamorphosed. Garnets are one of the most widespread gems throughout the world. While the bulk of garnets is mined for industrial applications, it's one of the oldest known gemstones and has been used for ornamental purposes for 5000 years. Historical evidence shows stones within the necklaces of pharaohs. Garnet signet rings were used by Roman leaders to seal documents.
Sometimes mistaken for a ruby, garnets are usually a darker red with brownish tones. When it's held up to the light, yellow bands are often visible in a garnet while a ruby will be clear.
Hematite
Consisting of 70 percent iron, hematite is one of the primary ores of iron. Fortunately, it is one of the most abundant minerals on Earth. According to NASA, it's also the most abundant mineral on Mars. The iron-rich environment is why Mars is dubbed the "red planet."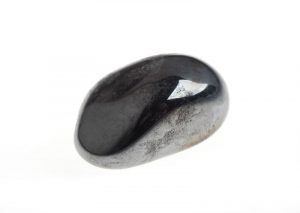 Named as far back as 300-325 BCE, hematite is derived from the Greek haima, meaning blood. Found in colors ranging from rust-red, brown, steel-gray to black, it always leaves a red streak when scratched on a scratchpad.
The distinct reddish hue has been used in artwork from the earliest cave paintings. It was a key pigment for Renaissance artists creating paintings with canvas and oil in the Middle Ages. Besides its importance as an ore for iron and in art, it effectively stops radiation making it useful in shielding applications. Plus, it creates a beautiful tumbled stone for those who love to collect them.
Iolite
This beautiful violet-blue stone was the secret to the Vikings' success in crossing the ocean as they looked through a thin iolite specimen to determine the position of the sun on cloudy days. The key to this unique quality is called pleochroism where different colors are visible at different angles. For example, a piece of iolite may have the classic violet-blue hue on one side, but when it's turned over, it appears yellow or clear.
A silicate of aluminum, iron and magnesium, iolite (also known as the mineral cordierite) is created in metamorphic and igneous rock formations. Derived from the Greek word ios meaning violet, some iolite is blue enough to look like a sapphire. Some speculate this quality is because of the presence of titanium, although iolites are easily distinguishable because of pleochroism.
This story about gemstones by letter appeared in Rock & Gem magazine. Click here to subscribe. Story by Amy Grisak.