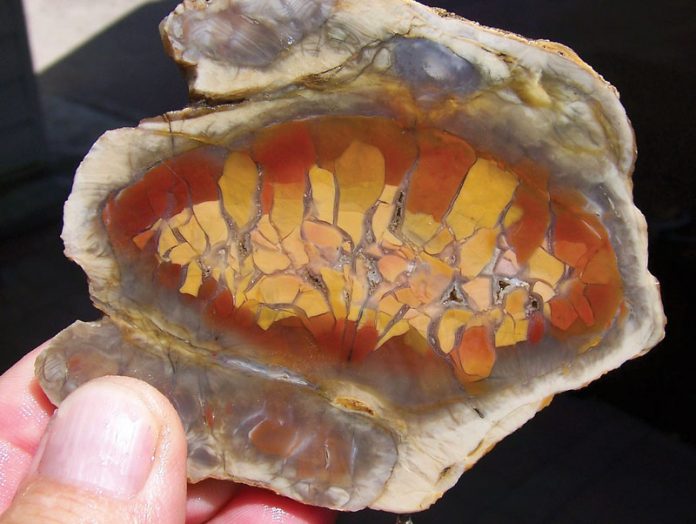 People ask how to use brecciated jasper and what is a brecciated jasper. These beautiful jaspers are identified as broken fragments of rock that have been naturally recemented back together into a fine-grained matrix.
California plays host to many different varieties of brecciated jaspers. It's a large region with well over 500 different faults, throughout four major geologic regions. The never-ending shifting of the earth constantly breaks the ground under our feet and creates beautiful jaspers for us to find.
Each region has its own type of brecciated jasper that comes from the minerals of the surrounding land. This makes each region's jaspers differently colored, patterned, and unique. Lapidary-worthy specimens can be found from the desert to the coast, valley, and the Sierra Nevada mountain range.
Where to Look For Jaspers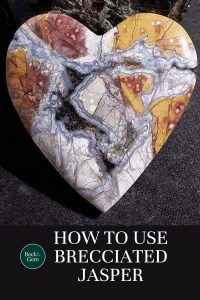 Up north, between the towns of Williams and Stonyford, you'll find Stony Creek Jaspers. These jaspers have beautifully colored breccia, as well as many poppy variations.
Most of these reside as alluvial stones found in local creek beds. Much can still be found at their source by hiking through the hills and hunting for the jasper outcroppings.
In the valley, you will find many world-renowned brecciated jaspers such as Stone Canyon Jasper. This is one of many in this region that runs from the valley down to the coast.
You can also find Jacolitos in this valley. Jacolitos contains beautiful arrays of golden colors and patterns you won't see anywhere else.
If you continue your way to the coast, you can find many more variations in the Big Sandy Creek area. This a wonderful rockhounding site where you can find multi-colored breccia stones in the creek beds that run for miles.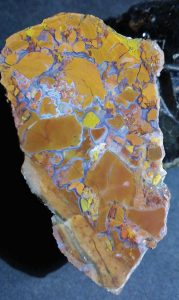 The California coast also has a large variety of brecciated jaspers, such as those found at the Cayucos Beach area and a little further south at Avila Beach, where you can find the unique Deedeeite.
In the southern part of the state, the vast desert is a host to many different types of jaspers. One of the best rockhounding places in the state is in the Cady's Mountain range between Barstow and Ludlow. Lavic Siding jasper can be found here, with its gorgeous layers of brilliant red colors. It's a wonderful lapidary material to cut. Another great find is Chapenite out of Fort Irwin near Barstow.
With so many places covering the entire state, I would encourage lapidaries to pursue the enjoyment of hunting down and rockhounding their own material. That, in itself, is half the fun!
How to Use Brecciated Jasper?
All these materials can be cabbed in the same way. Most are around 5.5 on the Mohs hardness scale and are easily cabbed. This is great for beginners and lapidary experts alike.
Enjoy designing with all the different patterns, as each person will have a different perspective about what they see in each stone. The outcome is usually phenomenal.
The cabbing process starts with performing on an 80-grit steel wheel and progressing to the 14k soft resin wheel. This will yield a beautiful high-gloss polish to any of these jaspers. If you feel the need to try to gain that super mirror polish, you can use Cerium oxide on a leather buff, or hand polishing with Sam polishing compound on a felt Dremel bit.
Happy hunting and cabbing!
This story about California brecciated jasper appeared in Rock & Gem magazine. Click here to subscribe. Story by Russ Kaniuth.