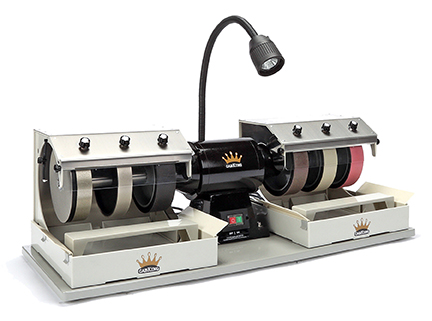 By Antoinette Rahn
CabKing® is one of the most well-known names in the lapidary and glasswork industries. It is also one of four product lines within the Reentel Inc. family. Recently, we spoke with lapidary artist and owner of NM Stone Supply, Jason Brousseau about his experience using the 8″ CabKing to cut cabochons. Learn more about how he creates using the 8″ CabKing cabbing machine…
Rock & Gem: How long have you been using the 8" CabKing Cabbing Machine and what influenced your decision to purchase?
Jason Brousseau: I purchased my 8" CabKing grinder in Tucson three years ago. Before acquiring it, I tested several other products on the market. One of the key features I found on the CabKing was the ability to use fresh water at each valve over each wheel. In the summer months, I plumb my grinder to our water faucet and have water on demand to the grinder. (This requires an in-line pressure regulator to be installed).
R&G: What are two surprising benefits you've discovered while using this equipment?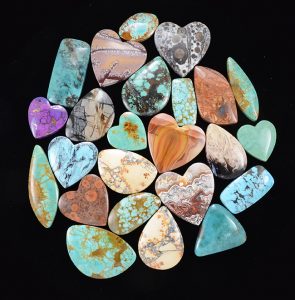 JB: As a lapidary artist who cuts several heart-shaped cabochons a week, I have found the space between the wheels on the 8" grinder gives me the ability to cut heart and other shaped cabochons of all sizes without the risk of touching the other wheels. I have also found that for calibrated cabochon cutting, the 8" CabKing is smooth and steady, making it easy to follow the outline of the calibrated shape.
R&G: What three important skills/approaches to your work have you learned from using the CabKing Cabbing Machine?
JB: I have learned to make sure each wheel has the correct amount of water flow on it. The 80 grit grinding wheel is obviously going to require more water than the 3000 grit wheel. Having a valve over each wheel makes the control of water distribution an easy task. I have also learned to not move on to the next wheel until you are sure the wheel you are working on has removed the scratches. It's no fun finishing a cabochon to 3000 grit only to find you still have deep scratches that should have been removed by the 280 grit wheel.
To see more examples of Jason Brousseau's work, visit his site www.nmstonesupply.com and the Cabs and Slabs group page on Facebook: https://www.facebook.com/groups/CABSANDSLABS.
Check out the Tools of the Trade category to see more insight from artists who use machinery from Reentel Inc.'s various product lines.