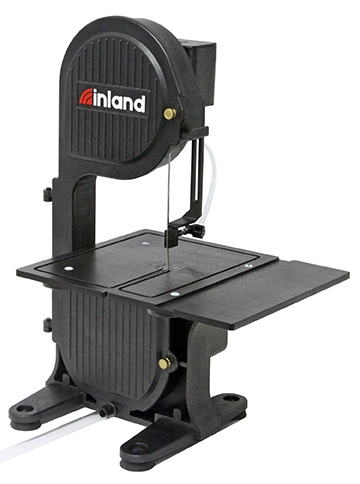 By Antoinette Rahn
Did you know Inland Craft® has been equipping artists, hobbyist and industry professionals with diamond grinders, saws, and related equipment for more than 30 years? This tradition of producing quality equipment has made Inland Craft, one of four product lines within the Reentel Inc. family, a leader in the industry.
Recently, we caught up with mosaic artist Jazz Kiriaty (www.jazzkiriaty.com) and discussed how using the Inland Craft DB-100 Band Saw has helped increase his efficiency and accuracy during the cutting process Learn more about Jazz's experience creating mosaic art with the DB-100 band saw…
R&G: How long have you been using the DB-100 Band Saw by Inland Craft and what influenced your decision to purchase?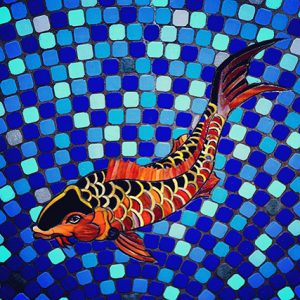 Jazz Kiriaty: Six or seven years ago, I was creating a 400-square-foot mosaic floor of a Japanese dragon flying through the sky and twisting through clouds. It was created primarily with 3/4" by 3/4" Venetian glass tiles, clipped into shape the old fashioned way with glass cutting nippers. I got tired of the process and searched for a tool to give me more accuracy with my cuts, and I stumbled across the DB-100 and have been using it ever since.
R&G: What are two surprising benefits you've discovered while using this equipment? 
JK: Being a mosaic artist for over 15 years, I've worked with various kinds of materials and mediums, and I know how important it is to have the right tool. That's one of the things that surprised me most about the DB-100, just how versatile it is. From glass to metal to stone, the DB-100 is able to cut through whatever I need, and cut through it accurately.
R&G: What three important skills/approaches to your work have you learned from using the Inland Craft DB-100 Band Saw?
JK: Not only does the saw cut accurately, but it cuts accurately through a wide range of sizes. I have used other wet rotary saws on the market, and because of Reentel's custom blade sert technology, I am able to cut pieces as small as I need, without them falling through the saw blade slot. At the same time, I am able to cut large pieces for stained glass windows because of the large cutting surface area. So it really is an all-in-one machine.
Over the years, I've also learned the different nuances of the machine. Again, because of the blade sert technology I mentioned earlier, the blade has a little give while cutting. That means depending on the angle you're cutting at, and the pressure applied, you can either cut straight through an object or just shave as little off as you need. The more I use the machine, the more comfortable I am with it and the more I realize what I can create with a DB-100.
To see more examples of Jazz Kiriaty's work, visit his site www.jazzkiriaty.com.
Check out the Tools of the Trade category to see more insight from artists who use machinery from Reentel Inc.'s various product lines.