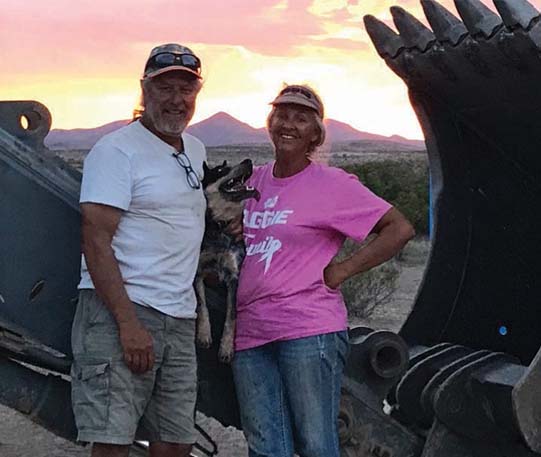 By Antoinette Rahn
Lori Coleman
Spanish Stirrup Rock Shop
www.ssrockshop.com
(Lori Coleman is a rockhound and lapidary artist featured in the Tools of the Trade profile sponsored by Covington Engineering.)
While an everyday fact of life, transformation is a significant aspect of the lapidary hobby and industry. It's a word often used to describe what happens to rockhounding material from the point it is extracted from the earth to the time it receives "oohs and aahs," when featured as a piece of stand-alone art or as the center of an item of jewelry.

Transformation is a perfect word to describe Lori Coleman's lapidary life and personal life, which interconnects daily and helps form a life for which she is truly grateful. A notable part of that transformation has involved Covington Engineering.
"We started as customers of Covington, and now we are dealers for them. We believe strongly enough in their products that we sell them," said Coleman, owner of Spanish Stirrup Rock Shop in Alto, New Mexico, which she operates with her fiancé, Bruce. "We enjoyed working with the Covington team so much and respected what they did that it was the next step for us in being able to share their products with hobbyists or production facilities."

An Evolving Interest
Coleman's lapidary life story may sound familiar. It's been a transformation from a casual interest in rocks spotted in fields, to devoting time to the hobby of rockhounding and a growing love of thundereggs, onward to the evolution from hobby to full-time, small business, to the current operation of a full-scale production facility with multiple product lines.
The business' evolution into a full-scale operation began with the purchase of equipment from Covington Engineering over 12 years ago, Coleman explained. In that time, the equipment purchases have gone from saw blades from Covington to saws, flat laps, tumblers, and the Rociprolap® machines. Today, the Spanish Stirrup Rock Shop production facility runs eight saws full-time, two of which are Covington units: a 36-inch ("Big Mike") and an 18-inch ("The Slabbing Fool"). The company also has a 24-inch variable speed lap with magnetic diamond pads to prep all of their materials for the polishing line (five units total) of Rociprolap® machines. Having a robust selection of equipment is helpful not only for Coleman, Williams, and the staff in their creative process but also as dealers of Covington equipment. Coleman and Williams make it a priority to bring customers into their facility and train them in how to properly and efficiently use the Covington equipment they've purchased from Spanish Stirrup Rock Shop.
The decision to equip production with Rociprolap® machines for polishing came as the company was looking for a way to produce a large amount of high-end polished New Mexico thundereggs, Oregon Vein agates, and Oregon jaspers, without handling them one at a time in a dry polish setting, Coleman explained.
"The polish we saw, within the industry, off of the Covington Rociprolaps® made us believe that this was the best choice for our materials and would take us into the next level of production," she added. "Because they are an American company and a family run business, we knew this was the best option for us."
Trusting in Automation
Of the many benefits and skills Coleman and team have gained through using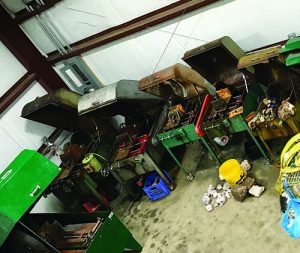 Covington equipment, an understanding and appreciation for automation and impact on volume/variety are among the most significant.
"Automation is quicker, safer, and produces a better product, thus freeing us up to spend more time selling and filling orders," Coleman explained. "The sheer volume and variety of materials we can push through processing leads to increased sales. We have been able to expand into materials we had never mined or processed."
Step by step, skill by developed skill, and unit of equipment by unit of equipment, Coleman and the Spanish Stirrup Rock Shop continue to transform and expand, both as a company and individually. The transformation builds on the core mission of a deep appreciation for geological treasures and a passion for supporting others with that same interest and introducing more people to the life they love.
FOR MORE INFORMATION
Visit: www.ssrockshop.com | Call: (575) 545-2814