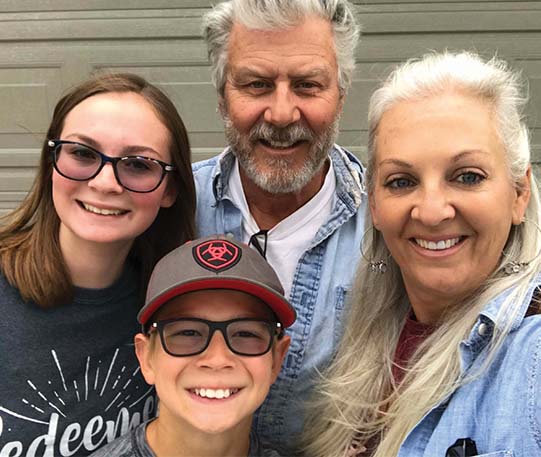 By Antoinette Rahn
Evolution of a Thunderegg Hunting Family
When Lori Coleman, owner of Spanish Stirrup Rock Shop, counts her blessings, rockhounding and its impact on her life are permanently on the list. Whether she's joyfully counting those blessings during good times of bounty or hopefully seeking blessings when she's felt lost and uncertain, she finds joy, solace, and strength in rockhounding and the multitude of gifts and lessons nature bestows.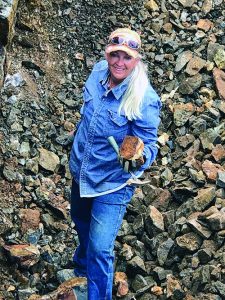 Like others in the rockhounding community, Coleman became familiar with what would become one of her greatest passions by happenstance, in a way. Between the mid-1980s and 2009, Coleman and her late husband, Kevin, were cotton farmers in Yazoo City, Mississippi. As one might expect, spending the amount of time they did in the fields and working the earth, they made discoveries.
"Because the Mississippi Delta area that we lived in was once inhabited by the Yazoo Indians, we began finding arrowheads on top of the cotton rows after a rain," Coleman said. "We would take our children and walk for hours picking up arrowheads. Then, we would then take our findings back home, wash them, compete for best arrowhead of the day, and put them in our displays."
Similarly, Coleman stumbled into the practice of hunting for petrified wood while walking along a creek while at the family's deer camp.
"Just as we did with the arrowheads, we began a family tradition with the petrified wood. A nightly comparison would take place to see who found the biggest, prettiest, or strangest piece of petrified wood," she said. "These memories will forever be cherished."
Venturing Into the Rockhounding Life
Kevin was the driver of the family's early collecting passions, and it's something she gratefully carries on today, Coleman said. Kevin's discovery of their proximity to Mt. Ida, Arkansas, opened the door to a tradition of summer vacations for the family to fish and collect quartz crystals. It also pushed the family's rockhounding passion to a new level, Coleman recalled. And in 2008, while searching the classified section of Rock & Gem, Kevin came upon a rockhound property for sale (the Pete Guitney Estate) just outside Deming, New Mexico. Desiring a place they could live and enjoy rockhounding during their retirement, they booked a flight for Kevin to investigate the opportunities in the area, which is home to Rockhound State Park, and what was once one of the largest ranching operations in the area for much of the 20th and early 21st centuries.

The couple purchased property within the area, Coleman explained, with the idea to entertain visitors who wanted to experience a working ranch. The thought was to have people book a room, enjoy a meal, and then head out to gather the ranch's goats and cattle. It worked well, as they would head out on a ride with saddlebags filled with food and provisions, and when they returned, the bags were full of rocks discovered on the ride. Those same rocks are part of what makes the front wall, foundation, and fireplace of their home. The family moved to New Mexico and opened Spanish Stirrup Rock Shop in 2009.
The move from the cotton farm operation in Mississippi to the rock shop and ranch in New Mexico was not the only evolution taking place during this time. Around 2008, Coleman explained, she and her husband began caring for their grandchildren full-time, and when it came time to move to New Mexico, it marked a new beginning for all of them, with the couple formally adopting the children (Chloe and James) in 2010.
"I was a bit scared for the move out west, as I had never been to that part of the country, but Kevin was spot on in his decision. We could focus on raising our second family and the joy of rocks along with it," said Coleman. "Once again, showing me that taking risks and following a passion would be blessed."
Forging Ahead to Carry On a Dream
As is often the case with any life, there are ebbs and flows. Yet, as mentioned earlier, for Coleman, rockhounding provided some calm and clarity during good times and times of heartbreak, like that of her husband Kevin's death in 2014, after more than 28 years of marriage. With a business to run, children to raise, and grief to process, Coleman and her children spent time in the beautiful bounty of New Mexico rockhounding, healing and drawing strength from one another.
Rockhounding also helped open the door to renewed love and happiness when Coleman met Bruce Williams. Both widowed, the two found they had much in common, as well as something they didn't but that would become a foundation of their relationship. Yes, you guessed it, rockhounding.
Although Bruce had never been to a rock shop, he was thrilled at the opportunity, especially because it involved spending time with Coleman, Chloe, and James.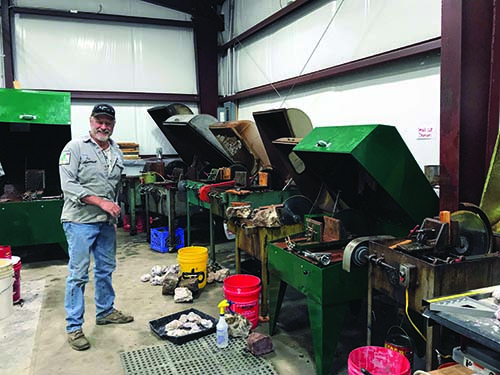 "(Since then) Bruce has brought so much to my business and our family," Coleman said of her fiancé. "He has automated it. I used to polish by hand every rock. Now we have Covington Rociprolaps in a 6,000 sq. ft. state-of-the-art production facility in Alto, New Mexico, just three hours from our Deming home and shop. Bruce is a retired mechanical engineer and sees things for productivity. We have added more tumblers, saws, and our newest venture is a Highland Park core drill and sphere machines."
Not to sound too much like Forest Gump, but as Coleman explained, life and humans are a little like a thunderegg, which is Coleman's specialty. One can't truly tell what life or people may be on the inside, but often, when the inside is brought to light, it "can be simply spectacular, and no single one is alike," Coleman said.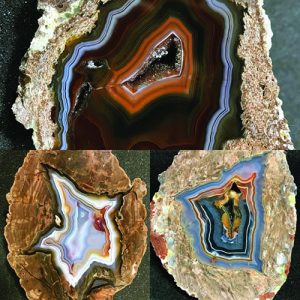 Having the patience to hunt deposits and mine thundereggs is incredibly rewarding — like patiently exploring life and allowing for opportunities to meet new people and enjoy new experiences is rewarding. That's part of the reason why Coleman, family, and team provide the chance for clubs to join them during digs. With Chloe and James making sure everyone remains hydrated and headed in the right direction, the entire family works together to provide clubs with an enjoyable experience and material for lapidary classes and shop sales. In return, Coleman receives something equally, if not even more, beneficial.
"The fresh, exciting perspective the clubs bring out in the field reminds me of the reason I got into this in the first place…..the joy of the rock."
Building on the Joy of the Rock
The joy of the rock is also at the center of another arm of Coleman's business, a partnership in ION (Idaho, Oregon, Nevada) Mining Cooperative. The collective is three families: Coleman and Williams, Tom and Jessa Pearson, and Steve and Kathy Schultz. In general terms, the idea of the partnership came, Coleman explained, from the need for a group of American miners to work together to bring material from the U.S. to market. With many travel restrictions still in place, and international buyers and sellers unable to travel as easily, the group felt it was the opportune time to showcase materials found in the U.S. and mined by American miners.
"One of the greatest things in the rock industry is not just the rocks but friendships you make along the way," she added. "What was unique about the three of us is we each brought something to the table. We all have deposits and mining experience. We all complimented each other well. Our productivity has soared."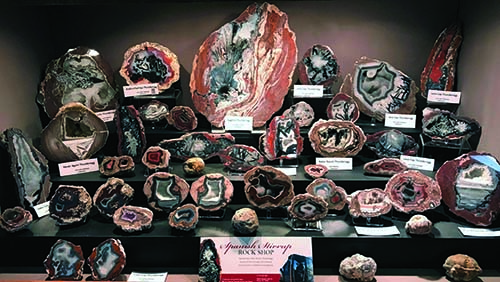 Another benefit of the partnership is the ability for Coleman's children to be on-site and contribute to the work. With much of the 2020 school year involving virtual learning for Coleman's son, James, it became an opportunity for the family to head out on more mining trips together throughout the year.
"Along with our trailer of mining tools and equipment, we took a four-wheeler, fishing poles, and the Chromebooks. We felt very blessed to be able to take James with us so we could mine and he could still do school," said Coleman, whose daughter Chloe was in boarding school during 2020. With both children learning remotely in 2021, the family will be together mining and learning, with Chloe handling group coordinator duties on site, Etsy posting, and creating thunderegg necklaces, and James continuing his prowess in operating the equipment at the dig sites.
As far as counting blessings and having faith in the path before her at any time, Coleman approaches life as she does rockhounding: she inspects every space carefully, trusts there are treasures to be found, and strives to enjoy the experience to the fullest.
---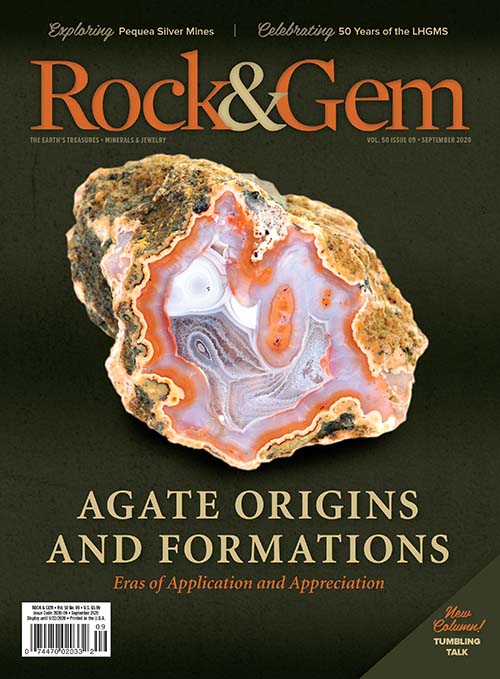 If you enjoyed what you've read here we invite you to consider signing up for the FREE Rock & Gem weekly newsletter. Learn more>>>
In addition, we invite you to consider subscribing to Rock & Gem magazine. The cost for a one-year U.S. subscription (12 issues) is $29.95. Learn more >>>
---