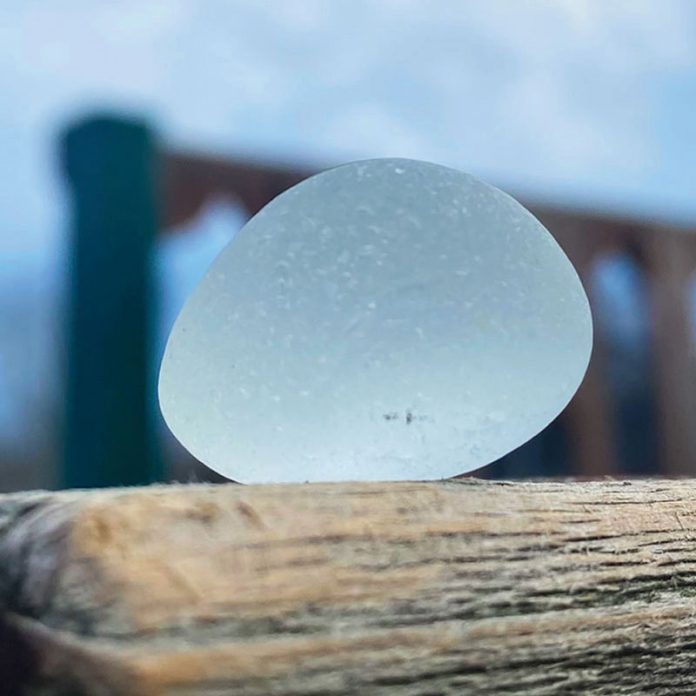 Cape May diamonds draw beachcombers and rockhunters in search of the sparkle of these quartz pebbles and beloved keepsakes. Seeking these treasures draws visitors to America's oldest seaside resort, Cape May New Jersey, rated by Trip Advisor among the top 25 beaches in the country.
What are Cape May Diamonds?
Best found while beachcombing Higbee (or Higby's) Beach and Sunset Beach, these quartz stones (averaging a Mohs Scale of Hardness 7) can be collected, cut, and polished to resemble diamond jewelry and sold as local souvenirs.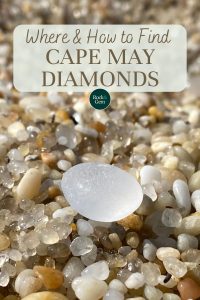 Ranging from granular sand to a record-holding three-pound, 14-ounce (1.8 kg) stone found in 1866 in New Castle, Delaware, Cape May diamonds tell a story that is thousands of years in the making, originating in Pleistocene gravel deposits before washing out, for hundreds of miles along ocean currents, and washing up on East Coast shorelines.
Their smoothness and clarity have led to incorrectly labeling some of these quartz stones as sea glass - discarded glass, smoothed by the rivers that powered New Jersey's once-thriving glass manufacturing industry.
But the real story begins centuries before, with the Kechemeches and Tuckahoes of the Lenni Lenape native peoples, the original inhabitants and the first to use the shiny stones they found washing up on the beaches of what is now Cape May Point. Believing them to bear supernatural powers of good fortune, success, and well-being, the shiny, clear stones were shared as gifts and traded with other tribes.
Or newly arriving European colonists.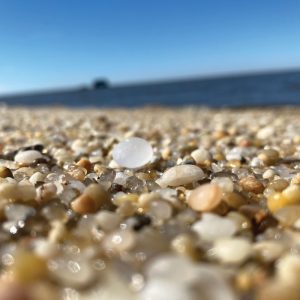 Captains and Kings
Cape May and its borough are named for Dutch explorer and fur trader, Captain Cornelius Jacobsz May, who led a fleet of five vessels surveying the Delaware Bay on behalf of the New Netherland Company and, Tredffrin Easttown Historical Society records show, ready to trade.
The Society's 1938 account by Franklin L. Burns, Early Settlements in the Delaware Valley, describes an "expedition up South or Delaware river probably as far as the mouth of the Shuylkill in the summer of 1616 and there traded with the natives. The Dutch called the Delaware 'Zuyt' or South, River. The smaller streams, or kills, flowing into the river and bay were all named by the Dutch."
Maybe the locals weren't in a hurry to reveal their best 'magic stones' to the new neighbors because it was not until 1690 that English emigrant Christopher Leaming, who came to Cape May hoping to find whale hunting more lucrative than coffin making, is recorded as the first settler involved in the exchange of a Cape May diamond with the Kechemeche.
Settling Cape May
"The whaling interest," the Leaming Family Ancestry traces on Rootsweb.com, "having become large and the purchase of land in Cape May, New Jersey having become a more easy matter, a large number of persons came from New Haven and Long Island to settle permanently on the bay shore, for the accommodation of the whalers in the county, where quite a business was done. This was to be the first town built in Cape May County."
Among its settlers were Christopher Leaming and his son Thomas, who were sold tracts of land cleared or burned over by the Lenape to plant corn.
The Cape May County Herald then recounts King Nummy, the last chief of the Lenni Lanape, presented Leaming (as a token of friendship and loyalty) with a piece of Cape May quartz so large that Leaming had to send the stone to Antwerp, Holland, to be professionally cut and polished. It returned a 20-carat, emerald-cut "diamond."
Follow The Water
The capillaries of inlets and waterways named by the Dutch were already a natural tumbler centuries in the making for the rough pieces of quartz breaking off the Catskill and Allegheny mountains into the Delaware Water Gap, traveling down the Delaware River into the Delaware Bay, and growing ever smoother on their roughly 200-mile trek to wash ashore at Cape May Point and Sunset Beach.
Looking upstream and back in time, the earliest stable material in Pennsylvania was crystalline rocks dating to one billion years old in the Philadelphia and Reading Prong areas. These, according to the Geologic History of Pennsylvania, by J. Mowery, were fragments of a larger crystalline mass extending northward to New England and east of Pennsylvania.
"For the past 65 million years there has been a gradual uplifting of Pennsylvania, with maximum displacement along a north-south line through central Pennsylvania," Mowery wrote. "This uplift increased the ability of streams to erode deep valleys into soft rocks, such as limestone and shale, leaving high ridges where resistant rocks such as quartzite and sandstone come to the earth's surface."
Crystal Clear
Over the last million years, Mowery continued, glacial advances widened valleys, changed the course of streams, created lakes and shoved debris (moraine) into their path. "The primary channel to carry melt-water from the receding ice was the Susquehanna River."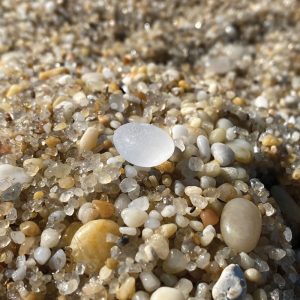 Following that water to the shores of Cape May, beachcombers and rock hunters are never disappointed by the prospect of digging their toes in the sand and coming up with natural treasures.
Sunset Beach
Named for the spectacular sunsets created by the interplay of Atlantic Ocean breezes across the Delaware Bay, Sunset Beach, at the end of Sunset Boulevard, is popular with beachcombers, diamond hunters and history buffs. Just 150 feet from shore rests the wreck of the concrete WWI ship, SS Atlantus. Retired from service in 1920, the ship was purchased in early 1926 for use during the construction of the Cape May-Lewes Ferry dock. Before work could start, she broke free of her mooring and ran ashore when a storm hit on June 8, 1926. She remains there to this day,
The long-standing Sunset Beach Gift Shops tells visitors that the strong tidal flow against the hull of the sunken concrete ship, Atlantus, is why Cape May diamonds wash ashore here in such great abundance.
When polished and faceted, local shopkeepers call the comparison so close that, before the advent of modern gemscanning equipment many a pawnbroker was fooled by a "Cape May Diamond!"
Blogger Barbara Wilde, owner of The Southern Mansion and Willow Creek Winery, calls Sunset Beach, "Your central hub for a perfect Cape May diamond hunt. It's best to have a pail in tow on your beach day [to] sift through the rocks along the shore. Once you spot the clear and shiny cylindrical stones, you've found a Cape May diamond!"
Higbee Beach
Higbee Beach Wildlife Management Area, adjacent to Sunset Beach, is also a free beach (no beach tag required) popular not only with diamond hunters but also birders, where the national record for species identified in 24 hours was shattered at Higbee Beach during the 2007 World Series of Birding.
"Higbee serves as more of a classic beach," Wilde says. "The soft sand makes it a leisurely area to stroll. Cape May diamonds can typically be found where the waves wash onto the shore. We recommend hitting the beach early to find the perfect Cape May diamond."
Easy Finds
Cape May County Herald writer Gia Gallone finds it fairly easy to find a diamond and hunting them has become a tradition for locals and vacationers, who head to Sunset Beach in search of these treasures of the sea. "The quartz comes in many sizes, shapes and colors, but the clear stones are the most sought after."
"Kids and adults are on equal footing when it comes to finding Cape May Diamonds. The best time to find them," she adds "is after a storm."
Penn State University Professor of Geosciences, Peter Heaney, PhD., whose expertise includes crystal structure analysis of minerals, says quartz in its pure pristine state is transparent and, as quartz crystals grow, they tend to develop bubbles or other mineral inclusions seen as flaws to transparency. But not Cape May diamonds. "To me," Dr. Heaney said, "that suggests they formed as veins inside of rocks. Quartz can crystallize out of hot fluids. Often times the quartz that crystallizes from these hot fluids has lower concentrations of defects and appears clear to us."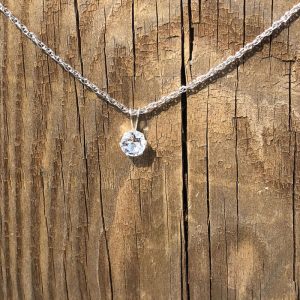 Smooth Sailing
By now, astute aficionados of quartz might be wondering, how are Cape May diamonds different from the New York State quartz crystals known as Herkimer diamonds? Both sit on roughly the same point on the Mohs scale and include those desirable "water-clear" stones… Follow the water. Herkimer quartz forms with double termination points and 18 facets (the more facets, the more reflective surfaces to scatter light) because the crystals grow with little to no contact with the host rock. Cape May quartz is all about the contact. The rough edges of its diamonds are worn completely smooth from tumbling down the Delaware River.
Feel like a trip to the beach? Consider New Jersey and the shores of Cape May, where diamonds – and history – have been bringing a sparkle to the eye for centuries.
This story about Cape May diamonds previously appeared in Rock & Gem magazine. Click here to subscribe. Story by L.A. Sokolowski.