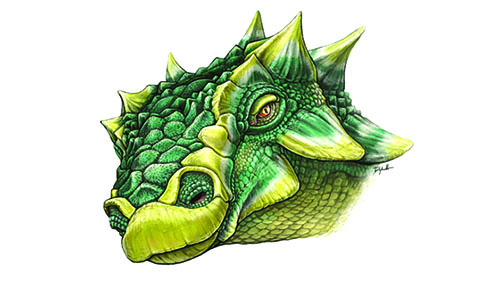 The Royal Ontario Museum (ROM) is preparing to unveil the newest addition to its collection of fossils: the recently named ankylosaur, Zuul crurivastator.
The 75 million-year-old dinosaur specimen, which is one of the most complete ankylosaurs ever discovered, will take center stage in the ROM-original exhibition "ZUUL: Life of an Armoured Dinosaur." The exhibition opens December 15 and is sponsored by Sinking Ship Entertainment.
Zuul Crurivastator Ankylosaur Specimen
"We are thrilled to be introducing Toronto and the world to an extraordinary new dinosaur. The acquisition of Zuul not only enhances the ROM's reputation as a leading scientific institution but represents a significant new addition to our globally renowned collection of Late Cretaceous dinosaurs and fauna," says Josh Basseches, ROM Director and CEO. "With the generous support of presenting sponsor Sinking Ship Entertainment and our team of renowned invertebrate paleontologists and exhibition developers, we look forward to presenting a truly unique exhibition that will inspire and delight visitors of all ages."
Named by ROM scientists in 2017, this new species of ankylosaur displays a short snout, long horns behind the eyes and on the cheeks, and gnarly face. If the name Zuul is familiar, you may recall its origins, as the fictional monster in the 1984 film "Ghostbusters," which is indeed the inspiration behind its name. Its species name, crurivastator, means 'destroyer of shins' for its menacing, weapon-like tail club.
Among the Most Complete Skull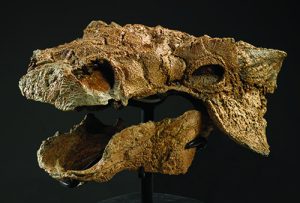 Discovered in Montana little more than 31 miles south of Alberta along Canada 's border, in the rocks of the Judith River Formation, the ankylosaur fossil is reportedly one of the most complete and well-preserved specimens of its kind ever found anywhere in the world.  It has a complete skull and tail club as well as preserved soft tissues that will provide an uncommon opportunity for new, cutting-edge scientific research. The ROM with the support of the Louise Hawley Stone Charitable Trust acquired Zuul.
Dr. David Evans, the exhibition's curator and the ROM's James and Louise Temerty Endowed Chair of Vertebrate Palaeontology, says: "Zuul not only enables us to unlock clues about armoured dinosaur evolution and how they lived, but also the rich fossil fauna found with Zuul lets us paint a vivid picture of its lush ancient world and reflect on climate change and extinction." The exhibition is co-curated by armoured dinosaur expert Dr. Victoria Arbour. Together, the curators named and described Zuul as a new species of dinosaur in 2017.
"Zuul: Life of an Armoured Dinosaur" will take visitors beyond museum walls to the badlands of Montana, in an immersive experience that recreates the Cretaceous world Zuul inhabited. Through cutting-edge technology and interactive storytelling, the exhibition explores how this mighty dinosaur lived. Working closely with ROM's exhibition development team, sponsor Sinking Ship Entertainment will help bring the experience to life for ROM visitors.
Sign Up for the FREE Rock & Gem Weekly Review!
Get the scoop about the latest rock, gem, and mineral features and news, rock shop and rockhound profiles, and exclusive freebies and promotions in your inbox.
>>>
Additional Animation and Interactive Display
"We are thrilled to be working alongside Canada's leading Museum to present this never-before-seen exhibition," says J.J. Johnson, a partner at Sinking Ship Entertainment. "At Sinking Ship we pride ourselves on the work we do to entertain, educate and inspire young audiences. This partnership has been an incredible one – allowing us to expand on our groundbreaking interactive experiences to engage visitors of all ages."
Sinking Ship Entertainment will be providing CGI animation for "Zuul: Life of an Armoured Dinosaur," as well as creating an interactive game for visitors. In early 2020 the Emmy-winning media company will be releasing the feature film "DINO DANA: THE MOVIE," which was both filmed at the ROM and includes Zuul as part of the film's epic dinosaur adventure storyline. The film will see a museum theatre release launch in mid-2020 after its initial theatrical window.
For more information about this upcoming exhibition and related events, visit https://www.rom.on.ca/en/exhibitions-galleries/exhibitions/zuul.