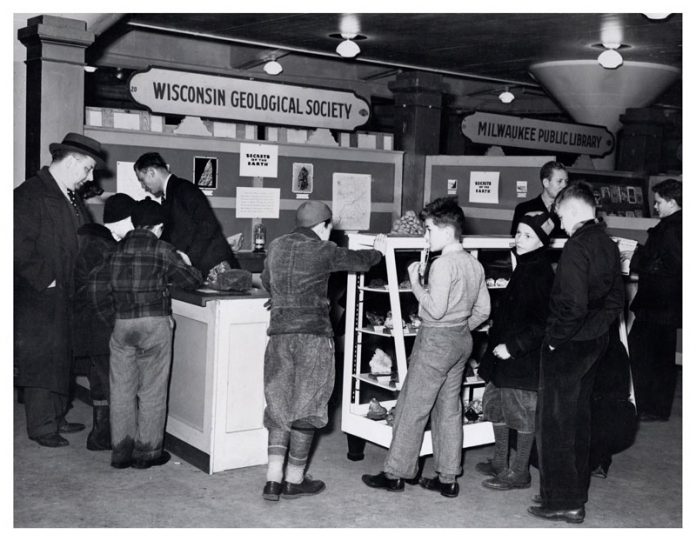 Most of us have found a hidden storage container at some time. Some contain nothing; others provide a treasure trove of old photos, letters, and priceless documents and open the door to further exploration. One of these boxes was recently found in the Wisconsin Geological Society (WGS) storage room. Inside the ordinary plastic container was a mish-mash of old photos and documents from the 1930s to today. This spurred a club-wide effort to find out more about an 87-year history that much had been lost to time and was unknown to members today.
The Start
In 1935, a Depression-era government works program allowed the Milwaukee Public Museum (MPM) to continue operations and provide much-needed jobs to local unemployed workers. These new employees spent their days preparing the Museum's Earth Sciences displays. In the evenings, they held meetings in their homes to learn more about the rocks, minerals, and fossils.
With the MPM offering use of its Trustee Room for meetings and the Milwaukee Journal providing publicity, the non-profit Wisconsin Geological Society was formed in early 1936.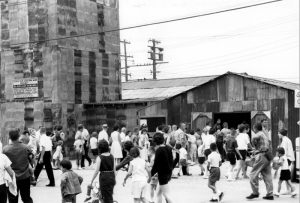 Branching Out
The newly-found box revealed how active the WGS was in building a solid foundation for its club and also for clubs across the country to connect. For instance, in 1940, the WGS was one of three clubs involved in the creation of the Midwest Federation of Mineralogical and Geological Societies (MWF). In 1950, WGS members were among the eight delegates to the first American Federation of Mineralogical Societies (AFMS) meeting held in Salt Lake City.
In 1984, the WGS hosted a large joint rock and mineral show with the MWF at State Fair Park in West Allis that resulted in a 36-page document outlining all the activities including field trips. Joint shows were previously held in 1941, 1944, and 1954.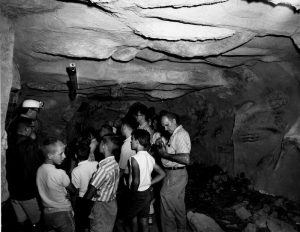 Blackjack Bonanza
Corn dogs, cotton candy, amusement rides, and a lead/zinc mine tour? Yes!
From 1963 to 1966, Blackjack Bonanza mine tours were a re-creation of a real lead/ zinc mine at the Wisconsin State Fair. It was a 15,000-square-foot exhibit that sported a 65-foot headframe tower, an elevator shaft that shook to simulate the ride down into the mine tunnel, and a 30 by-45-foot processing room. A hidden 50-ton A/C unit cooled the mine tunnel making guests think they were far below ground. Mine tours cost fairgoers 75 cents per adult and 24 cents per child.
Like other fair attractions, the Blackjack Bonanza became a part of history as well as the role the WGS played in its existence.
The box revealed that in 1966, members of the WGS took over the 10-day, 12-hour per day, operation of the Blackjack Bonanza mine tours. Club members provided ticket sales, tour guides, and mine workers. They also provided mineral samples for a museum display as well as staff to operate the gift shop.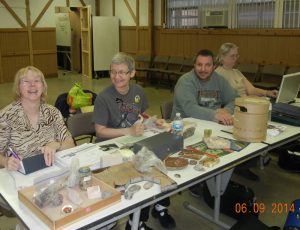 Naming the Wisconsin State Fossil
State fossils are nothing new. Lots of states have them. But through the box and personal interviews, WGS members found out that club members played a significant role in the process for their state. It took three attempts before the trilobite (Calymene celebra) was officially named Wisconsin's State Fossil in 1986.
The first attempt was made in 1981 by a UWM geology student, Mark Shurilla, but he neglected to name a specific species of trilobite. The bill failed.
WGS members picked up the process in 1983, narrowing the field to the Calymene celebra, found primarily and prolifically in Wisconsin. Again, the bill was defeated.
In 1985, at the direction of the WGS Board of Directors, club president, and chief lobbyist for the bill, Margaret Pearson, made a final and successful attempt. This time, the bill was sponsored by State Assembly member, Jeannette Bell, daughter of WGS members Harold and Luella Jeske. Members of WGS were present at the bill signing on April 2, 1986, in Madison, Wisconsin, as Margaret presented Governor Anthony Earl with a trilobite specimen to mark the occasion.
More Fossils
The original Milwaukee Public Museum opened its doors to the public in 1898. It now houses the Milwaukee Public Library. The board room where the first official WGS meeting was held still exists and is on the National Register of Historic Places.
In 1975, the Museum moved to a new facility across the street but did not have enough room for all of the geology exhibits, including fossils that WGS members originally displayed in 1936.
Fundraising is underway for a new facility with a groundbreaking scheduled for late 2023. It should be open to the public sometime in 2026. It will be a representation of ancient sea stack formations present in Wisconsin's Mill Bluff State Park. The rounded edges of that building will showcase the glacial weathering that formed Wisconsin and deposited those fossils. Inside, will be displayed those original WGS fossils from 1936.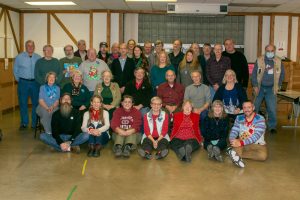 Plan, Collect, Verify & Store
While the plastic box brought history to life for WGS members, they soon found out its information was incomplete and that members had bits and pieces of history in lots of places; old newsletters here, photo books there. Records ended up in various places as officers and leadership transitioned over time. The club historian, and volunteers, made a plan to gather all of the documents. Here is a to-do list for other club historians that may have the same circumstances.
• Scan and identify all photos and documents and create a digital file
• Contact club officers, new and old, for any information in their possession
• Contact outside sources to verify and provide additional information
• Create documents and a presentation to share with members
• Develop a storage plan to preserve past, current, and future records
After collecting information from members, the first critical step for the WGS was to scan and identify photos and documents and place them in a digital file, backed up on a memory stick.
Next, was to contact club officers and members to see if any files or pictures had been handed down to them. Also, an article was published in the clubs' monthly newsletter, The Trilobite, asking members who are no longer able to attend meetings to offer any information or photos.
Early on, WGS members took field trips, attended study groups, participated in mineral shows, and enjoyed parties and picnics just like they do today. One of the early members must have been an avid photographer as many of these functions were captured with lovely photos. The documentation and preservation of those photos were poor. Names of members and photo locations were often missing or destroyed the photograph by writing or gluing a note directly on the photo.
One of the most interesting photos in the collection was of young boys, wearing knickers, admiring the rocks and minerals in a WGS display case. The photo had a typewritten note paper-clipped to it, "Hobby Show November 24-27, 1950?" A scanned copy of this photo was emailed to the Milwaukee Public Library (MPL) archives department for verification. They were able to confirm that a hobby show was held from November 24 to 27 in 1949, however, they could not verify that this photo was taken at that show. According to historical fashion records, knickers for young men had gone out of fashion in the late 1930s.
Photo identification is important. Always record the following information:
• Event
• Place/location
• Date taken
• People, use an easy format of left to right (L to R) and rows top to bottom
• Photographer, if possible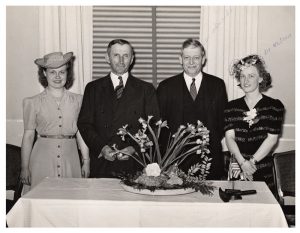 Community Help
Research to fill in the missing information became the next priority. Organizations whose history crossed the club's path came first. Historical societies and newspaper articles provided another great resource.
Some sources responded immediately, while others required a longer response time. The most successful recoveries of information resulted from telephone calls which produced a real person contact. Additional details continue to be added to the club's historical records as a result of these contacts.
Long-Term Storage
After a huge effort to gather all of this history, it became important for the WGS to change how it gathers and stores its data in the future. The Milwaukee Public Library has worked with club members to develop a plan for the WGS to donate its current historical records and future yearly updates. Current and future WGS members will retain access to all of their records during normal library business hours.
This story about the Wisconsin Geological Society's history appeared in Rock & Gem magazine. Click here to subscribe. Story by Sue Eyre.