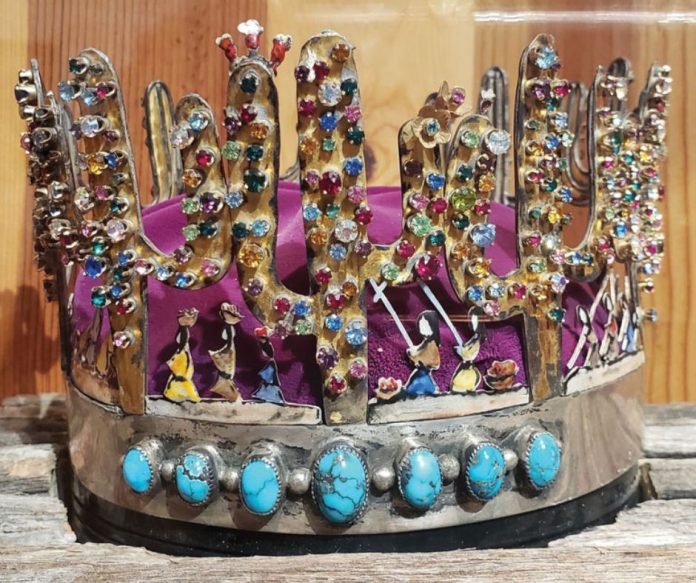 The DeGrazia Gallery in the Sun, in Tucson, Arizona, houses over 15,000 of the famed artist's original works in six permanent collections and rotating exhibits.
Who was Ted Degrazia?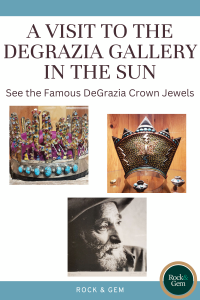 Ettore "Ted" DeGrazia (1909-1982) was an Arizona artist born in the mining camp of Morenci, where his Italian immigrant father worked in the copper mine. He gained worldwide fame for his colorful paintings, ceramics, and sculptures. Among his artwork are unique crowns, created with silver, gold, turquoise, and other gemstones.
DeGrazia moved to Tucson and studied at the University of Arizona, where he received a Master of Arts. For a few years, he lived in Bisbee with his first wife. When DeGrazia returned to Tucson in 1965, he designed and built the DeGrazia Gallery in the Sun a gallery for his paintings. Located on Tucson's northeast side at the Santa Catalina foothills, it is one of Tucson's beloved and famous attractions.
Maintained by the DeGrazia Foundation, the gallery sits on a ten-acre plot and was added to the National Register of Historic Places in 2006. It includes DeGrazia's home and gravesite. It also holds the Little Gallery for visiting artists and the open-air roof adobe Mission in the Sun that houses DeGrazia's murals.
Degrazia's Early Artwork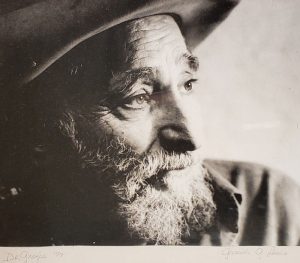 The gallery houses DeGrazia's artwork through his various periods, styles, and materials. His early paintings were first published in the Arizona Highways magazine. He then traveled to Mexico City and worked with mural masters, Diego Rivera and José Clemente Orozco. They sponsored a solo exhibition of DeGrazia's artwork at the prestigious Palacio de Bellas Artes in 1942. After his return to Tucson, his fame spread. In 1960, his painting Los Niños was chosen as a greeting card for the United Nations Educational, Scientific and Cultural Organization (UNESCO).
Experimenting with Different Mediums
Although DeGrazia's main work was paintings, he experimented with different mediums and artistic expressions. His themes ranged from the Mexican Revolution to the Indians and galloping horses of the Southwest. He also covered Father Kino and the missions he established, the Spanish conquistadors, bullfights, and angels. Some of his works are dark, others uplifting, some impressionistic, and others abstract.
In one area of the gallery, Ted DeGrazia's studio is set up with his easel, paint tubes, canvases, paintings, and a small fan.
The Degrazia Crown Jewels
DeGrazia also created blue ceramic pieces from the Saguaro Harvest series, a line of turquoise glazed tableware ceramics created between the 1950s and 1970s.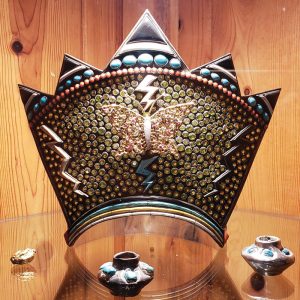 In that series is the Desert Crown, made in silver, enameled silver, and gold. It is set with turquoise and glass jewels. Created in 1974, it features a sequence of saguaro cacti standing up around the crown set with round faceted glass stones and seven turquoise cabochons on the front base.
Ted DeGrazia's notes next to his drawings give an insight into the crown's background story. "I wanted to do a crown. But a crown is associated with kings, princes, and princesses. Because royalty does not mean much to me, I thought of doing a crown for the desert Indians…..I wanted to make a crown to tell the Indian story of the saguaro harvest, a crown of Thanksgiving."
DeGrazia Gallery in the Sun Exhibits
Another glass case holds two more crowns. One crown features thunderbolts and a raised butterfly set with faceted stones and turquoise cabs on the top. Many faceted stones fill the background. The second features an enameled front with a blue pigeon against a stark white background and peridot gemstones.
There are cases full of jewelry, rough turquoise and woven baskets. In one case, a silver necklace titled Marion's Emerald necklace rests on top of beautiful rough turquoise nuggets. DeGrazia made this necklace circa the 1950s for his wife. He used a 7-UP bottle, which he melted down, creating this imitation emerald stone.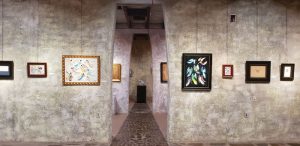 Another beautiful art object is a burro skull, hand-painted with images of miners and a Native American shaman, inlaid with turquoise cabs, created around 1977.
DeGrazia Gallery in the Sun Hours
The DeGrazia Gallery in the Sun is open daily from 10 a.m. to 4 p.m. Admission is $8 for adults, $5 for ages 12-18, and free under 12. For more information visit www.degrazia.org.
This story about the DeGrazia Gallery appeared in Rock & Gem magazine. Click here to subscribe. Story by Helen Serras-Herman.