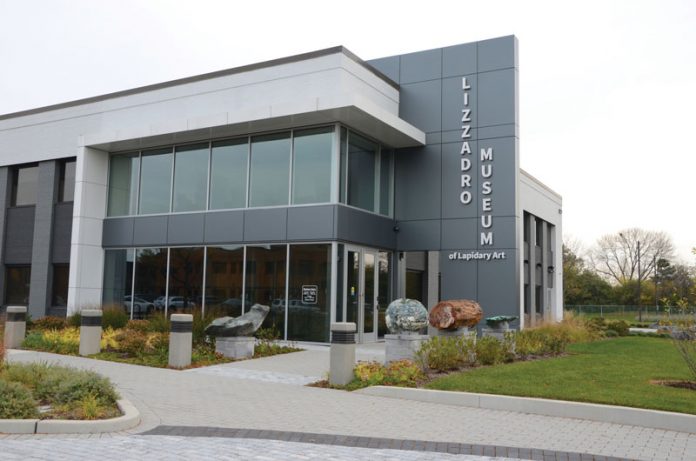 The Lizzadro Museum of Lapidary Art, just west of downtown Chicago, is a dazzling rock and gem resource. Since its founding in 1962, it has been dedicated to sharing with others the deep appreciation the Lizzadro family has for "the art with which man has complemented the works of nature."
From Collecting Stones to Building a Museum
Joseph Lizzadro immigrated to the United States in the early 1900s with his father who was a cobbler. The pair settled in Chicago where his father opened a shoe repair shop.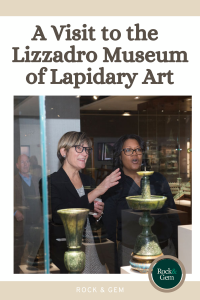 Joseph went to school and worked in his father's shop. By 1916, he was a U.S. citizen and began working for Meade Electric Company where he would rise through the organization to become both a stockholder and Chairman of the Board.
In 1932, Joseph married Mary Sandretto.
She was from the Keweenaw Peninsula of Upper Michigan which the growing family often visited. It was there that Joseph resumed a childhood activity, collecting stones. His finds of Lake Superior agate, datolite, and thomsonite were turned into cut and polished stones. Some Joseph put into jewelry pieces for friends and family.
As Joseph grew his skills, he developed an interest in working with jade. At the time it was difficult to find raw jade. Instead of buying raw jade, Joseph was sent a piece of art to repurpose into the cufflinks he wanted to make. The piece was so beautiful and intricately carved that he decided to keep it. This decision moved him from a lapidary hobbyist to a collector.
Joseph began intentionally growing his collection to include a wide range of carved jade, amber, ivory, coral, agate, and gemstones. As his collection grew so did Joseph's dream of displaying and sharing it with others.
Joseph's dream became a reality through a collaboration between the City of Elmhurst and the Elmhurst Park District. Through this collaboration, the Museum was built and opened in Wilder Park in 1962.
Move to Oak Brook
The community of Oak Brook, Illinois is now home to the Museum. In a space that is nearly twice as big as its original location, the Lizzadro Museum of Lapidary Arts now features more exhibits including interactive displays of nature, science, and artistry.
As the only lapidary arts museum in the United States, the Lizzadro collection includes beautiful and diverse hardstone carvings, unique dioramas, and raw gemstones. Throughout the Museum visitors have opportunities to discover the craftsmanship of lapidary art including a spectacular five-foot-tall jade pagoda.
Altar of Green Jade Pagoda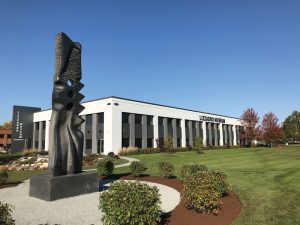 The pagoda – called the Altar of Green Jade Pagoda – was donated to the Lizzadro Museum by the Oakland County Museum of California and is a jewel of the Chang collection. Carved from a nine-ton boulder, the stunning piece took 10 years to create through the work of 150 craftsmen. At the Lizzadro, staff took four days to assemble the 1,000-piece pagoda.
This piece represents just one of many hardstone carvings that grace the Museum and reflect the diverse nature of lapidary arts.
Education, Information, and Inspiration
Today, the Museum remains a family affair. Joseph's granddaughter, Dorothy Asher, is the current director as well as a gemologist.
"As a family, we really care about the pieces," Asher said. "We want to maintain the collection and to share it with the public.
We want to educate people about rocks and minerals and gemstones."
There are many ways to take advantage of the opportunities available to families and individuals at the Lizzadro Museum. Plan your visit by exploring the Museum's online resources (www.lizzadromuseum.org) ranging from upcoming Lizzadro Museum program listings to featured special exhibits to a library of virtual tours and program opportunities.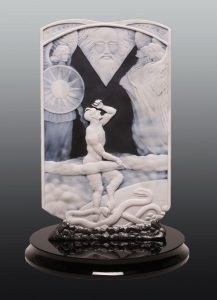 Current Exhibits
The Museum is currently featuring an exhibit of cameos telling the story of Faust.
Fourteen large agate cameos including one exceptional two-sided cameo, reported to be the world's largest, were carved by Dieter and Andreas Roth between 2007 and 2013 in the Roth-Cameo studio in Idar-Oberstein, Germany. The Lizzadro Museum is proud to premiere the exhibit in the United States and it will remain on display through June 2022.
A new, yet-to-be-determined special exhibit will open in November 2022 as part of the Museum's 60th-anniversary celebrations.
Something for Everyone
Self-guided touring is a mainstay of in-person visits at the Lizzadro Museum. Asher suggests allowing at least 90 minutes to take in the Museum's collection highlights.
Education program offerings vary from season to season. In the coming months, families can check out seasonal listings for activities such as Stone Hunts, Rock & Mineral Identification, and Rockin' Jewelry for Kids. Offerings range in price depending on the activity and supplies. Some are available with regular admission while others are free to members.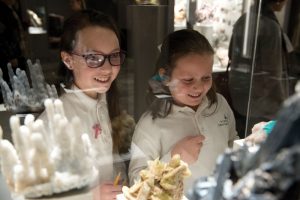 Getting Involved
For those interested in becoming more involved in the local rock and gem community, the West Suburban Lapidary Club meets at the Lizzadro Museum every fourth Saturday. The club hosts a program each month including presentations, demonstrations, and information on cutting and polishing stones.
Watch the website for specialty program offerings, too. For instance, the Elmhurst Symphony Orchestra musicians have presented live concerts with new themes each month. Presentations that focus on a specific exhibit have also been popular. In February, there was a 60-minute offering featuring the symbols and elements in the Museum's magnificent Imperial Screen. The Museum has also hosted trips to Braidwood, Illinois, to collect fossils at Mazon Creek's historic coal strip mine.
Online & In-Person
The Museum boasts a growing video library and interactive games that can be explored online from anywhere.
Groups such as Scout troops, school groups and more can also schedule guided tours. Online resources are available for educators and group leaders to better prepare and plan to take full advantage of all the Museum has to offer. There is no shortage of possible learning experiences for those interested in visiting the Lizzadro Museum of Lapidary Art.
This story about the Lizzadro Museum appeared in Rock & Gem magazine. Click here to subscribe. Story by Deb Brandt.