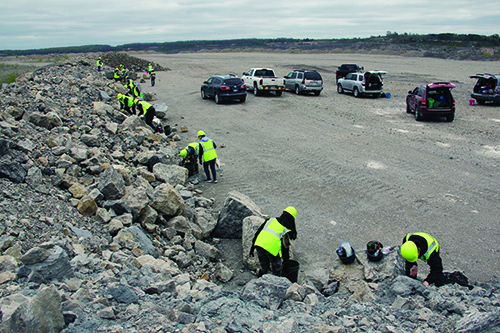 By Jim Brace-Thompson
Indian Mounds Rock & Mineral Club has a juniors program that took on new life with 11-year-old Joan (Afton) Stoker. While 9-year-old Kreigh Tomaszewski looked on, Joan kept asking, "Mr. Pearl, what's this rock?" But I'm getting ahead of myself. That was the 1960s, and there was no Indian Mounds Rock & Mineral Club, yet.
About now, you may be asking yourself, "Huh?" Trust me, and keep reading!
Returning to Roots
Every Saturday, as a youth, Joan attended the Grand Rapids Public Museum's Rock Club in partnership with the Grand Rapids Gem & Mineral Society in Michigan. Geology activities in the morning, lunch, then lapidary lessons. Mary Jane Dockeray created the program while volunteers Les Pearl and Russ Girard oversaw the program. Joan soaked it in, becoming Junior Helper for the summer Nature Program. By age 15, she wasn't just a helper; Joan was asked to teach the kids' geology group! She, her friend Kreigh, and others also attended meetings of the Grand Rapids Gem & Mineral Society, without knowing what the future held.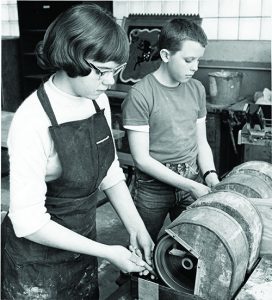 Fast forward several years and as an adult, Joan, with her husband Craig, went on to a career with the Salvation Army. However, working with kids and rocks remained a thread throughout her life as she continued to teach summer camps, worked with scouts, helped with home-school workshops, and Science Olympiads. Upon retiring, Joan returned to her hometown. By that time, the Grand Rapids Gem & Mineral Society had dissolved, but a new club had taken its place: Indian Mounds Rock & Mineral Club (IMRMC).
IMRMC had long served children with school visits, show activities, and field trips, but starting in 2016, they kicked it up a notch. Just like when she was a teenager, Joan was back teaching rocks to kids, while serving as the club's juniors coordinator. As it turned out, her childhood friend from way back when, Kreigh Tomaszewski, was president of the club and the two reconnected.
Joan, Kreigh, and fellow members have put together quite the juniors program. Not only do kids participate in adult events like silent auctions and Best-of-Year contests (including Most Unusual Specimen and Ugliest Rock), but kids also enjoy separate activities that, since 2016, have focused on the American Federation of Mineralogical Societies Future Rockhounds of America Badge Program.
Evolving Juniors
The club started with 16 kids, but that number quickly doubled. Joan customizes the program each month, with binders for participants and folders, as well as offering learning packs with rock samples. Joan also celebrates the junior club members' successes and discoveries by reporting the happenings in the club newsletter.
Routinely, during summer months, the club hosts events such as fossil hunts, rock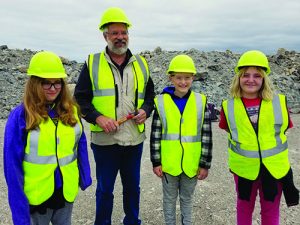 crafts, and a metal detector hunt. I can attest personally just how much fun they have. While visiting my son's family in Michigan, Joan invited us to participate in a fossil-collecting trip to a quarry in Rogers City, Michigan. We saw a wall of limestone blasted, witnessed a "mixing bowl" crush truckloads of boulders, and collected beautiful fossils.
Fossils were also a theme when the group met Michigan's Joseph "PaleoJoe" Kchodl, who has written a book about Michigan fossils. Fun is further enjoyed as junior members participate in the club's annual show, entering displays and helping at children's tables.
Kreigh proudly notes how Joan has created a community environment, bringing kids and adults together in ways that are fun and meaningful. Joan herself says the hobby is all about "DISCOVERING for the rest of your life," Adding, "Always ask why, how, where?" She is quick to thank her parents, who created a lifelong love of science for their rock-loving daughter, and she is thankful to parents of current IMRMC juniors who similarly support their rock-loving kids and teens.
If you, too, would like to embark on a journey of discovery that includes fun and friendships that might last a lifetime, look for a rock club near you.