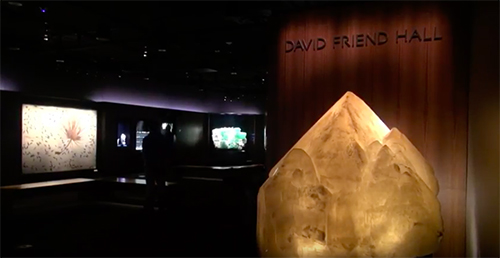 By Antoinette Rahn
"Don't go to a museum with a destination. Museums are wormholes to other worlds. They are ecstasy machines."
~ Jerry Saltz, senior art critic for New York Magazine
I don't know if I've ever read a description of a museum that included the word ecstasy, but thinking about my visits to museums, I'd have to say ecstasy (defined as 'an overwhelming feeling of great happiness or joyful excitement') is a fitting word.
It's incredibly difficult, and I might even be as bold as to say, unfathomable, to not stand in awe when you are within inches of a geological treasure formed millions of years ago. Opportunities such as this make me feel incredibly grateful and somewhat insignificant but in a good way. Standing in a hall or an entire museum surrounded by specimens of quartz, gypsum, jasper, fluorite, and beryl, among others, is unlike other museum experiences. I feel more connected to the Earth, humbled by its intricacies, and inspired to learn more about its mysteries and bold truths.
Virtual Amazement
That's just some of the things that came to mind after I viewed the short video displayed below. It is an engrossing virtual tour of the David Friend Hall, which is located within the Yale Peabody Museum of Natural History, and features more than 150 exceptional mineral and gem specimens from various corners of the world. Among the specimens displayed is a portion from the collection of the man behind the idea for this uncommon and extraordinary showplace, David Friend. Specimens from additional private collections share in this unique showplace, which opened in October of 2016.
Enjoy this unique virtual tour….
Friend, an alumnus of Yale University, class of 1969, was drawn to rocks as a child, according to an article by Christine Xu, for Medium. That interest only grew as time passed, and with it, Friend earned a reputation for being a collector who fancies sizable and stunning minerals, according to the same article.
Shared Appreciation
That appreciation also drove the vision behind the unique presentation of the specimens in this hall.
"Too many natural history museums, in my opinion, spend too little on the drama of the specimens and too much on often long-winded verbiage that accompanies them," said Friend, in our recent email exchange regarding the short video. "In the David Friend Hall, there is nothing to distract you from the beauty of the specimens themselves.
"If you are inspired by what you see, there are online resources to give you all the information you could possibly want."
Inspiring Viewpoints
As if all of this wasn't reason enough for me to add the David Friend Hall at the Yale Peabody Museum of Natural History to my list of 'must-visit museum destinations,' I come back to what started all of this for me: the short video.
The video was shot and produced by Alexcina Figueroa, who was at the time a high school student and is now a university film school student. Alexcina created the video as part of the Evolutions (Evoking Learning and Understanding through Investigations of the Natural Science) Afterschool Program. The Peabody Museum of Natural History offers it to high school students in the New Haven and West Haven public school districts.
"The movie captures the "wow" effect of crystals and minerals that I wanted to create with the David Friend Hall," added Friend.
Wow indeed.
For more information about the David Friend Hall, which is located adjacent to Hall of Minerals, Earth and Space, in the Yale Peabody Museum of Natural History, visit .