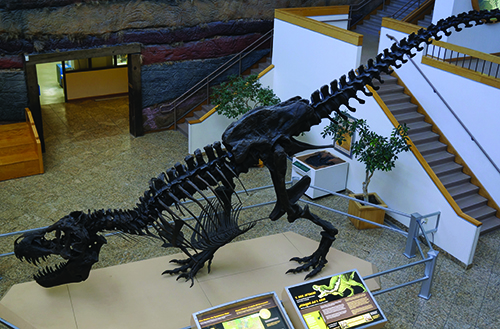 By Helen Serras-Herman
Fossils of the Tyrannosaurus Rex and his relatives have been discovered in several places around New Mexico. The rich fossil record there spans about 500 million years, with some very unique fossil vertebrates that include fishes, amphibians, reptiles (turtles, dinosaurs, and birds) and mammals.
The New Mexico Museum of Natural History and Science (NMMNHS) is a large museum, located near the Old Town of Albuquerque. The museum opened in 1986. Its permanent exhibits focus on a journey through time from the birth of the Universe approximately 13.6 billion years ago to the Ice Age about 10,000 years ago. There are also exhibits on astronomy and space exploration.
Two life-size bronze dinosaur statues welcome visitors at the entry courtyard, offering a glimpse of what's inside the museum. The sculptures were created by artist David A. Thomas and installed in the mid-1980s. One is a Pentaceratops named "Spike," and the other one an Albertosaurus named "Alberta."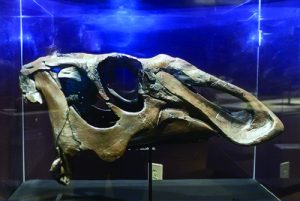 Pentaceratops (five-horned face) was a horned dinosaur whose fossils were discovered in the badlands of northwest New Mexico. This dinosaur lived about 75 million years ago (mya). Casts of two Pentaceratops skulls are on display at the museum. Albertosaurus is a tyrannosaur, slightly smaller and more slender than its more famous cousin, the Tyrannosaurus Rex. It was first discovered in Alberta, Canada – hence the name, but fragmentary tyrannosaur fossils found in New Mexico were thought at the time to be Albertosaurus.
The museum's permanent exhibit Timetracks: A Walk Through Time, offers a journey through millions of years of New Mexico's natural history. The exhibition begins with displays of dinosaurs, reptiles, and mammals from the Triassic period (200-251 mya) that lived in New Mexico's and the Southwest's immense flood plains. From that era, is the little theropod dinosaur Coelophysis, whose first remains were discovered in New Mexico in 1881. Coelophysis is New Mexico's state fossil since 1981, but the state dinosaur is the Alamosaurus.
Also, part of that exhibit is ammonites. Only one genus of ammonites, the Philoceras, survived into the Jurassic period. However, the Triassic ammonites were diverse and had more complex shell shapes and ornamentation. Some animals went extinct by the end of the Triassic period, while others continued to evolve into the Jurassic period.
The Jurassic exhibit titled Age of the Super Giants features dinosaurs from 201-146 mya. Complete skeletons of Seismosaurus, Saurophaganax, Stegosaurus, and one leg of Brachiosaurus offer an amazing "Land of Enchantment" scene. The scarce fossils of a Saurophaganax skeleton were discovered by volunteers from the New Mexico Museum of Natural History & Science west of Albuquerque in 1995.
The most complete fossils of tyrannosaurid dinosaurs come from the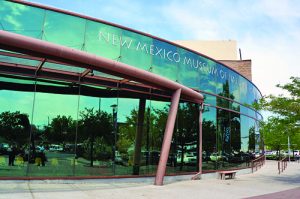 San Juan Basin in the northwest part of the state, but Elephant Butte Reservoir and Deming have also yielded a jaw and a few teeth. Near Raton, on the border with Colorado, a giant footprint made by Tyrannosaurus was discovered. It is the largest known footprint of a meat-eating dinosaur. And in Deming, a tyrannosaur tooth was found in Cretaceous rocks.
In 1997, volunteer researcher Paul Sealey found more complete tyrannosaur fossils. This discovery shows that New Mexico was home to a unique species of tyrannosaur, later named Bistahieversor sealeyi. The dinosaur was recovered in the Bisti/De-na-zin Wildness Area, and in the summer of 1998, it was excavated, wrapped, and packed carefully. It was airlifted by a helicopter of the New Mexico National Guard and hauled down to the museum's preparation lab.
Bistahieversor sealeyi (a name made from combining Greek and Navajo words meaning "Sealey's Destroyer of the Badlands," was nicknamed Bisti Beast. This 74-million-year-old dinosaur was similar to many of its contemporaries but retained some primitive features of the skull. The real skull is currently on display in the museum's "Back to Bones" exhibit, while the partial skeleton is still undergoing preparation in the museum's fossil lab.
When my husband and I visited in 2017, in the museum's atrium was a skeleton called "Stan." He was a Tyrannosaurus, measuring 40 feet long and twelve feet tall, the second most gigantic T-Rex ever found. He was replaced in the summer of 2019 by an animatronic Bisti Beast, which roars every half hour to the visitors.
The museum's newest temporary exhibit, "Tiny Titans: Dinosaur Eggs and Babies," opened in March 2020 and will run through October 25, 2020. It includes a variety of interactive learning opportunities, ideal for young visitors, as well as fossil exhibits from the museum's collections and illustrations and sculptures created by forensic artists.
The NMMNHS houses a Naturalist Center, with a hands-on educational room. Also very unique, is the Fossilworks room, which is a public display area in which trained volunteers demonstrate the painstaking process of paleontological preparation, including the process of extracting dinosaur fossils from the rock matrix. Adjacent to the Fossilworks is the Albuquerque Gem & Mineral Club Lapidary Studio.
We loved the "Mysteries of China" movie that was playing at the time at the Dynatheater, which is a 3-D theater similar to IMAX, with a five-story giant screen. Three different movies play at all times. There is also an amazing Planetarium theater, and the NatureWorks Discovery store offers books and souvenirs of all types.
Mineral Mondays are held on the first Monday of the month, from 2-4 pm. They start will a short 20-minute presentation on rocks, minerals, or fossils on various topics. Visitors can bring their rocks, minerals, or fossils for free identification, and experts will attempt to answer their questions.
The NMMNHS (http://nmnaturalhistory.org/ ) is located at 1801 Mountain Road NW, in Albuquerque. It is open from 9 am to 5 pm every day, except for major holidays. Admission fees are $8 (adults), $7 (seniors) and $5 (children ages 3-12). There are separate fees for the Dynatheater and Planetarium, but combo tickets are also available. Free guided tours of the museum are offered at 1 pm on specific days.